Show #7294 - Thursday, May 5, 2016
2016 Teachers Tournament quarterfinal game 4.
WE ASKED
: Eric Stonestreet of
Modern Family
.
Jeopardy! Round
SCHOOL SUBJECTS IN GERMAN

A VICE PRESIDENT'S SURNAME

A VISIT TO NEW YORK STATE

5 COMMANDMENTS
(Alex: We didn't have room for all 10 that you will find in the King James Bible, just five of them.)

The doctor will see you now... Mads Mikkelsen had a bone to pick with you as this cannibal on NBC

Französisch
(the neighbors will be talking)

Violence, murder & bloodshed provide it

Shigeru Ban, a pioneer in the use of cardboard, won 2014's Pritzker Prize in this field

Prospect Point provides excellent views of this attraction; Queen Victoria Park does the same from the Canadian side

"Thou shalt have no ____ ____ before me"

Tom Selleck screen-tested as Indiana Jones but turned out to be contractually bound to play this private eye

Erdkunde
(know der osten from der westen)

A place where a river is shallow enough to be crossed by wading

The XPRIZEs include a $10 million competition to make this "Star Trek" diagnostic device a reality

"Thou shalt not bear ____ ____ against thy neighbour"

Julia Louis-Dreyfus had adventures as "Old" her, & no, Julia was not "Old Veep"

Kunst
(for the next Paul Klee)

Bede,
Smith &
Clayton Powell,
collectively

Writers who explore the human condition can win a Humanitas Prize; Larry Kramer did for this drama about AIDS

Want to see the National Baseball Hall of Fame? Head to this village in Otsego County

"Thou shalt not ____ thy neighbour's house"

My name is Jason Lee & I played this title character, a lottery winner

Informatik
(a thoroughly modern one)

It's the yard annoyance seen here

Robert Edwards won the 2010 Nobel Medicine Prize "for the development of" this type of "fertilization "

(I'm Neil deGrasse Tyson.) I got my first taste of stargazing as a 9-year-old kid in New York City when I took a trip to this facility at the American Museum of Natural History; later I took classes there & today I'm its director

"Thou shalt not make unto thee any ____ image"

To Elijah Wood, this character looks like a surly Australian guy in a cheap dog suit

Kochen
(break out the brats!)

To collect, hoard or gather (perhaps votes)

The 1984 Pulitzer Prize for Fiction went to William Kennedy for this "I"-book

What could be more serene than a visit to this resort in the Adirondacks, the USA's first Winter Olympics host?

"Thou shalt not take the name of the ____ ____ ____ ____ ____"
Scores at the first commercial break (after clue 15):
| | | |
| --- | --- | --- |
| Peter | Tenaya | Terrie |
| $2,600 | $1,400 | -$400 |
Scores at the end of the Jeopardy! Round:
| | | |
| --- | --- | --- |
| Peter | Tenaya | Terrie |
| $5,400 | $1,200 | $1,000 |
Double Jeopardy! Round
He didn't yet have Wolverine's claws to motivate his P.E. students at England's Uppingham School

This tallest land animal was once known as a camelopard

You'll find Emma Watson in an unfinished work by her & Emma Woodhouse in a finished work by her

Black cohosh is a popular remedy for this symptom of menopause that includes sweating

On July 26, 1847 this African country's independence was granted by the Amer. Colonization Society

It's found in the e-mail address seen here

This magician must have spoken when he taught Latin at a New Jersey high school

These quadrupeds can open their jaws 150 degrees & are strong enough to bite a crocodile in half

2012's "The Casual Vacancy" was her first published novel for adults

Vitamin K, required for the synthesis of prothrombin, helps blood do this

It wasn't until 2005 that the Dutch recognized August 17, 1945 as the independence day for this Asian island nation

It's where I write "72" at the end of 9

--

no, make that 18

--

holes of golf

It's not George W.'s offspring, but this tree-dwelling primate of Africa

This detective author wrote 4 follow-ups to 1912's "The Lost World"

Linus Pauling wrote a book advocating taking megadoses of this vitamin to ward off colds

In 1996 its people voted to declare its independence day as July 3, 1944, the day Minsk was liberated from the Nazis

It's the tasty species Thunnus alalunga

Seen here, former Philly high school teacher Jesse Williams is Dr. Jackson Avery on this TV drama

With 4 toes on each foot, pigs are classified as even-toed members of this hoofed animal group

"A Clockwork Counterpoint" is a 2010 study of this author's more than 250 musical compositions

These berries have a four-letter name with three vowels & high levels of antioxidants

On Nov. 28, 1912 Ismail Qemali declared Albania's independence from this empire

Explicit, or a band like Black Flag

Ezra Koenig cut short his teaching career when this quartet that he fronts got a record deal

During their trip around S. America, Magellan's crew saw new creatures including this bird they called a black goose

He progressed from a youth of "vice and ungodliness" to writing "The Pilgrim's Progress"

The "Co" in CoQ10, which acts as an antioxidant, is short for this

The subject of a 1999 peace agreement, on Feb. 17, 2008 it proclaimed independence from Serbia

Robertson Davies wrote about this mythical monster with the head of a man & body of a lion
Scores at the end of the Double Jeopardy! Round:
| | | |
| --- | --- | --- |
| Peter | Tenaya | Terrie |
| $17,000 | $5,600 | $7,800 |
| (lock game) | | |
Final Jeopardy! Round
In 1855 he wrote, "The public appears disposed to be amused even when they are conscious of being deceived"
Final scores:
| | | |
| --- | --- | --- |
| Peter | Tenaya | Terrie |
| $17,000 | $600 | $1,300 |
| Automatic semifinalist | 3rd place: $5,000 if eliminated | 2nd place: $5,000 if eliminated |
Game dynamics: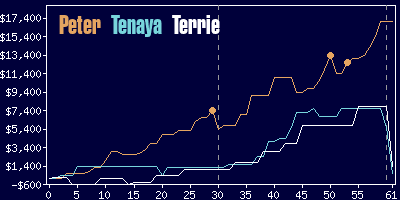 Peter
Tenaya
Terrie
$22,200
$5,600
$7,800
27 R
(including 1 DD),
4 W
(including 2 DDs)
11 R,
3 W
10 R,
2 W
Game tape date: 2016-02-24