Show #2342 - Tuesday, November 8, 1994
1994 Celebrity Jeopardy! game 2.
Jeopardy! Round
Football fans know this state is the home of the Aloha Bowl

"Mrs. Robinson, do you think we could say a few words to each other first this time?" is a line from this film

This thick, spicy tomato sauce is the traditional American accompaniment for french-fried potatoes

An avid sportsman, this cable mogul created the Goodwill Games

If you've still got these "jolly jolly" coins of England, they're no longer legal tender

In high school P.E. stands for this class

Wakulla Springs, one of the deepest springs in the U.S., is near Tallahassee in this state

In "Road to Rio", Bob Hope asked her, "How did you get into that dress

--

with a spray gun?"

The fish stew called cioppino was created in this California city by the bay

At his death in 1994, this composer was writing songs for a stage version of "Victor/Victoria"

Since 1984 gold coins minted at this military academy site have been marked with a W

This hospital locale can be abbreviated OR or O.R.

Bill Clinton could tell you this state's motto is Regnat Populus

--

"The people rule"

In this film Hattie McDaniel said, "You can't show your bosom 'fore three o'clock"

This celebrated architect was the grandfather of actress Anne Baxter

The dollar is divided into 100 cents & the Mexican peso is divided into 100 of these units

The fi in sci-fi is short for fiction; in hi-fi it's short for this

It's the only U.S. state that's larger than Texas

In this film Ray Milland asked a bartender, "Come on, Nat. Join me

--

one little jigger of dreams, huh?"

In 1994 this Spanish tenor was named artistic director of the Washington Opera

It's the term for a tenth of one's annual income given to support a church

PC can stand for politically correct or for this desktop device

Tuscaloosa was the capital of this state from 1826 until 1846

As "Isadora", this actress said, "To dance is to live"

In 1988 this newscaster and former Junior Miss became Mrs. Mike Nichols

During the 1976 Bicentennial, this bill with Thomas Jefferson's portrait was reissued

Abbreviated atm., it's what a restaurant on the moon lacks
Scores at the first commercial break (after clue 15):
| | | |
| --- | --- | --- |
| Kareem | Alexandra | Larry |
| $800 | $300 | $2,200 |
Scores at the end of the Jeopardy! Round:
| | | |
| --- | --- | --- |
| Kareem | Alexandra | Larry |
| $3,700 | -$100 | $3,300 |
Double Jeopardy! Round
| | | | | | |
| --- | --- | --- | --- | --- | --- |
| | | | | | |
| In June 1983 this PLO leader, accused of slandering Syria, was expelled from the country | Her first no. 1 hit after leaving the Supremes was "Ain't No Mountain High Enough" in 1970 | Founded in Cambridge in 1636, it's the oldest institution of higher learning in the U.S. | He visited Wales on July 1, 1994, the 25th anniversary of his investiture as the Prince of Wales | In the 1970s James Whitmore gave 'em hell in a one-man stage show about this president | This 150-200 lb. dog that's been saving people in the Alps for 300 years got its name in 1880 |
| Senator Jesse Helms led the opposition to this federal holiday that became law in 1983 | Last name of Velvet Underground guitarist Sterling or Doors vocalist Jim | | Many kings & Queens of England, including James I, are buried in this church | Character who says, "I have always depended on the kindness of strangers" | 1880 tale by Johanna Spyri about a little girl who lives in the Alps |
| The first of these birds hatched in captivity was born at the San Diego Zoo | This Beatles song begins, "Jojo was a man who thought he was a loner" | In 1896 the College of New Jersey adopted this name | His first wife, Catherine of Aragon, was the youngest daughter of Ferdinand & Isabella | The 3 scenes of this Neil Simon comedy all take place in the same New York hotel room | This method of wordless singing by switching from a regular to a falsetto voice originated in the Alps |
| The Greens won 27 seats in this country's Bundestag | | This New Hampshire college was an outgrowth of Moor's Indian Charity School, founded in 1754 | She was nicknamed "Good Queen Bess" | The Scopes Monkey Trial inspired this play that opened in 1955 | |
| This cartel cut prices for the first time since it was formed in 1960; Saudi Light fell $5 to $29 | | The prestigious Haffenreffer Museum of Anthropology in Bristol, R.I. is owned by this university | | In 1993 & '94 David & Shaun Cassidy appeared in this musical about twins separated at birth | |
Scores at the end of the Double Jeopardy! Round:
| | | |
| --- | --- | --- |
| Kareem | Alexandra | Larry |
| $7,900 | $500 | $4,700 |
| | | |
Final Jeopardy! Round
In his 1913 autobiography, he said "Do not hit at all if it can be avoided; but never hit softly"
Final scores:
| | | |
| --- | --- | --- |
| Kareem | Alexandra | Larry |
| $11,900 | $1,000 | $9,400 |
| Winner: $11,900 to Athletes and Entertainers for Kids | 3rd place: $10,000 to Heal the Bay | 2nd place: $10,000 to the Larry King Cardiac Foundation |
Game dynamics: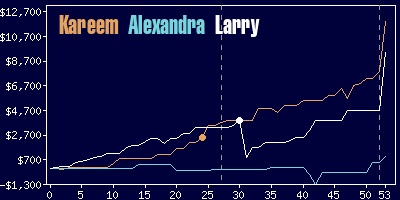 Kareem
Alexandra
Larry
$7,400
$500
$7,700
19 R
(including 1 DD),
3 W
5 R,
3 W
24 R,
2 W
(including 1 DD)
Game tape date: 1994-10-02