Show #7200 - Friday, December 25, 2015
Alex uses a
cane
during the closing credits chat.
Jeopardy! Round
THE SIMPSONS EPISODE TITLES

SUV SHOPPING
(Alex: We'll give you the model, you give us the make.)

BREWING BEER
(Sarah: From the Malting & Brewing Science Program at UC Davis, the craft and science that go into a cold one.)

This character's "Odyssey"

Squirrels are part of this order characterized by rootless, ever-growing incisors

"Peter and the Starcatchers" is Dave Barry & Ridley Pearson's 2004 backstory to this character

The supersized squirrel family members called marmots include this creature

The first thing this Dr. Seuss character says to Sally & her brother is "Why do you sit there like that?"

Chipmunks are in the genus Tamias, Greek for this 9-letter word meaning a person in charge of money

This TV "Fonz" has co-written over 20 books about Hank Zipzer, "The World's Greatest Underachiever"

2-word phrase for the elation of bossing others around

"Much" him "About Nothing"

On the Carolina northern this creature, skin between the wrist & ankle forms an aerodynamic surface for gliding

In this 1959 book whose title means a journey through the bush, 2 white children are saved by an Aboriginal boy

Another nickname of George Herman Ruth

The "Bonfire of" these aquatic mammals

This creature mentioned in one of North Dakota's nicknames is a ground squirrel, not a bird

In "Winnie-the-Pooh", Piglet tries to capture one of these imaginary elephant-like creatures
Scores at the first commercial break (after clue 15):
| | | |
| --- | --- | --- |
| Markus | Emily | Dee |
| $0 | $1,000 | $3,200 |
Scores at the end of the Jeopardy! Round:
| | | |
| --- | --- | --- |
| Markus | Emily | Dee |
| $2,400 | $4,000 | $3,600 |
Double Jeopardy! Round
THE LARGEST COUNTRY...
(Alex: We'll give you some information about that.)

(Alex: Hey...)
WHAT HAPPENED WHEN?

(Alex: And each correct response...)
STARTS WITH A FRUIT

Entirely outside Asia, by area

She, "Queen of the Desert", is an old bus that takes 3 entertainers into the outback

The Gerald R. Ford Presidential Library is on this school's campus

Frederick Banting & Charles Best first isolated this glucose-regulating hormone on July 30, 1921

Bill Magrath's "Returning Fire", seen here, depicts the 1862 battle between these 2 vessels

Not literally, but this way

Entirely south of the Equator, by area

It's the type of vehicle used by Travolta & friends in "Wild Hogs"

Dominico Fontant designed this library of the pontiffs in the late 1500s

Mexico was victorious over French forces at the Battle of Puebla on this date in 1862

This Brit's sister Frances Reynolds, who lived with him as a housekeeper, called him a "gloomy tyrant"

A small computer program that you can use to work in another program

Entirely in Europe, by population

In 2015 Ed Skrein replaced Jason Statham as the man on the move in this franchise: "Refueled"

Named for its architect, this 17th century library at Cambrige U. has many books from Isaac Newton's own library

This 28-year-old naval officer led U.S. forces to victory on September 10, 1813 at the Battle of Lake Erie

When he died in 1989, he was buried on the floor of the main room of his museum in Figueras, Spain

Don't shrivel when I tell you it means rearing a child

River Phoenix & his fugitive parents have spent years on the move in this film

Fulton, Missouri has a memorial & library devoted to this British statesman

This cowboy humorist & Wiley Post were killed on August 15, 1935 when Post's plane crashed in Alaska

His masterpieces painted in Delft included "View of Delft" & "Woman with a Water Jug"

This material forms the caves of Wind Cave National Park

In Central America, by population

She played Sissy, hitchhiker supreme, in "Even Cowgirls Get The Blues"

This Harvard University library named for a man who died on the Titanic has 57 miles of shelves

On March 6, 1857 Chief Justice Roger Taney announced the Supreme Court's decision in this slave's case

This Frenchman experimented with light in series paintings, as in his "Haystacks" under different weather & times of day

As a verb it can mean to make a pillow full & round
Scores at the end of the Double Jeopardy! Round:
| | | |
| --- | --- | --- |
| Markus | Emily | Dee |
| $19,000 | $8,800 | $10,000 |
| | | |
Final Jeopardy! Round
He wrote the line "Our home has been nothing but a playroom"
Final scores:
| | | |
| --- | --- | --- |
| Markus | Emily | Dee |
| $17,999 | $1 | $19,001 |
| 2nd place: $2,000 | 3rd place: $1,000 | New champion: $19,001 |
Game dynamics: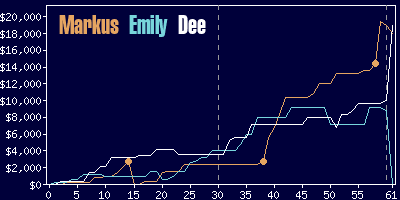 Markus
Emily
Dee
$16,800
$8,800
$10,000
21 R
(including 2 DDs),
2 W
(including 1 DD)
15 R,
4 W
14 R,
2 W
Game tape date: 2015-12-01