Show #7192 - Tuesday, December 15, 2015
Jeopardy! Round
IT'S A LIE
(Alex: You have to identify the item that doesn't belong.)

Tired of delays on the 1961 launch of this program, Alan Shepard snapped, "Why don't you fix your... problem & light this candle?"

A classic: "'Christmas won't be Christmas without any presents', grumbled Jo, lying on the rug"

Ethelred, Ethelfred & Edred were all kings of England

The second verse of this "quiet" tune rhymingly says, "Shepherds quake at the sight"

Open-top shoe fastened with straps

100-199: works on this subject from guys like Aquinas & Schopenhauer

In 1969 Alain Poher stepped in for this French president, who said au revoir after a referendum didn't go his way

A kids' classic: "Every Who down in Who-ville liked Christmas a lot"

Delaware, Maryland & Rhode Island are the 3 smallest U.S. states in area

This title precedes "the Lord is come" & "the Savior reigns"

A notorious circumstance or event

200-299: these, including Baha'i

On Feb. 21, 1965 he was assassinated as he delivered a lecture at the Audubon Ballroom in Harlem

A Rand-om novel: "Who is John Galt?"

French cheeses include Haricot, Tarentais & Le Vachard

This tune takes us back 2,000 years

Like someone who's been canonized

300-399: this alliterative term for fields like economics & anthropology

An Oct. 13, 1960 New York Times headline read that this world leader "bangs his shoe on desk"

From the 1990s: "Tyler gets me a job as a waiter, after that Tyler's pushing a gun in my mouth..."

European capital cities include Vaduz, Bucharest & Zurich

"On the twelfth day of Christmas, my true love gave to me" these musicians

--

we need to re-examine our relationship

Pertaining to the backbone

800-899: Columbia has a department of English & comparative this

On Aug. 7, 1964 the House reacted to reports of North Vietnamese aggression & passed this resolution, 414-0

By Joseph Conrad: "The Nellie, a cruising yawl, swung to her anchor without a flutter of the sails..."

The Cane Corso, the Papillon & the Devon Rex are all American Kennel Club recognized dog breeds

This song title precedes "bearing gifts we traverse afar"
Scores at the first commercial break (after clue 15):
| | | |
| --- | --- | --- |
| Sam | Tiombi | Rami |
| $800 | $1,400 | $4,800 |
Scores at the end of the Jeopardy! Round:
| | | |
| --- | --- | --- |
| Sam | Tiombi | Rami |
| $1,200 | $5,200 | $7,000 |
Double Jeopardy! Round
THE DEWAR'S DECIMAL SYSTEM

4-LETTER WORDS WITH 3 VOWELS

BAD GRAMMER
(Alex: Pay attention to the spelling there.)

I have a bottle of Dewar's 12 Year that is 86 proof or this much alcohol by volume as a decimal fraction

French for "handsome", he's a girl's boyfriend

This naturalist wrote his 1830s voyage was to "survey the shores of Chile, Peru and of some islands in the Pacific"

Kelsey Grammer, voicing this TV villain: "Attempted murder?...Do they give a Nobel Prize for attempted chemistry?"

1.5 ounces of Dewar's product plus .5 ounces Schweppes product over ice makes this alliterative cocktail

The journals of their 1803-1806 expedition mention Sacagawea, not always by name & not always spelled the same

Kelsey scared his daughter the first time she saw him in makeup as this character in "A Christmas Carol: The Musical"

Dewar's was the 1st Scotch of this type to be a royal supplier; 40 single malts go into it, an average of .025 of the whole

L&D; it has to do with childbirth

It stretches from Cape Olyutor to the Seward Peninsula

Kelsey sends hired help after Mark Wahlberg's daughter in the "Age of Extinction" installment of this series

A fifth of Dewar's is .2 gallons, so this much of a quart

FBS is this type of test done after a patient hasn't eaten for at least 8 hours

A 1666 entry in his diary read, "The churches, houses and all on fire and flaming at once"

From the mid-1880s to 1914, this sea east of New Guinea was under German control

"No hand-me-down cowboy doll is going to mess things up" for this stinky prospector in "Toy Story 2"

The .02 of each barrel a year lost to evaporation as Dewar's ages is known as these heavenly beings' share

AAA is not the auto club but an abdominal aortic this event

A 3-pronged tip called a point d'arret was once attached to the tip of its blade to aid in producing touches

Some erasures & calculations in his 1926 notebook have cast doubt on whether he was the first to fly over the North Pole

It's not easy to "scale" this Arctic sea named for a British admiral; it's under ice most of the year

On "Medium" Kelsey was death personified, haunting the visions of Allison DuBois, played by this blonde
Scores at the end of the Double Jeopardy! Round:
| | | |
| --- | --- | --- |
| Sam | Tiombi | Rami |
| $800 | $15,600 | $4,200 |
| | (lock game) | |
Final Jeopardy! Round
The author of his own dystopian classic in 1932, this man taught a young George Orwell at Eton
Final scores:
| | | |
| --- | --- | --- |
| Sam | Tiombi | Rami |
| $0 | $14,200 | $6,600 |
| 3rd place: $1,000 | New champion: $14,200 | 2nd place: $2,000 |
Game dynamics: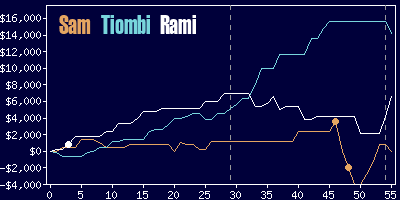 Sam
Tiombi
Rami
$6,400
$15,600
$4,000
10 R,
8 W
(including 2 DDs)
21 R,
3 W
15 R
(including 1 DD),
4 W
Game tape date: 2015-10-21