Show #4832 - Tuesday, September 20, 2005
Jeopardy! Round
THE JOHN F. KENNEDY LIBRARY AND MUSEUM

FOOD A LAFONTAINE
(Alex: The clues will be given by the familiar voice of Don LaFontaine. You've heard his voice on many movie trailers.)

No. 2 for these 2 in '82: "The girl is mine, the doggone girl is mine, don't waste your time, because the doggone girl is mine"

Gerbert picked this name, not Tweety, when he became pope in 999

John Lennon,
Ringo Starr,
George Harrison

From the Latin for "weaving", it's any woven or knitted fabric

A 19th C. goblet in the library was given to Pres. Kennedy when he visited this country of his ancestors in 1963

"She'll make you live her crazy life but she'll take away your pain, like a bullet to your brain" in this 1999 song

Pope Paul VI named more than 2 dozen new ones of these in 1965, bringing the world total up to 103

Stokely Carmichael,
Martin Luther King, Jr.,
Malcolm X

Dipsy is the green one of these characters on PBS

In 1986, Sammy Hagar wailed, "Only time will tell if we stand the test of time" when he was this band's lead singer

Pope Gregory IX formalized the medieval version of this one-word search & destroy heretics program

Alexander the Great,
Darius the Great,
Frederick the Great

This small Arizona city is home to Boot Hill Graveyard & the O.K. Corral

The library has JFK's phonetic notations to remind himself how to pronounce these 4 words on June 26, 1963

Can't argue with that: in "Fly Like An Eagle" he sang, "Time keeps on slippin', slippin', slippin'... into the future"

Nicholas V was the last pope to serve concurrently with one of these

--

Felix V, who resigned in 1449

Leon Trotsky,
Vladimir Lenin,
Josef Stalin

Thin, pale & young, the image of this model born Leslie Hornby seemed to sum up her era

In this hit, "Feels so good when you know you're down, a super dope homeboy from the Oaktown... Stop. Hammer time"

John Paul Stevens,
William Rehnquist,
David Souter

It's beef stomach lining, yum!
Scores at the first commercial break (after clue 13):
| | | |
| --- | --- | --- |
| Victoria | Stacey | Ray |
| $6,200 | $1,000 | $0 |
Scores at the end of the Jeopardy! Round:
| | | |
| --- | --- | --- |
| Victoria | Stacey | Ray |
| $10,500 | $3,800 | $1,200 |
Double Jeopardy! Round
16- (YES, 16-) LETTER WORDS

"The Blob",
"Bullitt",
"The Thomas Crown Affair"

Garfield Todd tried to reduce government racism as a 1950s P.M. of Southern Rhodesia, now this country

25 of the title character's poems form the last part of this Boris Pasternak novel

In boxing, do something crazy like, I don't know, biting a guy's ear off & you'll get a DQ, this

Deke Slayton, grounded from this program in 1962 for medical reasons, finally went into space in 1975

"Evelyn",
"The Tailor of Panama",
"The Thomas Crown Affair"

Not only was Henry Ford born in this Michigan city, he also started his first auto company there

In 1779 Isaac Todd helped form the North West Co. to challenge the Hudson Bay Co.'s monopoly in this trade

When parts of this novel were published in Paris in 1973, Alexsandr Solzhenitsyn was branded a traitor

An attack by an army against an already-attacking enemy force

"Get Shorty",
"Ransom",
"The Thomas Crown Affair"

In 1895 French army captain Alfred Dreyfus was sent there

He promoted the wide-screen process Todd-AO, first used in the 1955 movie "Oklahoma!"

While in Moscow for the first performance of his "The Cherry Orchard", he became ill and soon died

Breathe into a paper bag to relax the muscles when suffering from this, breathing too fast & too deeply

"Nixon",
"Pleasantville",
"The Upside of Anger"

For many years Paul Klee taught at the National Academy of Art in this German city

In 1812 Thomas Todd didn't need a wedding at the Elks Lodge; his bride's sister Dolley arranged to have it here

Before his death sentence was commuted he wrote "The Little Hero"; after being freed, he wrote "The Idiot"

Indisputable, or not open to question, it can precede "evidence" in a courtroom

"Gosford Park",
"Random Hearts",
"The Horse Whisperer"

Until 1975 the West African Republic of Benin was known by this name

John Todd gave his name to a type of this algebraic expression of 2 or more terms connected by symbols

Some say this 1836 Nikolay Gogol play about a civil servant named Khlestakov is the greatest in the Russian language

An extinct genus of small-brained, large-toothed bipedal hominids that lived in Africa 1 to 4 million years ago
Scores at the end of the Double Jeopardy! Round:
| | | |
| --- | --- | --- |
| Victoria | Stacey | Ray |
| $12,900 | $11,400 | $7,200 |
| | | |
Final Jeopardy! Round
The phrase "How I want a drink, alcoholic of course" is often used to help memorize this
Final scores:
| | | |
| --- | --- | --- |
| Victoria | Stacey | Ray |
| $2,999 | $8,399 | $14,200 |
| 3rd place: $1,000 | 2nd place: $2,000 | New champion: $14,200 |
Game dynamics: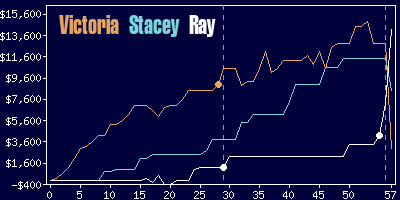 Victoria
Stacey
Ray
$12,200
$11,400
$5,200
29 R
(including 1 DD),
7 W
12 R,
0 W
9 R
(including 2 DDs),
2 W
Game tape date: 2005-07-21