Show #7190 - Friday, December 11, 2015
WE ASKED
: Kevin O'Leary. [NOTE: Feature never placed online.]
Jeopardy! Round
PRESIDENTIAL PARTY POLITICS

Grant, Garfield & McKinley were 3 presidents belonging to this party

In fencing it's to block an opponent's thrust

Why go on? Without a 0-dimensional geometric term, life is this

Artist Klimt,
different kind of artist Mahler,
a few kings of Sweden

The Anjou type of this fruit originated in France; the Bartlett is an English variety

In 1928 Trafton Cole & this partner began making men's footwear

Andrew Jackson was the first winner of the presidency for the modern version of this party

A chicken crossing the road, a duck flying, or a turkey swimming, is this 3-word phrase

Clockmaker Seth,
painter Gainsborough,
poet Dylan

It's not simply a peach without fuzz but actually a genetic variant of the peach

On "Sex and the City" Carrie was obsessed with the fancy heels by this high-end Spanish shoe designer

In the 1840s Abraham Lincoln was a member of this "hair-raising" party

A bad split in bowling yields this 2-word term; a white one around a house is part of the American dream

The tabby wanted to be a tiger, but she was only this, like a "Lion King" African mammal

Musician Blind Lemon,
non-U.S.-president Davis

The Chinese gooseberry was renamed this by New Zealanders

Lance Clark created the shoes known by this name that sounds just like certain Australian animals

In 2008 ex-Rep. Cynthia McKinney, not Ralph Nader, was this party's presidential choice

This large knight has had too much pi & it's a long way around his middle

Don't be a sap! A winesap is an all-purpose type of this fruit with a glossy red skin

Princess Diana was an early fan of the shoes made by this Malaysian-born cobbler

John Adams was elected president as a member of this party

These features on the mouth of a llama relative bring us close to the end of the world

The movies' Trumbo,
English chemist John,
politics' Fred Thompson

This brand known for its FiveFingers shoe is named for Vitale Bramani, creator of a rubber lug sole for mountaineering
Scores at the first commercial break (after clue 15):
| | | |
| --- | --- | --- |
| Alex | Katie | Brandon |
| $2,400 | -$200 | $1,600 |
Scores at the end of the Jeopardy! Round:
| | | |
| --- | --- | --- |
| Alex | Katie | Brandon |
| $3,400 | -$600 | $1,600 |
Double Jeopardy! Round
WE'LL ALWAYS HAVE PARASITES

A 3-D CATEGORY
(Alex Trebek: Because each correct response will have three of the letter "D"s in them.)

SHAKESPEARE'S WOMEN SPEAK
(Alex Trebek: You have to name the character for us.)

You couldn't ditch work as a ditcher, part of the group that dug castle foundations & these defensive trenches

Home to the South African Maritime Museum, it's called a "Town", though millions live there

(I'm Kevin O'Leary of Shark Tank.) One of the main investment areas for my O'Leary Funds is blue-chip stocks that pay out these; why not get paid while you wait!

"Is Tybalt dead? My dearest cousin, and my dearer lord? Then, dreadful trumpet, sound the general doom"

This type of maid whose name comes from the Old French for "keeper of dishes" was a low-level worker

More than half of Indonesians live on this island

To remove faded flowers from a plant to encourage further blooming

"Go get some water, & wash this filthy witness from your hand. Why did you bring these daggers from the place?"

This job comes from Latin for "bottle" & before getting wider responsibilities meant running the beer cellar

More than a third of this Australian island is set aside for national parks & the wilderness world heritage area

It's the piece of equipment in use here, named for what's propelling it

"I never did offend you in my life; never loved Cassio but with such general warranty of heaven as I might love"

You started this job as a junior to a squire at 7 years of age; nice haircut!

On Africa's west coast, it's alphabetically the first southern hemisphere country

Trypanosomes, animal parasites causing African sleeping sickness, are carried by this African fly with a repeating name

A book parody of the Crawley family & their estate uses this word meaning "trampled upon" before "Abbey" in its title

"Love well our father; to your professed bosoms I commit him... So farewell to you both"

An atilliator was someone who made these bolt-firing weapons

This country is said to be landlocked but you can travel the Parana River on its border to the Rio de la Plata & the Atlantic

Muscle weakness is a symptom of this disease, a brain inflammation sometimes caused by tiny parasites

This poem by Sylvia Plath says, "You stand at the blackboard... in the picture I have of you"

"O, what a noble mind is here o'erthrown!... O, woe is me! To have seen what I have seen, see what I see!"
Scores at the end of the Double Jeopardy! Round:
| | | |
| --- | --- | --- |
| Alex | Katie | Brandon |
| $600 | $14,000 | $1,800 |
| | (lock game) | |
Final Jeopardy! Round
The only time the pope & the U.S. president shared a name ended when both died in this year
Final scores:
| | | |
| --- | --- | --- |
| Alex | Katie | Brandon |
| $1,198 | $13,000 | $2,000 |
| 3rd place: $1,000 | New champion: $13,000 | 2nd place: $2,000 |
Game dynamics: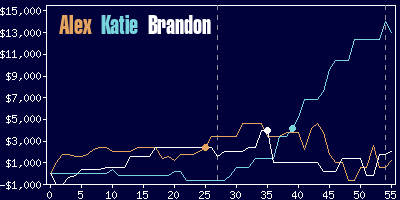 Alex
Katie
Brandon
$200
$14,200
$4,800
17 R
(including 1 DD),
11 W
14 R
(including 1 DD),
2 W
11 R,
5 W
(including 1 DD)
Game tape date: 2015-10-20