Show #7150 - Friday, October 16, 2015
Jeopardy! Round
Here is one of the earliest photographs of this politician

This mane event of all musicals that opened in 1997 is Disney's longest-running show on Broadway

Similar to congas, it's a pair of Afro-Cuban drums, one slightly smaller than the other

Here's this character from the first edition of the book about him in 1876

Used when cross referencing, this symbol can also call attention to a listing, like a questionable home run total

Taken without a stick or iPhone, Robert Cornelius' portrait of himself has been called the first-ever one of these photos

(Hi, I'm Josh Gad.) I played Elder Cunningham, who had a strange trip to Uganda, in this Tony Award-winning musical

Actually a type of tuned gong, they're made traditionally by hammering metal shipping containers

At the beginning of "The Grapes of Wrath", he's just been released from state prison

A "lazy eight" is a nickname for the symbol that denotes this mathematical quantity

This author is telling his grandchildren a story, but probably not "War and Peace"

Gordon's,
Hendrick's,
Citadelle

This musical about a silent screen star eager for a comeback was based on a Billy Wilder film

Oscar winner J.K. Simmons has some suggestions about Miles Teller's drumming in this 2014 film

His full name anagrams to "I AM LORD VOLDEMORT"

From the Latin for "title", it's the little line over certain N's in Spanish to indicate a nasalized pronunciation

Named for the northern polar region it inhabits, it's the critter seen here in its warm winter coat

Havana Club,
Tanduay,
McDowell's No. I Celebration

Bradley Cooper won rave reviews for his recent portrayal of the severely deformed John Merrick in this drama

Also a 2002 movie title, this high-energy musical style takes its name from the arrangement of its multiple players

In this play Tom Wingfield brings home a gentleman caller for his sister Laura

This punctuation mark can also be called a screamer or a bang

If you have Russian music in soul, you know name of this instrument

Cardenal Mendoza,
Dreher,
McDowell's

Ruth Gordon played Nora Helmer in this play in 1938; Liv Ullmann played her in 1975

This patriotic World War I song by George M. Cohan contains the lyric "The Yanks are coming, the drums rum-tumming"

In Chapter 7 of "The Great Gatsby", Gatsby tells him, "Daisy's leaving you"

A writer can indicate a lingering or unfinished thought using this symbol... represented by... 3 dots...
Scores at the first commercial break (after clue 15):
| | | |
| --- | --- | --- |
| Josh! | Zelda | Matt |
| $2,600 | $3,000 | $1,000 |
Scores at the end of the Jeopardy! Round:
| | | |
| --- | --- | --- |
| Josh! | Zelda | Matt |
| $4,200 | $6,000 | $4,800 |
Double Jeopardy! Round
GRAMMY-WINNING MUSIC VIDEOS

Architect Bertrand Goldberg changed this city's skyline with the twin towers of Marina City on State Street

Spain's Cortes, or parliament, meets in this city

In 1986 Dr. Alec Jeffreys became the first scientist to use this genetic material to identify suspected criminals

1991:
"Losing My Religion"

When told of a new theory, this Macedonian wept, "When the number of worlds is infinite, I have not conquered one"

In 1982 he completed his first project in his native China, the Fragrant Hill Hotel in Beijing

According to legend, this second-largest city was founded by Hamilcar Barca around 230 B.C.

This ancient scientist worked out the principles of the lever & other simple machines around 250 B.C.

One quote from him is "We must now set about building a proletarian socialist state in Russia"

These launch devices on Navy aircraft carriers share their name with ancient military machines

Renzo Piano designed the Manhattan building that in 2007 became the new home of this over 150-year-old newspaper

No bull! This city's first bishop was San Fermin

Fossil finds in Africa by this husband & wife established Homo habilis as an ancestor of modern man

1997:
"Got 'Til It's Gone"

This former slave once told Frederick Douglass that in all her journeys she "never lost a single passenger"

Some versions of this 2-hulled sailboat of Polynesia can be 100 feet long

In 1949 he built his famous "Glass House" in New Canaan, Conn., a simple rectangle in the Modernist style

A 2,000-year-old Roman aqueduct serves as a symbol of this city that shares its name with a famous guitarist

Physicist Wolfgang Pauli's 1925 exclusion principle states that no 2 of these can be in the same quantum state

2007:
"God's Gonna Cut You Down"
(a country legend)

In one of his notebooks, Leonardo da Vinci wrote that this family "created and destroyed me"

From the Greek for "wash down", it's a sudden, catastrophic natural event

The Iowa courthouse seen here was designed by George Elmslie, a follower of Frank Lloyd Wright, in this flatland style

This home of El Greco is famous for its fine steel swords

In the 17th century John Napier was all about that base, inventing these quantities that simplify calculations

This 19th century "Iron Chancellor" predicted a European war started by some "foolish thing in the Balkans"

Anatomical term for a person used to serve the purposes of another
Scores at the end of the Double Jeopardy! Round:
| | | |
| --- | --- | --- |
| Josh! | Zelda | Matt |
| $20,000 | $9,600 | $13,200 |
| | | |
Final Jeopardy! Round
When translated, the full name of this Major League Baseball team gets you a double redundancy
Final scores:
| | | |
| --- | --- | --- |
| Josh! | Zelda | Matt |
| $13,599 | $1,000 | $200 |
| 2-day champion: $34,800 | 2nd place: $2,000 | 3rd place: $1,000 |
Game dynamics: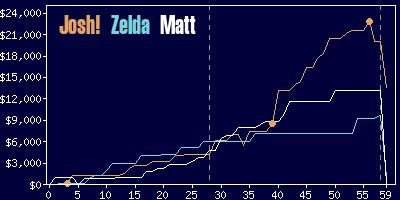 Josh!
Zelda
Matt
$19,600
$9,600
$13,200
22 R
(including 2 DDs),
2 W
(including 1 DD)
12 R,
0 W
17 R,
1 W
Game tape date: 2015-09-08