Show #7104 - Thursday, July 2, 2015
Jeopardy! Round
ANIMALS, VEGETABLES, MINERALS

USS COD
(Sarah: Not as menacing a name as Shark or Barracuda, but she helped win the war in the Pacific.)

A German army medic named Klaus was the "Doc" behind this boot brand

Of the colors in a rainbow

This mammal is nicknamed the "ship of the desert"

In 1972 he flew moderately "Hi, Hi, Hi" into the Top 40 with Wings; he was in another OK band before that one

Weighty, or a brand of garbage bag

Wimbledon winner Stan Smith's classic shoes from this brand are white with green trim but no stripes

Of the U.S. automakers traditionally known as the big 3

The "lead" in pencils is actually clay mixed with this mineral, a form of carbon

The "S" in CSN, this musician made the Rock & Roll Hall of Fame in that band & also in Buffalo Springfield

His Basketball HOF bio says in 1921 he "hobbled into a Converse Chicago sales office complaining of sore feet"

Of Santa's reindeer in "A Visit from St. Nicholas"

Having short spikelike antlers & weighing about 20 pounds, the pudu is the smallest member of this animal family

After the White Stripes, he helped form the Raconteurs

To restrict movement, perhaps "to quarters"

On Forbes' 2015 billionaires list, he's No. 35 with a Swoosh

They've been described as looking like anemic carrots

Damon Albarn fronted Blur & this animated "animal" band that sang, "I ain't happy, I'm feeling glad, I got sunshine in a bag"

If I imply, it's up to you to do this, surmise my meaning

Nathan was the first name of this man who patterned his "Original" Desert Boot after 8th Army footwear

Of the 3 basic orders of ancient Greek columns

The name of this mineral is from the Greek for "fire"; as well as fooling gold-seekers, it produced the spark in wheel-lock guns

Brandon Bush de-Train-ed, saying "all I want to do" is tour with his brother Kristian & Jennifer Nettles in this country band
Scores at the first commercial break (after clue 15):
| | | |
| --- | --- | --- |
| Alex | Elsa | Jon |
| -$600 | $3,400 | $2,600 |
Scores at the end of the Jeopardy! Round:
| | | |
| --- | --- | --- |
| Alex | Elsa | Jon |
| $3,200 | $4,200 | $4,200 |
Double Jeopardy! Round
LITERATURE OF THE EARLY 1800s

In 1842 she survived an assassination attempt by a dwarf

The oldest federal law-enforcement agency, the U.S. Marshals were established when this man signed the 1789 Judiciary Act

"Florida's Beginning Point"

Mickey's better half, she's been with him right from the beginning in 1928's "Steamboat Willie"

Friedrich Schiller's drama about William Tell includes the scene where he shoots one of these off his son's head

"Back to" these means returning to work, whether you labor underground or not

This monarch married his brother's widow

Since 1971, the Marshals have given more than 18,000 people a new start via WITSEC, this program

"The Insurance Capital of the World"

This cartoon hero is famous for proclaiming, "Here I come to save the day"

The first volume of a work by these brothers contained 86 stories, including "The Frog King" & "Sleeping Beauty"

In the Sermon on the Mount, Jesus called his listeners this, meaning they were the best of society

The restoration of King Charles II in 1660 also restored this royal house

Each year Marshals move some 100,000 prisoners on an airline nicknamed this, like a 1997 Nicolas Cage film

On PBS a mouse named Angelina seeks this rhyming artistic vocation

Sir Walter Scott's Waverley novels include "A Legend of Montrose" & one about this alliterative Scottish outlaw

A 1978 film featured Peter Frampton as Billy Shears & Billy Preston as this "military" title character

She married the future king of Spain in Winchester Cathedral in 1554

The Marshals don't just chase bad guys; from 1790 to 1870, they were responsible for taking this every 10 years

"The Live Music Capital of the World"

A money-strapped duchy decides to declare war on the U.S. in the book & movie "The Mouse that" did this

A father, a mother & 4 sons are shipwrecked on a desert isle in this Johann David Wyss adventure tale

He's seen here in 1910, the year he became king following the death of his father, Edward VII

In 1962 and 1963, Marshals gave round-the-clock protection to this University of Mississippi student

"Queen City of the Rockies"

--

Denver or this city

Brian Burton has been part of Gnarls Barkley & "The Grey Album" under this name

This romantic poet who penned "To a Skylark" also waxed political with essays like "The Necessity of Atheism"
Scores at the end of the Double Jeopardy! Round:
| | | |
| --- | --- | --- |
| Alex | Elsa | Jon |
| $16,400 | $14,200 | $7,800 |
| | | |
Final Jeopardy! Round
In 1890 a critic said this artist "directs his brush with enormous dabs of impasto of very pure color in sinuous trails"
Final scores:
| | | |
| --- | --- | --- |
| Alex | Elsa | Jon |
| $4,399 | $4,200 | $15,599 |
| 2nd place: $2,000 | 3rd place: $1,000 | New champion: $15,599 |
Game dynamics: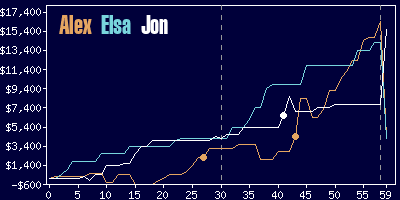 Alex
Elsa
Jon
$13,600
$14,200
$7,000
22 R
(including 2 DDs),
4 W
15 R,
0 W
14 R
(including 1 DD),
3 W
Game tape date: Unknown