Show #7070 - Friday, May 15, 2015
2015 Celebrity Jeopardy! game 5.
Jeopardy! Round
"BULL" ____
(Penn: I know about that!)

Oscar-winning actor J.K. Simmons is the voice of the yellow one of these candies in TV commercials

With its numbers increasing, the California gray whale has been taken off this federal list

At a raw bar, try the Lynnhaven type of this mollusk

--

it doesn't shuck

In vulcanology, a volcano that hasn't erupted in 10,000 years is called this, like the dinosaurs

Relief pitchers warm up there

His handle on Twitter is @ActuallyNPH

In 1994 this woman officially opened the England-France "Chunnel", once thought impossible

Sushi lovers know a California roll contains this tree fruit aka the alligator pear

The "Ring of Fire" is a large circle of active volcanoes on both sides of this ocean

This symbol of Yale is considered a non-sporting breed by the American Kennel Club

Angus Young has been wearing his school uniform as a member of this hard-rockin' group since the early 1970s

U.S. skier Gus Kenworthy won silver in the 2014 Olympics in this Russian city & also adopted a family of stray dogs

Sorbet is served to cleanse this, a term for a part of the mouth

The world's highest active volcano, 22,600' Ojos del Salado, is in these South American mountains

The small, central circle on a dartboard

Alexander McQueen's Sarah Burton designed her royal wedding dress, as well as her sister Pippa's bridesmaid dress

After half a century, this island nation & the U.S. are in talks to restore diplomatic relations

As you can see, this traditional roast beef accompaniment is not what we'd normally call a pudding

2-word term for a railed, super-high-speed passenger transport like the shinkansen in Japan

Emma Thompson introduced Hugh Laurie to this comedy partner, also the host of a British TV show called "QI"

This Londoner, the first black model on the cover of Time, established Fashion For Relief in 2005

Columbus was a fan of these, also a generic Italian term for cookies, because they resisted mold on voyages

The Progressive Party of 1912 was popularly known by this name, from a line uttered by Theodore Roosevelt
Scores at the first commercial break (after clue 15):
| | | |
| --- | --- | --- |
| Zachary | Cynthia | Penn |
| $1,600 | $1,700 | $200 |
Scores at the end of the Jeopardy! Round:
| | | |
| --- | --- | --- |
| Zachary | Cynthia | Penn |
| $3,400 | $3,300 | $200 |
Double Jeopardy! Round
THE STAR OF OSCAR'S BEST PICTURE
(Alex: We'll give you the star.)

HE GREW UP TO BE PRESIDENT

After the success of "The Grapes of Wrath", he went to Mexico to collect marine life with a biologist buddy

My winnings are in the overhead bin as I sit on the runway of the airport in this city, 5757 Wayne Newton Blvd.

Upon signing this document, John Hancock supposedly said, "I guess King George will be able to read that"

At Eureka College, he was an athlete as well as an actor & student body president

The Torah has 5 books; this is the first

Chapter IX of this Dumas novel is "D'Artagnan Takes Command"

You'll find the runway of Gdansk Lech Walesa Airport in this country

Attributed to the Duchess of Windsor is the quote "You can never be too rich or too" this

As a 5-year-old, he made $5 on Saturdays selling boiled peanuts on the street

This "Wild" star was alphabetically last among the 5 Best Actress Oscar nominees for 2014

He never said "nuclear wessel"; he did say his "Cherry Orchard" was "a comedy, in places even a farce"

If you've just landed at this New York City airport, your checked bags are tagged "LGA"

The Bible says to "lay up... treasures in" this place, "where neither moth nor rust doth corrupt"

Arthur Andersen of the "Big 5" in this profession turned out to be cooking Enron's books

In an 1851 novel, this character is monomaniacal, blasphemous, 1 for 2 in the legs department & ultimately doomed

In France most traffic is at de Gaulle, but 29 million used the runways of this other Paris airport in 2014

This football coach is known for the motto "Winning isn't everything. It's the only thing"

The MPAA's 5 movie ratings are G, PG, PG-13, R & this one

Though this poet was noted for drinking, rabies rather than alcohol may have caused his 1849 death in Baltimore

On the runway in Pisa at night, look at the stars as you leave the airport named for this 17th c. Italian astronomer

In 1971, as head of the National Security Council, he said that power "is the great aphrodisiac"

In 1924, at the age of 15, he graduated from his Texas high school, then worked as a grape picker

In this ancient text, Sun Tzu outlined 5 advantages to use against a military opponent
Scores at the end of the Double Jeopardy! Round:
| | | |
| --- | --- | --- |
| Zachary | Cynthia | Penn |
| $11,400 | $5,300 | $18,800 |
| | | |
Final Jeopardy! Round
Memoirs by Righteous Brothers singer Bill Medley & this late actor share the title "The Time of My Life"
Final scores:
| | | |
| --- | --- | --- |
| Zachary | Cynthia | Penn |
| $0 | $3,300 | $13,800 |
| 3rd place: $10,000 to Direct Relief | 2nd place: $10,000 shared between Public Art Fund Inc. and FEED Foundation Inc. | Winner: $50,000 to Opportunity Village Foundation |
Game dynamics: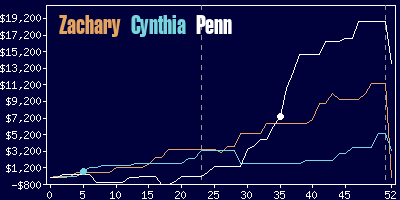 Zachary
Cynthia
Penn
$11,400
$5,600
$17,000
14 R,
2 W
11 R
(including 1 DD),
1 W
18 R
(including 1 DD),
2 W
Game tape date: Unknown