Show #7062 - Tuesday, May 5, 2015
Jeopardy! Round
U.S. HOLIDAYS & OBSERVANCES

WRITERS BY MIDDLE NAMES
(Alex: We'll give you the middle name.)

PULLING OUT ALL THE STOPS

The license to sell the goods of a company, such as McDonald's, in a designated territory

Plumbers Union Local 130 carries out the 5-decade tradition of dyeing the Chicago River green for this annual event

Allan, who was "nevermore" as of Oct. 7, 1849

Indonesia's capital, it's on the island of Java

An unfair business practice can be subject to a this & desist order

NFL fans know this fella touched down as Paul Tagliabue's successor in 2006

Abbreviated W.M., this company cleans up as the U.S. leader in trash disposal

Utah celebrates the Days of '47 on July 24, the day on which Brigham Young reached this valley

The Kenyatta International Conference Centre is in this city

Meaning to end something or fire someone, this verb often precedes "with extreme prejudice"

This advertising icon closed up shop in 2011 when GM sent him into retirement

In 1849, this man founded a company that today brings you products from Advil to Zoloft

This state created Fred Korematsu Day to honor a man who in 1942 refused to go to an internment camp

Wordsworth was his BFF:
Taylor

The central part of this city has 2 main districts: Karkh & Rusafah, which lie on the west & east banks of the Tigris

German for "hold", this order stops marching troops in their tracks

In 1993 he became the 1st game show producer inducted into the Academy of Television Arts & Sciences Hall of Fame

Revealing some of its wares, Nabisco was originally the "National" this "Company"

On April 15 forget your taxes; in Hawaii it's time to remember this saint who helped lepers

Wrote "The Master of Ballantrae":
Louis

Found in North Africa, it gets its name from an ancient district that included 3 cities

Popeye sang, "I'm strong to" the this, "'cause I eats me spinach"

As Walter in "The Big Lebowski", he definitely didn't roll on Shabbos

Many families send the mortgage check to this loans company once part of Intuit

Liberation Day, July 21 in this U.S. possession in the Marianas, celebrates its 1944 liberation from Japanese forces

Their eyes were watching her:
Neale

The Andes rise east of this 4-letter coastal capital

To use ships to close a port or harbor to prevent enemy entrance

We have "Big Love" for this "Once Upon a Time" actress who uses an unusual spelling for her first name
Scores at the first commercial break (after clue 14):
| | | |
| --- | --- | --- |
| Scott | Jen | Dan |
| $2,200 | $1,700 | $1,800 |
Scores at the end of the Jeopardy! Round:
| | | |
| --- | --- | --- |
| Scott | Jen | Dan |
| $6,000 | $5,300 | $3,600 |
Double Jeopardy! Round
MULTIPLE ROLES, SAME MOVIE

A "green paper" covers an issue for discussion; this color paper is the basis for a bill to be put before Parliament

John Cleese as Tim the Enchanter & the Black Knight

In 1953, the first of these Chevy sports cars rolled off the assembly line; all 300 made that year were white with red interior

Spice up your meatloaf:
Heinz ____

To prevent from lawyering

(I'm Misty Copeland.) In Act 2 of this classic ballet, Odette performs with her many companions, all under the same magic spell

The House of Lords has about 790 members; 26 are Lords Spiritual, appointees from this institution

Ben Stiller as Larry Daley & the caveman Laaa (the third film, "Secret of the Tomb")

In 1952 this former head of the U.N. command in Korea became chairman of the board of Remington Rand

They'll leave the light on for you:
Motel ____

The 12 men closest to Jesus

(I'm James Whiteside.) In 1985 ABT staged the first American production of this tragic Shakespearean love story choreographed by Kenneth MacMillan

In June 2012 this country's Aung San Suu Kyi became the first non-head of state to address both houses

Leonardo DiCaprio as Louis XIV & Philippe

Congress added "under God" to the Pledge of Allegiance & made this the national motto

A rallying cry:
"____ or fight"

Viral disease of the "canine" kind

(I'm Sarah Lane.) In 1947, George Balanchine created for ABT the one-act ballet "Theme and Variations" with music by this noted Russian composer

There are about 1,100 rooms in this neo-Gothic London palace where Parliament meets

Mel Brooks as Comicus & Torquemada

In 1950 cartoonist Mort Walker introduced this character as a college student; a year later, he joined the army

It's the "D" in an NDA that you may sign

(I'm He So.) One of the high points of any prima ballerina's career is dancing the role of Giselle, based in part on the poem from this 19th century French author's "Les Orientales"

Neither house can sit & debate without the presence of this ceremonial item representing the sovereign

Jeremy Irons as twin gynecologists Elliot & Beverly Mantle

In 1958, the year he turned 15, he became the youngest chess grandmaster to that time

Artificial heart used successfully in 1982:
Jarvik-____

(I'm Craig Salstein.) Jerome Robbins' choreography for this alliterative ballet also became the basis for the Broadway musical "On the Town"
Scores at the end of the Double Jeopardy! Round:
| | | |
| --- | --- | --- |
| Scott | Jen | Dan |
| $19,700 | $6,500 | $8,400 |
| (lock game) | | |
Final Jeopardy! Round
Interestingly, at the start of this novel, Prince Oblonsky, the title character's brother, has been unfaithful
Final scores:
| | | |
| --- | --- | --- |
| Scott | Jen | Dan |
| $21,150 | $12,900 | $3,700 |
| 2-day champion: $43,655 | 2nd place: $2,000 | 3rd place: $1,000 |
Game dynamics: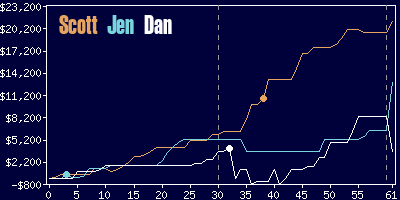 Scott
Jen
Dan
$18,400
$7,000
$12,400
23 R
(including 1 DD),
2 W
12 R,
2 W
(including 1 DD)
17 R,
3 W
(including 1 DD)
Game tape date: Unknown