Show #1251 - Monday, January 29, 1990
Jeopardy! Round
THANKS, GUYS
(Alex: Our annual way of saying "thank you" to the experts and researchers at various companies and government agencies who provide us with some of the information or verification of information we need to construct our boards.)

This adhesive can be made from animal hides, bones, vegetables or fish

Half of the Psalms are attributed to this king whose name means "Beloved (Of God)"

Snakes have a peculiar respiratory system; most of them have only one of these

He placed 6th in the U.S. Olympic decathlon trials in 1948 before limping into TV's "Gunsmoke"

Natural wonder shared by Ontario & New York State; it's a famous honeymoon destination

Jim Cole, who keeps us posted on fruit imports & exports, works for this cabinet dept.

Some folks eat these leaping insects jellied, roasted or dipped in honey

This New Testament apostle is also called Simon, Simeon or Cephas

Snakes used in these acts sway in response to the musician's movements; they can't really hear the music

Dan Rather hosts this documentary series that condenses 2 days of coverage into a single hour

The 2 capitals located in Ontario; 1 is the provincial capital & the other the national capital

When we have a question about this, the "Breakfast of Champions", we call Kathryn Newton

Some of these muscles are minimus & some of them are maximus

This came out of the rock at Horeb after Moses struck it with his rod

In Hopi Indian snake dances, priests carry these snakes in their mouths

In 1966 this ex-producer of "ABC's Wide World of Sports" received the 1st of his more than 40 Emmy nominations

The Ambassador Bridge, world's largest int'l suspension bridge, links Windsor, Ontario & this city

Richard Arnold, researcher for this Paramount "enterprise", told us about Vulcan mating customs

Romany is known as the language of these nomadic people

This gospel writer was a tax collector at Capernaum when Jesus 1st met him

Related to the boa constrictor, this largest South American snake is also called the water boa

Carroll O'Connor stars as chief Bill Gillespie in this NBC series based on 1967's "Best Picture"

Tyrone Guthrie was the 1st to direct the Shakespeare-oriented festival in this town

When we need to know about this, the King of Beers, we call Mary McHugh

Part eagle & part lion, these mythical beasts were famous for guarding gold

The hamadryad, the longest poisonous snake, is also known by this name

He played sheriff Sam Cade in the early 1970s drama "Cade's County"

The large bay & its smaller bay that form the northern border of Ontario

Mr. Otha Day of this bandleader's archive told about the 1st performance of "Rhapsody In Blue"
Scores at the first commercial break (after clue 13):
| | | |
| --- | --- | --- |
| Rob | David | Terry |
| $1,100 | $500 | $800 |
Scores at the end of the Jeopardy! Round:
| | | |
| --- | --- | --- |
| Rob | David | Terry |
| $2,300 | $1,100 | $1,500 |
Double Jeopardy! Round
| | | | | | |
| --- | --- | --- | --- | --- | --- |
| | | | | | |
| He was called "Black Dan" due to his swarthy complexion & "Godlike Daniel" from his imposing style | Completes the title of Alan Seeger's most famous poem, "I Have a Rendezvous with..." | A person who brings his own lunch to work instead of using the cafeteria | It's what the ancient Greek historian Herodotus called "the gift of the Nile" | He got his nickname as a kid from his fondness for the comic strip "Bingville Bugle" | Tibetans were played by Pala Indians from California in this film based on James Hilton's novel |
| A branch of the military that was part of the army before it became independent in 1947 | "I never saw a moor, I never saw the sea; yet know I how the heather looks, and what" one of these "must be" | A yellowish-pink color which describes a pretty girl from Georgia | | Eleanora Fagan was known as Billie Holiday & John Henry Holliday was known as this | In 1932 Paul Muni was "A Fugitive From" this |
| He resigned as Secretary of State April 15, 1959 & died a few weeks later | "Freely", "Purely", & "To the depth and breadth and height my soul can reach" | It can precede bull, gate, horde or rule | | The musical "Call Me Madam" was inspired by this "Hostess with the Mostes" | In this film E.G. Robinson uttered the dying words, "Mother of mercy, is this the end of Rico?" |
| He, not FDR, was the only Democrat Vermont supported for president since the Civil War | Leigh Hunt wrote, "Jenny" did this to "me when we met, jumping from the chair she sat in" | In "An Essay On Criticism", Alexander Pope wrote "All looks" this color "to the jaundiced eye" | | This state's name is Indian for friendship but its people didn't want "The Friendship State" on lic. plates | This Greta Garbo film in which she played a Russian was remade in 1957 as the musical "Silk Stockings" |
| These unpopular laws that dealt with citizenship & free speech contributed to John Adams' defeat in 1800 | Milton had him bemoaning, "O loss of sight, of thee I most complain!" | The word iodine comes from "ion", the same Greek root that gave this flower its name | | He, not Valentino, was "The Great Lover" of the silent screen | In this 1936 film Gary Cooper portrayed a tuba player from Mandrake Falls who inherits $20 million |
Scores at the end of the Double Jeopardy! Round:
| | | |
| --- | --- | --- |
| Rob | David | Terry |
| $1,300 | $3,300 | $5,300 |
| | | |
Final Jeopardy! Round
If Prince Charles keeps his name when he becomes king, this number will follow it
Final scores:
| | | |
| --- | --- | --- |
| Rob | David | Terry |
| $100 | $6,600 | $6,601 |
| 3rd place: Vivitar TEC 155 Zoom Camera | 2nd place: Pub Table & 4 Bar Stools | New champion: $6,601 |
Game dynamics: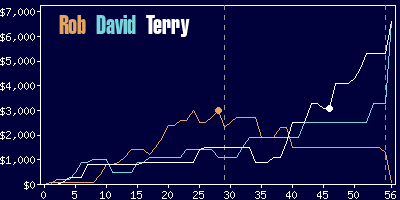 Rob
David
Terry
$2,000
$3,300
$4,900
16 R,
6 W
(including 1 DD)
11 R,
2 W
14 R
(including 1 DD),
2 W
Game tape date: 1989-09-26