Show #6952 - Tuesday, December 2, 2014
2014 Kids Week game 2.
Jeopardy! Round
AT THE SMITHSONIAN
(Alex: Maybe you have visited there.)

THE LION, THE WITCH OR THE WARDROBE
(Alex: It'll be one of those three as a correct response.)

SPELL IT OUT FOR ME
(Alex: Yes, you have to spell the correct response.)

A highlight of the Air & Space Museum is the flyer that these brothers used at Kitty Hawk in 1903

Stock up on this flavoring vegetable

This gaming console that comes in PS4 & PS Vita models

LeBron James led this team to back to back NBA titles in 2012 & 2013

To school:
A mechanical one of these, like the Paper Mate Sharpwriter with a yellow barrel

Part of the Smithsonian is the National Zoo, home to the cub Bao Bao, one of these bamboo-forest dwellers

This veggie is a type of summer squash

The current vice president's last name

Dale Earnhardt Jr. is a successful third-generation star of this sport

On a picnic:
This sweet gourd fruit that comes in Desert King & Dixie Queen varieties

Timid character in "The Wizard of Oz"

This title monster who squares off with the MUTOs in a 2014 film

Combined, these 2 sisters have won more than 100 tennis championships

To a Little League game:
A Nokona Alpha Select one of these, made with buffalo leather

A pro athlete in the Motor City

This Olympic sport that consists of 10 track & field events

This brother of the Broncos' Peyton plays quarterback for the Giants

On a hike:
An Odwalla "Monster" drink with 20 grams of this muscle-building amino-acid-based stuff

This dinosaur also known as Brontosaurus

To band practice: o
One of these small flutes with a name that's Italian for "small"
Scores at the first commercial break (after clue 13):
| | | |
| --- | --- | --- |
| Adam | Krissy | Ryan |
| $800 | $1,000 | $1,600 |
Scores at the end of the Jeopardy! Round:
| | | |
| --- | --- | --- |
| Adam | Krissy | Ryan |
| $800 | $2,400 | $4,600 |
Double Jeopardy! Round
ALL "EARS"
(Alex: Those four letters of the alphabet in that order coming up in each correct response.)

The two parietal bones join together to help protect the two parietal lobes of this organ

"David Copperfield" is one of this British author's classic novels

"Hillbilly Handfishin'" & "Dogs 101" are shows on this channel

This nation of 11 million has about 600 miles of Atlantic coast

In 2013 President Obama proclaimed a national week for this meal served in schools, boasting of better nutrition

You make these resolutions on January 1

The 2 patellas cap & protect these 2 vital body hinges

In a Victor Hugo novel, Quasimodo is the hunchback bell ringer at this Paris cathedral

You'll get an "A" for effort knowing this Disney Channel title duo, a musician & a songwriter

It's the U.S. state capital marked with a star here

6'8" James Comey needs his long reach as director of this agency that fights terrorism as well as domestic crime

They help prevent drying of the cornea

It's the 2-word name for the 2 triangular bones of the upper back aka scapulas

Concerning the lives of Alyosha, Dmitry & Ivan, "The Brothers Karamazov" takes place in this country

Season 28 of this reality show took it to Cagayan in the Philippines

--

the Trebek has spoken

This body of land was once connected to a much larger one

If the president vetoes a bill, it can still become law if passed by at least this fraction of each house of Congress

They're synonymous with trepidations

If someone kicks you in these, they're kicking you in the tibias

"Z" marks the spot for this crime-fighting swordsman of colonial Spanish America

Finn the human lost his arm on this cartoon that's set in the land of Ooo

In 45 states this official is the second highest-ranking in the state, following only the governor

This department store at the local mall dates back to a catalog mail-order company founded in 1893

Humans have 12 pairs of these bones, 7 pairs of which attach to the sternum

The 7 voyages of this sailor bring him many perils, like being carried by a giant bird, the ROC

"Biography" showed this Microsoft man's "Life

--

From Child Prodigy to Harvard Dropout to Billiionaire"

This body of water is indicated here

The government's largest mint is in this city that has been minting coins since 1792

They're also known as cogwheels
Scores at the end of the Double Jeopardy! Round:
| | | |
| --- | --- | --- |
| Adam | Krissy | Ryan |
| $5,200 | $8,400 | $17,000 |
| | | (lock game) |
Final Jeopardy! Round
Technically this monarch is the head of state of 16 countries including Jamaica & New Zealand
Final scores:
| | | |
| --- | --- | --- |
| Adam | Krissy | Ryan |
| $3 | $10,400 | $17,100 |
| 3rd place: $1,000 | 2nd place: $2,000 | Winner: $17,100 |
Game dynamics: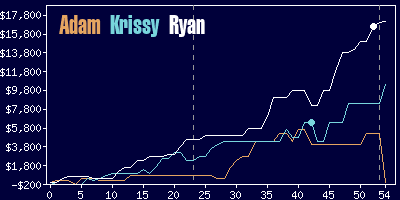 Adam
Krissy
Ryan
$5,200
$10,400
$18,600
10 R,
5 W
16 R,
6 W
(including 1 DD)
21 R
(including 1 DD),
2 W
Game tape date: 2014-10-07