Show #4442 - Tuesday, December 23, 2003
Jeopardy! Round
DYE ANOTHER DAY
(Alex: Note the spelling of "dye".)

ON HER MAJESTY'S SECRET SERVICE

THE "WORLD" IS NOT ENOUGH

OTHER ROLES OF BIG SCREEN BONDS

The title character of this novel has a mistress named Lara, the wife of a revolutionary

During the reign of Prince Charles III, this small European country bulit its first successful casino in 1863

The cochineal insect provided this color dye for the uniforms of British troops & Canadian Mounties

The MI in counterespionage service MI5 stands for this

Millions of people attended these events hosted by Chicago in 1933 & New York City in 1939

You're the man now, dog, if you know he's also played the father of Indiana Jones

Once a prisoner of the French & of a bad marriage, Pierre Bezuhov finds love with Natasha Rostova in this novel

The first legal casino in the U.S. outside of Nevada opened in this east coast city in 1978

Ikat was a version of this art used in Asia hundreds of years before the first Grateful Dead concert

One-word term for a spy's guise; in Bonn in 1960, John Le Carre's was diplomatic secretary

It's the seasonal favorite heard here

His commitment to play TV's Remington Steele cost him the James Bond job for several years

This novel ends with Raskolnikov realizing he will have years of happiness with Sonia after his term in Siberia

Mummy & daddy might enjoy the casino hotels in this city, including the Ramses Hilton & the Nile Hilton

The ancient dye Tyrian purple was made from marine snails mainly of this sea

Operation Bodyguard tried to sell the Nazis on an invasion in Gibraltar, Norway...anywhere but here

Jim McKay was the longtime host of this TV show full of agony & defeat

Before he was Bond 007 times, he played Beau Maverick, the cousin of James Garner's Bret Maverick

In a Chekhov play, Sonya loves Astrov, while Astrov & this title relative are in love with Elena

A casino opened in Windsor in 1994 after this Canadian province legalized gambling

It's the dye in the name of the species of bunting seen here

The 1971 defection of a member of this organization led to the expulsion of 90 Soviet diplomats from London

This international judicial body is headquartered in The Hague

A more chaste James Bond, his film debut came in 1968's "The Lion in Winter"

Khlestakov wants to marry the mayor's daughter in "The Inspector General", a play by this "Dead Souls" author

Merv Griffin once owned a resort & casino on Paradise Island in this island group off Florida

Term for a dye that holds its hue in fabric, or what you tell a preschooler when art time's almost over

A WWII counter-intelligence group was called this number committee, after the Roman numeral signifying a double-cross

In 1948 2 weeklies merged to form this news magazine

This one-shot Bond also appeared in "The Kentucky Fried Movie" & "The Return of the Man from U.N.C.L.E."
Scores at the first commercial break (after clue 15):
| | | |
| --- | --- | --- |
| Erika | Andy | Bernadette |
| $2,400 | $2,800 | $1,600 |
Scores at the end of the Jeopardy! Round:
| | | |
| --- | --- | --- |
| Erika | Andy | Bernadette |
| $5,800 | $5,800 | $4,600 |
Double Jeopardy! Round
UNUSUAL LYRICS
(Alex: You identify the song; you give us the title.)

AMERICAN REGIONAL CUISINE

Alan Lightman meditated on the nature of time in this physicist's "Dreams"

Led Zeppelin:
"If there's a bustle in your hedgerow, don't be alarmed now"

One of these structures, built by the Spanish in 1782, still stands in the San Francisco district of the same name

The line "If I be shaved, then my strength will go from me" was said to her

Carolina barbeque is traditionally made with a vinegar-based sauce & this meat

This given name, not Elvis, is simply French for "The King"

Watson & Crick found that DNA has this structure, the title of Watson's1968 book

Queen:
"Scaramouche, scaramouche, will you do the fandango?"

The gate seen here marks the entrance to this "town" in Boston

Elijah didn't like the Baal game this wicked wife of King Ahab was playing

The starch in this traditional ingredient helps give New England clam chowder its body

It's the French term for the fun time in the lodge after a hard day on the slopes

This field with integral & differential parts is "Made Easy" in a 1910 book recently revised by Martin Gardner

The Doors:
"There's a killer on the road, his brain is squirmin' like a toad"

George & Barbara Bush are among residents of this city's West Oaks area

In Numbers 12 she takes her brother Moses down a few pegs

The sopaipilla, a fritter served with honey, is believed to have originated in this largest New Mexico city

What French theatergoers call l'entraacte, we call this

5-letter title of James Gleick's book on the science of seemingly random patterns

Pink Floyd:
"New car, caviar, four star daydream, think I'll buy me a football team"

This Ohio city's Over-the-Rhine neighborhood, named by German immigrants, was the scene of rioting in 2001

This wife of Abraham sent his mistress Hagar & her son Ishmael out into the wilderness

Some Southerners call pecan pie this pie, after the best-known brand of corn syrup

From the French for "to stitch (a book)", it's a promotional pamphlet

"Uncle Tungsten: Memories of a Chemical Boyhood" is by this author of "The Man Who Mistook His Wife for a Hat"

Barry Sadler:
"Fearless men who jump and die"

3-word term for the part of Manhattan bounded by 59th St. to the south & Central Park to the east

These 2 women married Jacob about a week apart & both tried to give him a lot of sons

Natchitoches in this state is famous for meat pies

We've adapted this French phrase for "as a whole"
Scores at the end of the Double Jeopardy! Round:
| | | |
| --- | --- | --- |
| Erika | Andy | Bernadette |
| $10,200 | $13,800 | $13,300 |
| | | |
Final Jeopardy! Round
Of the 9 current members, the one who had the greatest amount of time elapse between nomination & oath
Final scores:
| | | |
| --- | --- | --- |
| Erika | Andy | Bernadette |
| $10,200 | $27,100 | $26,300 |
| 3rd place: $1,000 | New champion: $27,100 | 2nd place: $2,000 |
Game dynamics: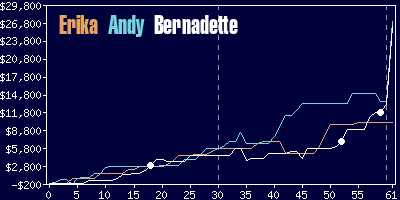 Erika
Andy
Bernadette
$10,200
$13,800
$12,600
16 R,
1 W
20 R,
3 W
19 R
(including 3 DDs),
3 W
Game tape date: 2003-10-22