Show #6861 - Monday, June 16, 2014
Jeopardy! Round
FINISH THE TERRIBLE RHYME

"Diplomacy in action", which really does sound great / Is on the website of the cabinet department that we call...

In 1959 Daniel Inouye became this state's first representative in the U.S. House

"It's Not Too Late To Reverse The Alarming Trend Of" this "Change, Scientists Who Know It's Too Late Announce"

As this potions professor, Alan Rickman's not wild about Harry (Potter)

Hong Kong was the site for the equestrian events in the 2008 Olympics hosted by this city

It's the contemptuous first word Scrooge says in "A Christmas Carol"

Killing a dragon named python at Delphi, is that too much to swallow? / It wasn't odd for this Greek god, the one known as...

On December 5, 1955 a bus boycott began in this Alabama city

This NBA star "Unable To Enjoy MVP Knowing Boston Globe's Gary Washburn Didn't Vote For Him"

Alan Rickman was Col. Brandon, who wooed Kate Winslet's Marianne Dashwood, in this film based on a beloved novel

In names of skyscrapers, this word has preceded "of China" & followed "Hongkong and Shanghai"

A built-in bed on a ship, or a word meaning "nonsense"

To gather, rouse or summon / You better believe it, buster / It's this word that will be heard / This is the word you'll...

One guest said of their 1953 wedding in Newport, Rhode Island, it was "just like a coronation"

"Obama Orders Reinvasion Of" this country "After Illuminating Trip Through Bush Presidential Library"

As Judge Turpin, Alan Rickman has a close shave with Johnny Depp in this 2007 film

Hong Kong is surrounded by this sea to the east, west &, of course, "south"

"What a" this word, followed by "pot" in the brand name of a slow electric cooker

"Prepare to meet thy God, O Israel" was not writ just to shame us / It is, however, right here now, from the Bible's book of...

This government agency established in 1970 "Warns Americans Not To Breathe"

Bruce Willis said, "Yippee-ki-yay" to Rickman's Hans Gruber in this flick

You might say this royal yacht, Prince Charles' home base during the Hong Kong handover, "ruled the waves"

This compound nonsense word sounds like suds for your sow

"The best is the enemy of the good"

--

no dolt, there / It must be the enlightened author, Monsieur...

Surprisingly, Dr. Joyce Brothers' knowledge of this sport earned her the top prize on "The $64,000 Question"

This "Blood Meridian" author "Flaunts Sexy New Beach Body"

But of course Alan Rickman played this baddie in "Robin Hood: Prince of Thieves"

Some spending their whole lives on boats, Hong Kong's Tanka are called "sea" these, from the word "Egyptian"

Eaten by people, it's part of a ruminant's stomach; it also means "rubbish!"
Scores at the first commercial break (after clue 15):
| | | |
| --- | --- | --- |
| Katie | Andrea | Andrew |
| $2,800 | $400 | $1,800 |
Scores at the end of the Jeopardy! Round:
| | | |
| --- | --- | --- |
| Katie | Andrea | Andrew |
| $7,200 | $1,400 | $2,000 |
Double Jeopardy! Round
THE SECRET LIFE OF B's
(Alex: Each correct response will contain a silent "B".)

Accused by his in-laws of this, John Willard was found guilty & hanged in 1692 in Salem, Massachusetts

He & the Soup Nazi reunited in an ad for the Acura NSX

As the last line of "Casablanca", Humphrey Bogart says, "Louis, I think this is the beginning of" one of these

In 1976, this country standardized its language, basing it primarily on the Peloponnesian dialect

Just before he was hanged on December 30, 2006, he mocked Shiite cleric Muqtada al-Sadar

In 2006 this Steeler became the youngest starting quarterback to win a Super Bowl

In this 1678 British work, you'll find mention of a stately palace, "the name of which was beautiful"

Half the people of Afghanistan speak Dari, a dialect of this Iranian language

A classic symptom of frostbite

The 15th century got gentler

--

in 1498 reform preacher Savonarola was hanged before this was done to him

An opera based on his TV talk show debuted in London in 2003

In a 19th century song, it precedes "Wake unto me, starlight and dewdrops are waiting for thee"

Llanito is a dialect that combines Andalusian Spanish & British English in this British overseas territory

It can precede "‑struck" or "‑waiter"

--

or you, if you don't respond

His May 31, 1962 execution in Ramleh, Israel is the only time that Israel has carried out a death sentence

His state's youngest governor of the 20th century, he was elected its oldest in 2010

Victorian poet Matthew Arnold called this "Adonais" poet a "beautiful and ineffectual angel"

Rioplatense is a dialect of Spanish found in a small geographic area that includes these 2 South American capitals

This occupation gets its name from the Latin for "lead"

This commander of the Japanese military attempted suicide after WWII; he was nursed back to health & then hanged

This editor was a character in "All the President's Men"

In 1880 this French novelist sometimes accused of immoral writing stated, "What is beautiful is moral"

Angevin is a dialect of this language

Rhyming synonym for "cradle-to-grave" that fits the category twice
Scores at the end of the Double Jeopardy! Round:
| | | |
| --- | --- | --- |
| Katie | Andrea | Andrew |
| $13,000 | $11,800 | $5,600 |
| | | |
Final Jeopardy! Round
This noun meaning a secret plan comes from the Latin for "to breathe together"
Final scores:
| | | |
| --- | --- | --- |
| Katie | Andrea | Andrew |
| $18,000 | $21,800 | $8,600 |
| 2nd place: $2,000 | New champion: $21,800 | 3rd place: $1,000 |
Game dynamics: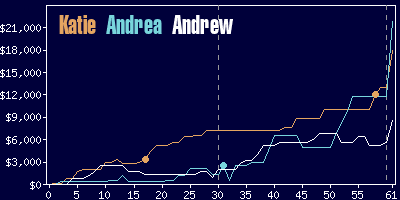 Katie
Andrea
Andrew
$12,400
$13,800
$5,600
19 R
(including 2 DDs),
1 W
15 R,
4 W
(including 1 DD)
15 R,
5 W
Game tape date: 2014-02-19