Show #4821 - Monday, July 18, 2005
David Madden game 10.
Jeopardy! Round
This 1968 candidate reportedly urged South Vietnam's President Thieu to scuttle possible peace talks

A peanut butter & chocolate flavored cereal was named for this character from a Steven Spielberg movie

As Starbucks' home base, there's always something brewing in this city, the "Coffee Capital of the World"

France's first rail line was built to transport this fuel that was essential to the Industrial Revolution

An insect called the water boatman uses these appendages as oars to navigate its watery habitat

To interweave 3 or more strands

William Henry Harrison really had lived in one of these, his symbol in the 1840 campaign, but he added 12 rooms

Jim Carrey, Val Kilmer & Tommy Lee Jones appeared on 1995 Corn Pops boxes to promote this "eternal" sequel

It's both the "Entertainment Capital of the World" & the "Wedding Capital of the World"

During the Civil War he had headquarters in Cairo, Illinois & people from the area gave him a horse named Egypt

Of fly, mate or eat, the activity butterflies can't do if their body temperature is below 86 degrees

A constant runner-up is said to be "always" one of these women

In early October 1992 he was spending $2 million a day, most of it his own money

You only need to add an "s" to the name of this 1977 film android to get his popular cereal

This New Mexico city is the self-proclaimed "UFO Capital of the World"

This nickname for the Model T Ford came from a woman's name used as slang for a reliable servant

During the day this nocturnal bloodsucker hides under mattress buttons or in cracks in floors; sleep tight!

Australian port city at the mouth of the Torrens River

Some historians call the election in which this man beat John Breckinridge the most important in U.S. history

Add "os" to the last name of Jaleel White's role on "Family Matters" & you'll have this cereal he hawked

Holy guacamole! Fallbrook, California is known as this "Capital of the World"

As a Shakespeare play begins, this title character has "Argosies with portly sail" carrying his goods

The larvae of the Ichneumon wasp develop inside the body of these arachnids

Purchased ahead of time, like some legal services

In the Gore Vidal novel set in this election year, the hero pins his hopes on Tilden

In Britain this titular TV time lord from Gallifrey adorned boxes of Sugar Smacks in the 1970s

A leading market for racehorses, this Kentucky city is the "Horse Capital of the World"

This ancient galley was named for its 3 tiers of rowers

--

170 in all

This bug derives its name from the fact that adults mate continuously for up to 3 days

To have attacked from ambush in order to seize, rob, or slay
Scores at the first commercial break (after clue 14):
| | | |
| --- | --- | --- |
| David | Brian | Laurie |
| $3,400 | $1,200 | $800 |
Scores at the end of the Jeopardy! Round:
| | | |
| --- | --- | --- |
| David | Brian | Laurie |
| $6,000 | $2,600 | $4,000 |
Double Jeopardy! Round
A Jan. 2005 scan of this pharaoh's mummy showed he wasn't killed by a blow to the head; it did reveal a leg fracture, however

Sun Devil Stadium is found in this city

Though the 79 A.D. eruption gets more press, in 1631 this volcano claimed at least 3,000 lives

Al Hischfeld depicted this noir classic in the drawing seen here

Sickly Dickens character who's devoted to Susan Sarandon

Hieratic is this script in cursive form

On Oct. 27, 1996 this American designer unveiled a new line she simply called D

After suffering genocidal attacks by the Hutus in 1994, this ethnic group took over the Rwandan government

Check out Michelangelo's "Holy Family" at the Uffizi in this Tuscan city, the "Athens of the West"

This film's subject matter was controversial in its day

"Youthful" 1930s gangster who became a world leader in 1994

The Egyptians called themselves Remetch, simply meaning this, like "Inuit"

In 2001, at the New York Public Library, Oprah & Jessye Norman helped pay tribute to this author on her 70th birthday

Sir Walter Raleigh was living in this prison when he wrote his "History of the World"

At age 28 his third opera, "Nabucco", made him one of Italy's foremost composers

The cast of this kooky 1991 film is seen here

1980s sportswear designer who began use as an immigration center near the Statue of Liberty in 1892

Paradise in the Egyptian afterlife was in this god's
"field of reeds"

Pitcher Dennis Martinez attended a 1991 White House dinner for this country's Pres. Violeta Barrios de Chamorro

The opening in an early cannon or gun where the flame was applied

The first poems definitely attributed to this epic poet are the Eclogues, composed between 42 & 37 B.C.

Hirschfeld purr-fectly captured a sensual scene from this film

"Friends" actor who traveled in time to become an Erle Stanley Gardner character in 1933

At a 1984 dinner, this "doubting" woman became the 1st woman to win the National Press Club's Fourth Estate Award

By 1300 these Slav-conquering knights were the most powerful force in Central & Eastern Europe

What a political comeback! In '94 he quit as P.M. amid charges of corruption but was re-elected in 2001

This 1936 silent classic proves that Luddite disaffection can be played for laughs

Civil war nurse who became a Coen brothers title character in 1991
Scores at the end of the Double Jeopardy! Round:
| | | |
| --- | --- | --- |
| David | Brian | Laurie |
| $24,000 | $6,200 | $6,800 |
| (lock game) | | |
Final Jeopardy! Round
He called himself "the man who introduced the glass box and then, 50 years later, broke it"
Final scores:
| | | |
| --- | --- | --- |
| David | Brian | Laurie |
| $22,000 | $1,700 | $100 |
| 10-day champion: $239,100 | 2nd place: $2,000 | 3rd place: $1,000 |
Game dynamics: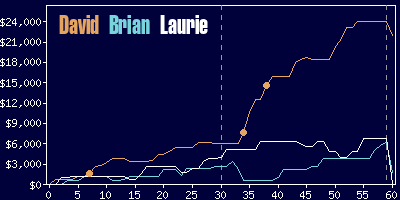 David
Brian
Laurie
$22,600
$6,200
$6,800
24 R
(including 3 DDs),
3 W
15 R,
4 W
13 R,
6 W
Game tape date: 2005-03-09