Show #6613 - Wednesday, May 22, 2013
Jeopardy! Round
5 DIFFERENT VOWELS IN ONE WORD

Each November this organization sponsors the Great American Smokeout to encourage us to quit smoking

No. 99:
"Greatness On Ice"

The removal of persons from an endangered area

In 2012 this oil company agreed to pay the largest criminal fine in U.S. history

In December 1944 this general got his 5th star

No:
this pump sends oxygenated blood throughout the body via arteries

The Cereal Festival, with "The World's Longest Breakfast Table", is an annual event in this Michigan city

An Olympian:
"The Man Who Outran Hitler"

The name of this type of vehicle means "self-movable"

This baking soda brand first sold in 1867 has had great success urging us to dump its product down the drain

7-letter adverb meaning on the other hand or in spite of that

No:
this largest gland in humans is the body's main chemical factory

Lowering the "boom boom" on a boxer:
"The Good Son"

Hey Mr., it's a small, circular drum with metal jingles

A 1955 call from Ray Kroc to Waddy Pratt of this Atlanta-based company began a relationship that's still going

Slang for food, or breed of dog

Without 1, yes; without 2, no:
2 million nephrons filter 400 gallons of blood daily in a healthy pair of these

The annual festival honoring her in Greenville, Ohio features a shooting contest & a kiddie tractor pull

It's not a crime:
"Occupation: Skateboarder"

Many of the giant type of this tree are more than 2,000 years old

In 2009 this colossus of playthings gained control of FAO Schwarz

"What Everybody Wants" is an apt chapter title in this Dale Carnegie book

Yes:
removal of this gland lying crosswise behind the stomach can be mitigated in part by insulin shots

5K & 10K races are part of the Freeze Yer Gizzard Blizzard Run during Icebox Days in International Falls in this state

A sports star of the 1930s:
"Wonder Girl"

This 10-letter synonym for "dangerous" often describes a risky or perilous situation

Until 2010 the New York Knicks & Rangers were directly owned by this company that brings them to TV viewers on MSG

Type of creature heard here (or even 2 miles away!)

Yes:
a laparoscope is used to remove this small pouch that stores bile; the patient can be home the next day
Scores at the first commercial break (after clue 15):
| | | |
| --- | --- | --- |
| Rachel | Cecily | Scott |
| $2,200 | $1,200 | $3,000 |
Scores at the end of the Jeopardy! Round:
| | | |
| --- | --- | --- |
| Rachel | Cecily | Scott |
| $7,000 | $5,400 | $4,400 |
Double Jeopardy! Round
THE QUOTABLE DICKENS
(Alex: We need you to name the work.)

Bush v. Gore ended the recount process in this state

"'What have you got, Dodger?' 'A couple of pickpockets', replied that young gentleman"

The title robot of this animated film falls in love with EVE, a sleek recon robot

Built around 1855, the first railroad in Africa linked Alexandria to this capital 100 miles away

This alcoholic beverage is made from rice, water & koji (a Japanese "yeast" helper)

It's the "C" in the organization ASPCA

The court invalidated this president's executive privilege claim & allowed a subpoena of secret tapes

"It is a far, far better thing that I do, than I have ever done"

Karen Allen played the plucky Marion, romantically linked to this movie archaeologist

Lake Turkana is home to what may be Africa's largest population of the Nile species of these reptiles

This basic piece of equipment for a bartender is seen here

In the Internet exclamation acronym FCOL

Expanding press freedom, the court rejected a charge of this in 1964 after a newspaper ad criticized Alabama officials

"I will never desert Mr. Micawber"

"This Is 40" features the not-always-happily married Debbie & Pete, played by Leslie Mann & him

A Cape Codder is made with vodka, cranberry juice & a lime wedge; add this tart fruit juice to make it a seabreeze

Loving v. Virginia overturned by way of the 14th Amendment a conviction for a man in this type of marriage

"I give Pirrip as my father's family name, on the authority of his tombstone"

Bonnie Bedelia played Holly Gennaro McClane, the on-again, off-again wife of John McClane in this film series

Glaciers are found just a few miles from the equator on this "national" mount, the second-highest peak in Africa

It's the drink seen here, & the name of the glass it's served in

In the professional association known as ASCAP

The court has OKed the requirement to buy health insurance, as it "may reasonably be characterized as" this

"Quilp is my name. You might remember. It's not a long one

--

Daniel Quilp"

Vivien Leigh was "that Hamilton woman" & this real-life husband played Horatio Nelson, Lady Hamilton's lover

Gaborone is the capital of this African country formerly known as Bechuanaland

The name of this generic type of orange curacao means that it's been distilled 3 times

In FICA, on your pay stub
Scores at the end of the Double Jeopardy! Round:
| | | |
| --- | --- | --- |
| Rachel | Cecily | Scott |
| $20,200 | $12,200 | $22,800 |
| | | |
Final Jeopardy! Round
Referring to a 1955 incident, she said, "Our mistreatment was just not right, and I was tired of it"
Final scores:
| | | |
| --- | --- | --- |
| Rachel | Cecily | Scott |
| $30,000 | $23,200 | $40,401 |
| 2nd place: $2,000 | 3rd place: $1,000 | New champion: $40,401 |
Game dynamics: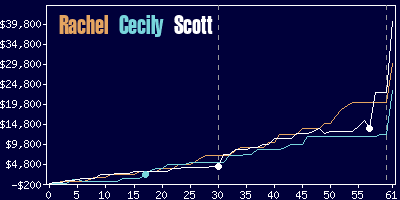 Rachel
Cecily
Scott
$20,200
$11,600
$14,400
20 R,
1 W
14 R
(including 1 DD),
1 W
23 R
(including 2 DDs),
2 W
Game tape date: 2013-01-09