Show #6483 - Wednesday, November 21, 2012
Paul Nelson game 4.
Jeopardy! Round
1-LETTER STOCK SYMBOLS
(Alex: We're talking about the New York Stock Exchange here.)

CELEBRITIES' FAVORITE MOVIES

Jaw pain & earache can be symptoms of bruxism, the grinding of these

An epithalamium is a poem for this occasion; one by Sappho ends, "Happy bridegroom, seek your bride"

The Kyoto Protocol limits emitting these alliterative items that trap heat in the atmosphere

The doc might say to grab some of this company's aspirin, "the wonder drug that works wonders"

One verse of a poem is called a stave or this word also beginning with "st"

Proverbially, when you "build a better" one of these, you make a superior product

That vision problem might be a cataract, clouding this part of the eye

The trap-door type of this creature constructs a tubular nest with a hinged lid made of silk & mud

(Hi. I'm Isaac Mizrahi.) Like a lot of others, I loved the story of a paraplegic ex-Marine finding a new life on the distant planet of Pandora in this 2009 film

This contagious skin disease rhymes with a disease you get from animal bites

A haiku traditionally deals with this; a senryu takes an ironic look at human this

Debuting in 1900, the Grand American is an event in this sport prizing accuracy

(Hi. I'm Robin Quivers.) I love watching "The Godfather", which earned supporting actor Oscar nominations for Al Pacino, James Caan & this man who played consigliere Tom Hagen

The most common spot for taking someone's pulse is above this artery in the wrist

X,
a company no longer part of USX

This line of 12 syllables is likely named for a "great" Macedonian

An event horizon is the "surface" of one of these, invisible because it even traps light

(Hi. I'm Jane Kaczmarek.) I sometimes need a hankie watching the love of Warren Beatty & Natalie Wood hit every kind of obstacle in this 1961 film
Scores at the first commercial break (after clue 13):
| | | |
| --- | --- | --- |
| Paul | Morgan | Dan |
| $800 | $0 | $0 |
Scores at the end of the Jeopardy! Round:
| | | |
| --- | --- | --- |
| Paul | Morgan | Dan |
| $5,300 | $0 | $400 |
Double Jeopardy! Round
(Alex: The first category in Double Jeopardy! sounds a lot

--

sounds exactly like the first round

--

but with a twist...)
GENERAL PRACTICE

PLANETARY MATTERS?
(Alex: I'm not sure.)

BALTIMORE
(Alex: ...where we have a new home

--

WBFF, Fox45.)

In 1989 the first President Bush appointed him Chairman of the Joint Chiefs; he had a different job with Bush 2

She won Wimbledon singles titles in 2000, 2001, 2005, 2007 & 2008

A muselet is the wire that holds one of these in a champagne bottle

In 2010 "Top Chef" broke this CBS program's 7-year Emmy-winning streak for best reality competition show

In "Sonnets from the Portuguese" this 5-word query is followed by "Let me count the ways"

Gen. Thomas Gage, military governor of this colony, ordered the redcoats to march on Lexington & Concord

This festival of sports, art & more has been held annually in Virginia Beach, Virginia since 1974

Something resembling this proud bird's tail in color, design or iridescence is said to be pavonine

"He reads between the lies" was a tagline for this CBS show about a crime-solving man named Jane

Four-word caption of the 1870s engraving seen here

Though unpopular with the President for his cautiousness, this Union general was once known as "Young Napoleon"

It's also called a night crawler

We met the new boss (James Spader as Robert California) on this NBC sitcom

In a kids' book by Bill Martin Jr. & Eric Carle, this question follows "Brown Bear, Brown Bear"

In June 2012 this Baltimore fort had a "Star-Spangled Sailabration" commemorating the War of 1812

In 1944 this brilliant tactician told Hitler it was futile to continue the war; later that year he committed suicide

A line from this song by Train says, "Tell me, did you sail across the Sun, did you make it to the Milky Way?"

A tonsorialist is one who does this

Whoopi! & food! The titles of these 2 ABC daytime shows rhyme

Latin for "where are you going?", it's the title of a 1951 epic starring Robert Taylor & Deborah Kerr

This offbeat Baltimorean film director has his fan mail sent to Atomic Books & sometimes stops by

This outspoken U.S. general is proving his views here, holding a piece of a battleship sunk by air power

In mythology, he's dad to the Cyclopes as well as the Titans

will.i.am & T-Pain were far from "turrible" as guest voices on this Fox animated show about Mr. Brown

Abe Lincoln, when accused of deceitfulness: "If I had another" one of these, "do you think I'd wear this one?"
Scores at the end of the Double Jeopardy! Round:
| | | |
| --- | --- | --- |
| Paul | Morgan | Dan |
| $4,500 | $4,400 | $5,500 |
| | | |
Final Jeopardy! Round
In 1900 the first La Scala performance of this opera was conducted by the man whose last name began with the opera's title
Final scores:
| | | |
| --- | --- | --- |
| Paul | Morgan | Dan |
| $3,500 | $3,299 | $1,000 |
| 4-day champion: $48,900 | 2nd place: $2,000 | 3rd place: $1,000 |
Game dynamics: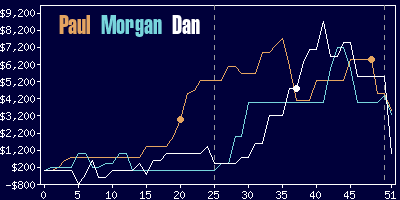 Paul
Morgan
Dan
$5,800
$4,400
$5,200
15 R
(including 1 DD),
4 W
(including 1 DD)
10 R,
4 W
15 R
(including 1 DD),
6 W
Game tape date: 2012-08-22