Show #6479 - Thursday, November 15, 2012
2012-B Teachers Tournament semifinal game 2.
Jeopardy! Round
APPROXIMATE WEIGHTS & MEASURES

DEAR stands for "Drop Everything And" do this; you can even use your Kindle

The scene here took place during this year

The length a rock can be hurled, in common practice this phrase is used to mean nearby or a short distance

He became president of the Southern Christian Leadership Conference in 1957

Basketball's Steve Nash, football's Larry Little

It's the "P" in FERPA, which makes schools get student or parent permission to release records

In 1756 this city's "black hole" made news

When you're choked up emotionally, this irregular-shaped mass in the throat is the culprit

The story of me, by me
(13)

The son of a veteran outfielder, he hit 630 major league home runs

Hockey's Bobby Hull, basketball's Dennis Rodman

36 is a perfect score on the college entrance exam known by these 3 letters, kind of the opposite of "SAT"

This reformer is depicted here in 16th century Wittenberg

According to ads, there's 1 of these of raisins in half a package of Kellogg's Raisin Bran

Bicentennial or jubilee
(11)

Future WWII general George S. Patton Jr. became an early expert in these weapons during WWI

Hockey's Patrick Roy, Soccer's Hope Solo

Students having trouble with articulation may go to an SLP, a speech language this

In German it was called "Heiliges Romisches Reich"

It's the "elastic" word for a period of imprisonment

Charles Black Jr. helped write the brief for this 10-year-old girl challenging segregation in Topeka

Baseball's Mariano Rivera, TV's Kyra Sedgwick (by the show's title)

ESEA, short for this act, dates from the 60's & morphed into No Child Left Behind

Party formed to oppose "King Andrew" Jackson

Several items packaged together, such as software that comes with the purchase of a computer

This place is for the birds
(6)

This conservative columnist put his ideas on the "Firing Line"

Baseball's Ozzie Guillen, Dunder Mifflin boss Andy Bernard on "The Office"
Scores at the first commercial break (after clue 15):
| | | |
| --- | --- | --- |
| Marion | Marcia | Kate |
| $1,400 | $1,200 | $2,600 |
Scores at the end of the Jeopardy! Round:
| | | |
| --- | --- | --- |
| Marion | Marcia | Kate |
| $5,600 | $2,000 | $4,200 |
Double Jeopardy! Round
| | | | | | |
| --- | --- | --- | --- | --- | --- |
| | LEADING INTO THE SONG TITLE | | | | |
| At the north end of South America, this country borders Colombia, Guyana & Brazil | Springsteen: "'Cause tramps like us, baby we were..." | After some of his writings were suppressed, John Milton argued for freedom of this in "Areopagitica" | | | |
| These two countries have the longest international border formed by the Rhine river | The Beach Boys: "I wish they all could be..." | Naturally, this French philosopher wrote "Essays in Existentialism" & "Existentialism and Humanism" | A viral video said this "hits you hard, bro" | Your teenage students might be curious about this system that includes the ductus deferens and the Fallopian tubes | |
| Smuggling tunnels run under Egypt's border with this Hamas-controlled strip | Gotye: "Guess I didn't need that though, now you're just..." | His essay "On the Decay of the Art of Lying" was "read at a meeting of the historical and antiquarian club of Hartford" | The northern hemisphere's aurora | The lymphatic system is on the front lines of this system that fights abnormal substances | |
| If you cross any of Lesotho's borders, you can only end up in this other country | The Bangles: "My I don't have to run day, it's just another..." | She's the Zora in Alice Walker's "Looking For Zora" | | Composed of 8 glands, this system maintains internal balance by releasing hormones | |
| This wee country has a 40-mile border with Spain | Journey: "One night will remind you, how we touched & went our..." | All 85 essays in this 1787-88 series appeared over the signature "Publius" | Herr Bismarck's doctrine of practical diplomacy | In this 8-letter system, some of 270 important parts we have at birth get fused, leaving only 206 in adults | |
Scores at the end of the Double Jeopardy! Round:
| | | |
| --- | --- | --- |
| Marion | Marcia | Kate |
| $9,600 | $8,400 | $17,800 |
| | | |
Final Jeopardy! Round
In 1880 he wrote, "We draw two circles, and make them include or exclude or intersect one another"
Final scores:
| | | |
| --- | --- | --- |
| Marion | Marcia | Kate |
| $18,600 | $16,800 | $19,201 |
| 2nd place: $10,000 | 3rd place: $10,000 | Finalist |
Game dynamics: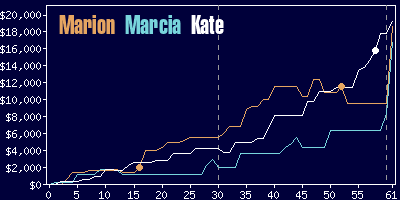 Marion
Marcia
Kate
$10,400
$8,400
$17,400
18 R
(including 1 DD),
4 W
(including 1 DD)
11 R,
4 W
21 R
(including 1 DD),
2 W
Game tape date: 2012-10-02