Show #6471 - Monday, November 5, 2012
Paul Nelson game 2.
Jeopardy! Round
CLOSE TO YOU
(Alex: We're gonna list some places for you, and you have to tell which one is closest to us as we stand here today in Southern California.)

Though it sounds like what you eat on a pita, it's actually the dark organic material in soils found in some forest floors

He finally got some respect when he made his "Ed Sullivan Show" debut in 1967 & appeared more than a dozen times

A body of facts, or a Starfleet lieutenant commander

As you might guess, an oliphant was a medieval horn carved out of this

With deep red blooms, the Bert Pitt is an attractive garden type of this flower

Alabama,
Georgia,
South Carolina

Made by Wurlitzer beginning in the early 1900s, the "unit orchestra" was one of these instruments

Birds & these creatures, which include flying foxes, are agents of pollination in tropical forests

Just months before his 2008 death, he recorded his 14th & last HBO stand-up special, "It's Bad for Ya"

Term for any group that has been dispersed outside its traditional homeland

About 6 feet long, it's sometimes called a bull fiddle

It's generated when H2O hits 212

Teak trees & bamboo are typical of the southeast Asian forests known by the name of this rainy season

He toned down the funny for his role as singer James "Thunder" Early in "Dreamgirls"

Seat of power in Bangladesh

The Tropic of Cancer,
the Equator,
the Tropic of Capricorn

Nothing says tropical vacation like this instrument

To say offensive things about God or religion

This forest dweller, also known as the ratel, does care to break into bees' nests to get the sweet stuff

Alrighty then! At age 10 this "Yes Man" sent his resume to "The Carol Burnett Show"

Record label for Lionel Hampton & Bill Haley

The Mariana Trench,
Hudson Bay,
the International Date Line

In "The Magic Flute" the music for Papageno's magic bells is performed on this German-named instrument

To swarm with a large number of moving, writhing things
Scores at the first commercial break (after clue 12):
| | | |
| --- | --- | --- |
| Paul | Shari | Bobbi |
| $1,400 | $2,000 | $200 |
Scores at the end of the Jeopardy! Round:
| | | |
| --- | --- | --- |
| Paul | Shari | Bobbi |
| $3,800 | $7,000 | $1,200 |
Double Jeopardy! Round
WHAT'S CHASING YOU?!
(Alex: We'll give you the title of the motion picture. You tell us what kind of creature or thing is chasing you in that film.)

Later president, he was a New York senator from 1821 to 1828

A ghost tour may include hearing eerie tapping at the Wythe House in this Colonial Virginia city

For most of the 5th century, what is today this country was controlled by the Vandals

It means "easy to approach"; you'll also find it a lot after "wheelchair"

This author writes that while traveling back to London on a train, "the idea of Harry Potter simply fell into my head"

"30 Days of Night" & "Fright Night"

In 1861 William Seward left the Senate to take on this post in the Cabinet

In the Bible, the ghost of Samuel told this king that he'd be defeated by the Philistines

Most of the literature of this Horn of Africa country is written in either classical Ge'ez or modern Amharic

Resembling a seraph, a cherub or any Victoria's Secret model

In 1929 this James Bond creator became a Moscow correspondent for Reuters

"The Ghost and the Darkness"

A New York senator from 1791 to 1797, he later presided over the Senate as vice president

The ghost of this 19th c. Louisiana pirate is said to sail Galveston Bay searching for a lost love who fell overboard

What's now this country was united from many smaller chieftains by King Moshoeshoe I in the 1830s

This 10-letter word means "greedy" & goes back to one of the 7 Deadly Sins

The biography "Pat and Roald" covers his life with wife Patricia Neal

When she replaced Hillary Clinton in 2009, she was the youngest senator, at age 42

For centuries this ghostly ship has been seen sailing around the Cape of Good Hope

Mauritania is home to large herds of these cattle, also called brahmins, which you'll find near the end of the alphabet

From the French for "right" comes this "skillful" word

This "Far from the Madding Crowd" author's first published work under his own name was 1873's "A Pair of Blue Eyes"

"Power, Pasta, and Politics" was this Brooklyn-born senator's account of his almost 20 years representing the Empire State

This beheaded fifth wife of Henry VIII haunts Hampton Court Palace; she's been heard shrieking Henry's name

This capital of Angola once had "Sao Paulo de" before its name

It means "characteristic of an uncle"

Born in Japan, he's published 6 novels, including "Never Let Me Go"
Scores at the end of the Double Jeopardy! Round:
| | | |
| --- | --- | --- |
| Paul | Shari | Bobbi |
| $18,600 | $11,000 | $7,200 |
| | | |
Final Jeopardy! Round
Based on a 1926 play & real-life events, it's now the longest-running American musical in Broadway history
Final scores:
| | | |
| --- | --- | --- |
| Paul | Shari | Bobbi |
| $15,200 | $7,500 | $11,200 |
| 2-day champion: $29,200 | 3rd place: $1,000 | 2nd place: $2,000 |
Game dynamics: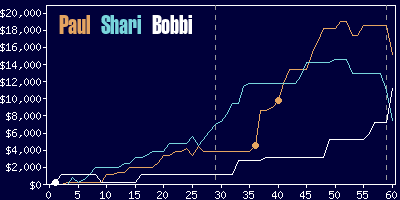 Paul
Shari
Bobbi
$15,000
$11,000
$6,600
20 R
(including 2 DDs),
3 W
21 R,
4 W
8 R
(including 1 DD),
1 W
Game tape date: 2012-08-22