Show #6370 - Friday, May 4, 2012
2012 Teen Tournament quarterfinal game 5.
Jeopardy! Round
MICHELLE OBAMA'S AMERICAN GROWN
(Alex: All the clues will be given by the First Lady.)

NICE "AB"s
(Alex: Each correct response will begin with those 2 letters of the alphabet.)

Cardinal Richelieu was the first to use this Paris fortress as a state prison

On this state! Specifically, on this state's northeastern border, it's Michigan's Upper Peninsula!

(Michelle Obama delivers the clue.) In December 2010 at an elementary school, I attended the signing of a law funding & improving the nutrition of food served through a 64-year-old program named for this daily meal

The cargo of the Beaver, Eleanor & Dartmouth got dumped in this December 1773 incident

A not so nice collection of pus caused by infection

Hannah's leaving Montana heading east into this state that borders Canada

(Michelle Obama delivers the clue.) Community gardens like those at the White House allow children to plant & harvest fresh fruits & veggies. In 2009 a formal farm to school initiative was established by this Cabinet department

Marigalante was another name for this 1492 flagship

Heading over Delaware's southern border? See you in this state

(MIchelle Obama delivers the clue.) Vegetables with benefits you might not know about include this one with an orange interior sometimes confused with a yam. It has more fiber than oatmeal, four times your RDA of beta-kerotine, and happens to be the favorite of the leader of the Free World

Nickname of the 1900 rebellion to expel foreigners from China

Servile or wretched, like poverty

By the time you get to Phoenix, & then go over Arizona's northern border to this state, you've driven a long way

(Michelle Obama delivers the clue.) In May 2011 I gave seeds & plants from Monticello, Mount Vernon & the White House in addition to White House honey to this Prince of Wales & fellow gardening enthusiast

This king who put his seal on a historic 13th Century document was known as Lackland

A summary of a document or text

A majority of Wyoming's western border is with this state
Scores at the first commercial break (after clue 15):
| | | |
| --- | --- | --- |
| Evan | Gabriela | Rob |
| $7,600 | $2,800 | -$200 |
Scores at the end of the Jeopardy! Round:
| | | |
| --- | --- | --- |
| Evan | Gabriela | Rob |
| $8,600 | $6,000 | $1,400 |
Double Jeopardy! Round
Kind of test that might be "pop"
(4)

Fozzie's casino-ing in Reno & Animal's Animal-ing in Santa Barbara in this 2011 movie

"The angel of the Lord appeared unto him" in a burning bush

It's not "off the wall" to want a pair of this brand's original slip-on skate shoes

An epic search, as for the Holy Grail
(5)

Nicholas Cage is back riding a motorcycle like his head was on fire in this: "Spirit of Vengeance"

The book of Mark reports that this tax collector & first gospel writer was the son of Alphaeus

Alexandre Dumas' "The C of M C"

This beachy clothing store, an offshoot of Abercrombie & Fitch, is known as HCo for short

This animated title robot goes about collecting trash in the year 2700 & is a sucker for musicals

His brothers dipped his coat in goat's blood to make his father Jacob believe animals had devoured him

Ernest Hemingway's "The S A R"

I'm in the mood for the sweetfire chicken breast from this quick-service Chinese place

"Charm"ing or strange particle
(5)

In 2012 the artist formerly known as The Rock was rolling in this "2: The Mysterious Island"

This shepherd became King Saul's personal musician & armor bearer

Thomas Hardy's "The M of C"

Get a birthday card for mom at this store chain founded in 1950 & named for an early form of paper

Ballroom dance style with fast footwork
(9)

Things get rough after 3 teens gain telekinetic powers in this 2012 film co-written by Max Landis, son of director John

The gospels cite the prophet Isaiah calling this New Testament figure a voice "that crieth in the wilderness"

Alan Paton's "C, the B C"

1975 saw the opening of the first of the clothing stores called Charlotte this
Scores at the end of the Double Jeopardy! Round:
| | | |
| --- | --- | --- |
| Evan | Gabriela | Rob |
| $13,800 | $20,600 | $11,000 |
| | | |
Final Jeopardy! Round
In 1777 an opponent wrote of him "Money is this man's God, and to get enough of it he would sacrifice his country"
Tiebreaker Round
Although he doesn't actually appear in "1984", his presence is everywhere

--

on posters, coins & telescreens
Final scores:
| | | |
| --- | --- | --- |
| Evan | Gabriela | Rob |
| $12,600 | $12,600 | $0 |
| Automatic semifinalist | 2nd place: $5,000 if eliminated | 3rd place: $5,000 if eliminated |
Game dynamics: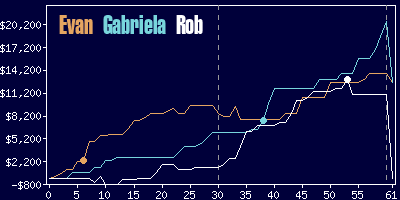 Evan
Gabriela
Rob
$11,800
$20,000
$13,000
21 R
(including 1 DD),
4 W
19 R
(including 1 DD),
0 W
18 R,
4 W
(including 1 DD)
Game tape date: 2012-02-21