Show #6358 - Wednesday, April 18, 2012
Jeopardy! Round
I WANT A GREEN CAR
(Alex: Not the color green.)

CHARACTERS BASED ON REAL PEOPLE

THE STAFF OF THE DANA CARVEY SHOW

CULTURES OF SOUTH AFRICA
(Sarah: ...from Lesedi Cultural Village, the rainbow you'd expect from a country with 11 official languages.)

This company's LPG-powered Elantra was introduced in Korea in 2009

Shakespeare based these 2 characters on a certain Miss Cappelletti & a Mr. Montecchi

"Demo-":
Of this group, by this group, for this group

It's a family affair

--

Adolph Ochs' great-grandson, Arthur Ochs Sulzberger Jr., became its publisher in 1992

The show lasted only 8 episodes despite great talent including Dana, who gained fame as this dude in "Wayne's World"

The Toyota Prius gets 9.5 out of 10 in its air pollution score, based partly on levels of PM, this type of matter

This detective was partly based on Edinburgh surgeon Dr. Joseph Bell

"Cryo-":
In this condition

A career was born in 1955 when Esther Lederer took over the Ann Landers column of this city's Sun-Times

It's Chevy's extended range electric vehicle launched in 2010

The character of Natty Bumppo in "The Leatherstocking Tales" was based on this frontiersman

"Sino-":
Of this ethnicity

Now web only, this paper founded by Mary Baker Eddy features only one religious article per issue

Victor Hugo based this fugitive on Eugene Vidocq, a convict turned businessman & private detective

"Dodeca-":
Of this many parts

Published continuously for military personnel since World War II, it now has about 420,000 daily readers

Still driving that noxious LEV, low emission vehicle? The 2012 Honda Accord is a PZEV, for "partial" this

Joel Chandler Harris based this storyteller on a former slave he had met in Georgia

It grew out of the Iowa Star, begun in 1849
Scores at the first commercial break (after clue 15):
| | | |
| --- | --- | --- |
| Mary | Eileen | Dan |
| -$800 | $1,800 | $5,600 |
Scores at the end of the Jeopardy! Round:
| | | |
| --- | --- | --- |
| Mary | Eileen | Dan |
| $200 | $2,600 | $9,800 |
Double Jeopardy! Round
THAT'S WHERE I DRAW THE LION

THE FIRST LETTER IS...
(Alex: And I'll give you the first letter.)

British artist P J Crook painted this slave & his lion friend

The first name of this 1980s political leader of the Philippines means "heart" in Spanish

"Oh Well, Whatever, Nevermind"

The artificially created Lake Mead in Nevada has an outlet to the sea via this river

Z:
The British call this cucumber-like edible item a courgette

An angel & a lion standing pensively on a bridge in a painting called "Homesickness"

--

it has to be by this Belgian

She joined the Sisters of Notre Dame at age 16; her career as an art expert came later

Most of Texas' rivers flow directly into the Gulf of Mexico, but the Pecos River flows into this border river

U:
Different from peptic ones, chronic leg ones may result from poor blood circulation caused by diabetes

Carpaccio painted the lion as a symbol of St. Mark, patron of this city where Carpaccio lived

Margaret Mead's first book was "Coming of Age in" this place

Don't "kid" yourself

--

this apple developed in the 1970s is named for the blush of its skin, not for a film festival

To distinguish it from another river, "of the North" is usually added to the name of this river that flows into Canada

V:
A small, hand-held piece of luggage

The nice lion in "The Peaceable Kingdom" helped support Edward Hicks' vocation preaching in this state's Bucks Cty.

This president of Liberia shared the 2011 Nobel Peace Prize

This large reddish-green apple is grown in New York State, like the acting brothers of the same name

"No One Here Gets Out Alive"

This river whose name is from the Dutch for "hidden river" once supplied Philadelphia with its drinking water

Y:
An Army recruit, or a nickname of Charlie Parker

Around 1621 this Flemish master painted "The Lion Hunt", which is not going so well for the hunters

Sophia Packard & Harriet Giles co-founded what became this Atlanta college for African-American women

Developed in the 1950s by Purdue, Rutgers & Illinois breeders, these crisp dessert apples were named for a king of Troy

From a singer & TV talent judge: "Does the Noise in My Head Bother You?"

If you park by this 670-mile river in Montana & Wyoming, you're beside the longest undammed river in the lower 48

Q:
An adjective meaning everyday
Scores at the end of the Double Jeopardy! Round:
| | | |
| --- | --- | --- |
| Mary | Eileen | Dan |
| $4,200 | $2,200 | $14,600 |
| | | (lock game) |
Final Jeopardy! Round
This title guy says, "Do you believe in my innocence, in the fiendishness of my accusers? Reassure me with a hallelujah!"
Final scores:
| | | |
| --- | --- | --- |
| Mary | Eileen | Dan |
| $4,200 | $2,200 | $13,200 |
| 2nd place: $2,000 | 3rd place: $1,000 | New champion: $13,200 |
Game dynamics: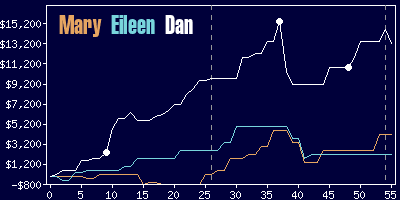 Mary
Eileen
Dan
$4,200
$2,200
$18,200
10 R,
5 W
8 R,
3 W
24 R
(including 2 DDs),
3 W
(including 1 DD)
Game tape date: 2011-12-19