Show #6339 - Thursday, March 22, 2012
Jeopardy! Round
| | | | | | |
| --- | --- | --- | --- | --- | --- |
| | | | | | |
| Nona Sivley won season 8 of this devil of a cooking competition that's on Fox | In the event of SCA (Sudden Cardiac Arrest), a life can be saved by an AED (an Automated External one of these devices) | On Aug. 20, 1866 the National Labor Union was ahead of its time when it asked Congress to make the workday this long | Of this incident, Wyatt Earp remarked, "were it to be done again, I would do it exactly as I did it at the time" | A life list (which might include auks) & binoculars are used in this hobby | Tall grass area on a golf course |
| An "All Stars" version of this Bravo cooking show brought back 18 contestants who'd almost won in past seasons | In reference to medication, ED stands for "effective" this | Lance Armstrong ran his first marathon with the goal of finishing under this time; he made it by 24 seconds | Jesse's brother, he said outlaw life was "one long, anxious, inexorable, eternal vigil" | In the 18th century, these figures were used to perform entire operas | Deck the halls with these of holly |
| "Ryori No Tetsujin" is the original title of this Japanese import | To a cardiologist, AO can be short for this blood vessel | It premiered on CBS in 1988; in 2002 the title added "Investigates" & in 2004, that became "Mystery" | A Topeka paper said this "wild" gunfighter should be thanked for "the safety of life and property at Abilene" | The sport of this dates from 1943, when it was also called aqua-lung | Pre-bun or pre-loaf stage |
| Meals on wheels, indeed! Teams competed in a coast-to-coast culinary battle in a great race of these | BB is short for this type of drug that is used to treat angina | | After killing this outlaw, Pat Garrett wrote a book to "correct the thousand false statements" in the press | Add 4 letters to "actors" to get these military devotees, like inauthentic farbs & obsessive stitch counters | Greenwich is an inner one of London |
| After each course, a chef is "cut" from the competition on this show hosted by Ted Allen of "queer eye" | TPR stands for these 3 vital signs | | This West Texas judge said, "I know the law...I am its greatest transgressor" | Ikebana is the Japanese art of creating arrangements made from these | A long, narrow area of atmospheric low pressure |
Scores at the first commercial break (after clue 15):
| | | |
| --- | --- | --- |
| Cathy | Nick | Nancy |
| $800 | $5,800 | $800 |
Scores at the end of the Jeopardy! Round:
| | | |
| --- | --- | --- |
| Cathy | Nick | Nancy |
| $2,200 | $7,400 | $3,600 |
Double Jeopardy! Round
TAKE ME TO THE NEAREST U.S. EMBASSY

In 2011 David McCullough took readers on "The Greater Journey: Americans in" this foreign city

Christoph Waltz played Cardinal Richelieu in the 2011 adaptation of this swashbuckling novel

This winning declaration in a chess game is from the Arabic for "the king is dead"

Let's measure the volume of our new potion with the glass column called a graduated this shape

In 1949 she painted "Diego and I", a portrait of herself with her husband's image appearing on her forehead

Husband & wife Will & Ariel Durant researched & wrote the 11-volume "Story of" this

Kermit the Frog & Miss Piggy returned to put on a show in this 2011 favorite

A place where alcohol was served illegally during prohibition, so named because its customers talked discreetly

Don't tell his mother, but his "Arrangement in Grey" self-portrait from 1872 is seen here

This first great Greek historian did some field work, traveling to Egypt & the Black Sea

Kenny Wormald stepped into Kevin Bacon's dancing shoes in the remake of this 1984 film

They're the botanic beasts seen here

The "fractional" type of this evaporation process further separates liquids based on their boiling points

He painted Camille "in the Meadow", "in the Garden at Argenteuil" & "on her Deathbed"

I'm on the island of Euboea

The son of a historian, he co-founded Americans for Democratic Action & served in JFK's administration

The 2011 entry in this family espionage film franchise was released in 4D

--

the added dimension being smell

A descending slope in a road, it can also mean to lower one's status or salary

His poster "Moulin Rouge" featured dancer La Goulue & her partner

This Eisenhower biographer founded the National D-Day Museum in New Orleans

"Anonymous" posits that this Earl of Oxford is the real author of Shakespeare's plays

In the Bible, "there appeared a chariot of fire, and horses of fire... and Elijah went up by" one of these "into heaven"

Get in the van & name this Flemish artist whose portrait of 5 children of Charles I hangs in Windsor Castle
Scores at the end of the Double Jeopardy! Round:
| | | |
| --- | --- | --- |
| Cathy | Nick | Nancy |
| $7,000 | $6,600 | $4,300 |
| | | |
Final Jeopardy! Round
Its nickname is said to come from a line in an 1899 speech that followed "frothy eloquence neither convinces nor satisfies me"
Final scores:
| | | |
| --- | --- | --- |
| Cathy | Nick | Nancy |
| $13,201 | $8,601 | $6,201 |
| 2-day champion: $27,801 | 2nd place: $2,000 | 3rd place: $1,000 |
Game dynamics: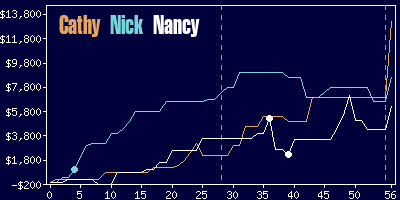 Cathy
Nick
Nancy
$7,000
$6,400
$6,400
11 R,
2 W
16 R
(including 1 DD),
3 W
12 R
(including 1 DD),
5 W
(including 1 DD)
Game tape date: 2011-12-06