Show #6200 - Friday, July 22, 2011
Jeopardy! Round
ROLES IN 2010 BEST PICTURE OSCAR NOMINEES

GOVERNMENTAL STUPID ANSWERS

WORDS FROM PLANETS
(Alex: Each response can be found within the name of a particular planet.)

When this man "saw many of the Pharisees... come to his baptism, he said unto them, O generation of vipers"

"Irish" Micky Ward, known to turn southpaw on occasion

John J. Pershing, commander of the AEF during WWI, had this rhyming nickname

This woman who triumphed over blindness & deafness was the granddaughter of Confederate gen. Charles W. Adams

Of this, the Constitution says the pres. "shall from time to time give to... Congress Information on the State of the Union"

A song from the eighth planet

"He returned to the land of Egypt: and (he) took the rod of God in his hand"

Winston Churchill,
Neville Chamberlain

Gene Krupa dubbed Benny Goodman this

Benjamin D. Wilson, an early mayor of Los Angeles, was the grandfather of this general, "Old Blood and Guts"

This service determines, assesses & collects internal revenue in the United States

French "sea" on the innermost planet

He "put his hand in his bag, and took thence a stone, and slang it"

Understudy for Siegfried,
"Corps de ballet" (18 of them!)

Decorator Mario Buatta is "the prince of" this indoor fabric

Both this general & his father Arthur fought in the Philippines, the father in 1898, the son in 1944

8 small windows are located at the 500-foot level of this Washington monument

To move around the axis of the second-biggest planet

"Then began he to curse and to swear, saying, I know not the man. And immediately the cock crew"

Early in the career of comedian Phyllis, Time magazine dubbed her this

In 1968 this grandson of a general & U.S. president married Julie Nixon with Norman Vincent Peale officiating

Even though it's in Arlington, Va., the address for this building is 1400 Defense Pentagon, Washington D.C. 20301

The area for the orchestra on the biggest planet

He "said, give her the living child, and in no wise slay it: she is the mother thereof"

The current president is known as this, for his cool demeanor in messy situations

Ulysses S. Grant could count among his ancestors Richard Warren, a signer of this 1620 document

This cabinet department is responsible for housing needs & the improvement & development of urban areas

Culture from the "third rock"
Scores at the first commercial break (after clue 15):
| | | |
| --- | --- | --- |
| Brian | Linda | Tim |
| $2,400 | $1,200 | $3,800 |
Scores at the end of the Jeopardy! Round:
| | | |
| --- | --- | --- |
| Brian | Linda | Tim |
| $4,800 | $2,000 | $7,800 |
Double Jeopardy! Round
BRITISH TITLES OF NOBILITY

This Springsteen song mentions "suicide machines sprung from cages out on Highway 9, chrome wheeled, fuel injected"

Exodus: "and she bare him a son, and he called his name Gershom: for he said, I have been" this, a Robert Heinlein novel

Parliament has a whole "House of" them

The Tarbela Dam is located on the Indus River not far from Islamabad in this country

It precedes 94 in a way to get from Michigan to Montana

Spaniards well represented include Velazquez & this later great, with works like "Saturn Devouring One of His Sons"

Back in 1983 Prince drove this song to No. 6

Carroll: "the time has come... to talk of many things: of shoes

--

& ships

--

& sealing-wax

--

of" these, an O. Henry book

The oldest title, it's also the first name of basketball's Mr. Monroe

It supplies about 15% of Egypt's electric power

In baseball scoring it refers to a fielder's boo-boo

Jose de Ribera's rendition
of this Old Testament
patriarch's dream
is in the collection

Janis Joplin sang, "Oh Lord, won't you buy me" this car? "My friends all drive Porsches, I must make amends"

Shakespeare: "we few, we happy few, we" this Stephen Ambrose book & miniseries

Used by one who holds his title only for life, it's also a homophone for a desolate adjective

The Oxbow, Brownlee & Hells Canyon dams all dam this winding river

This low country painter disturbs Prado patrons with his "Garden of Earthly Delights"

Aretha Franklin sang about "ridin' on the freeway of love" in this car; it was later the title of a hit by Natalie Cole

The "Odyssey": "(Faulkner novel), the woman with the dog's eyes would not close my eyes as I descended into Hades"

There's one of Beaufort & one of Bedford & also a university in North Carolina

Norris Dam, completed in 1936, was the first dam built by this New Deal agency

The velocity of light in a vacuum

Sammy Hagar protested the speed limit in this hit

Whitman:
This E.M. Forster novel! "Cooling airs from Caucasus far, soothing cradle of man, the River Euphrates"

Princess Margaret's son holds this fourth-highest rank, preceding "Linley"

In the 1910s the Elephant Butte Dam was built on this river to provide water & irrigation to Texas & New Mexico

Tungsten, on the periodic table
Scores at the end of the Double Jeopardy! Round:
| | | |
| --- | --- | --- |
| Brian | Linda | Tim |
| $13,600 | $15,800 | $16,200 |
| | | |
Final Jeopardy! Round
In 1909 he sent the message "Stars and Stripes nailed to the pole"
Final scores:
| | | |
| --- | --- | --- |
| Brian | Linda | Tim |
| $13,600 | $31,600 | $200 |
| 2nd place: $2,000 | New champion: $31,600 | 3rd place: $1,000 |
Game dynamics: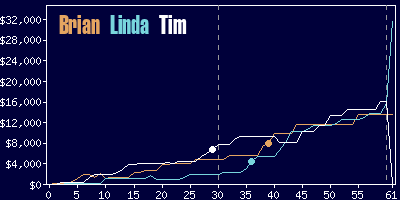 Brian
Linda
Tim
$12,400
$16,400
$16,200
17 R
(including 1 DD),
2 W
19 R
(including 1 DD),
1 W
20 R
(including 1 DD),
2 W
Game tape date: 2011-03-22