Show #6180 - Friday, June 24, 2011
Jay Rhee game 5.
Jeopardy! Round
THE NATIONAL TOY HALL OF FAME

The Yale-Harvard athletic rivalry began in 1852 in this sport

Detective Stan "Wojo" Wojciehowicz,
Detective Sergeant Nick Yemana

Up to 8 varieties of these are sold every year; the shortbread trefoils are always included

It's known as "the birthplace of baseball"

Joshua Cowen gave his middle name to this brand of model trains

British clergyman Charles Wesley was a notable Methodist writer of these

Scientists have confirmed that HIV came from a similar virus in this African ape

Swanson Broth is owned by this other soup company

The George Eastman House in this city is home to the International Museum of Photography & Film

This doll was inducted into the Hall of Fame in 2002; her brother Andy didn't join her until 2007

It's the adverb for how the bashful boy does things

Some scholars believe this punctuation mark comes from the Latin word Io, a shout of joy

Hayden Fox,
Luther Van Dam

You're on a "roll" if you know that Leo Hirschfeld gave this chewy chocolate candy his daughter's nickname

It's no myth, this city was named because of its location within the town of Ulysses

Initial sales for it were sluggish, but demonstrations of how it walked down stairs at Gimbels made it walk off shelves

A naiad, in myth, or Lolita, in literature

In 1939 a Montgomery Ward copywriter wrote this story that was handed out to children in the store for Xmas

For a box top & 25 cents, you could get a rag doll from this brand; the family included Uncle Mose & twins Diana & Wade

This small town in Wyoming county boasts a large annual rodeo & a rather well-known maximum security prison

A steam shovel & a crane were the first metal trucks the Mound Metalcraft Co. sold under this brand name

Formed as a result of WWII, this think tank took its name from "Research and Development"

Jack McFarland,
Karen Walker (not the title characters)

The No. 1 selling brand of frozen pizza in dollar sales; it's not delivery, it's this

Take note

--

the fort in this town was once considered the "Gibraltar of the North"

John Lloyd Wright, son of Frank, created this "presidential" construction toy

In the "Iliad" this dwarven race from Africa fought against cranes who destroyed their fields
Scores at the first commercial break (after clue 14):
| | | |
| --- | --- | --- |
| Jay | Marc | Elaine |
| $4,600 | $1,200 | $600 |
Scores at the end of the Jeopardy! Round:
| | | |
| --- | --- | --- |
| Jay | Marc | Elaine |
| $6,000 | $2,200 | $2,000 |
Double Jeopardy! Round
REVOLUTIONARY WAR GENERALS

STARTS WITH THE SAME 2 LETTERS

This woman, upon meeting Jimmy Page at Buckingham Palace, asked, "And what do you do?

Desperado pays tribute to this group

In command when the war began, Artemas Ward was soon playing second fife to this man

Because it operates like an old execution device, your average paper cutter also goes by this name

Dateline Southwark:
30 pilgrims en route from Tabard Inn ultimately to this town in Kent

A 1939 editorial:
The problem with this is "people must sit and keep their eyes glued... the average American family hasn't time"

Well, whatever

--

Nevermind has the look & sound of this grunge group

In 2002 this French general became only the sixth person to be named an honorary U.S. citizen

A ciborium is a small container used to hold the consecrated wafers for this sacrament

Dateline Hell:
This "lost archangel" laments loss of Paradise & plots revenge

If you've got lots & lots of something, you've got this large amount

"No matter what happens, the U.S. Navy is not going to be caught napping", said Navy Sec. Frank Knox Dec. 4 of this year

Here's a message in a bottle: Stung covers the songs of this trio

This last surviving general who died in 1832 at 98, gave his name to a South Carolina site that later made big news

Dateline Georgia:
Sharecropper Jeeter Lester lives out his sad existence on this "road"

In the Bible he made the Golden Calf, disappointing his brother

Variety in 1955 on this musical style:
"It will be gone by June"

Covering this quartet, Vertigo USA could be "even better than the real thing"

This general became our nation's first Secretary of War & had a Kentucky fort named in his honor

It's the 3-letter word for an apple seed or any of the spots on a pair of dice

Dateline London:
Orphan asks for additional serving of this 5-letter foodstuff

This kind of tea gets its name from the Chinese for "black dragon"

In 2010 British Petroleum said it "seemed inconceivable" that this oil rig device, BP for short, could fail

Perhaps "Back In Black", Live Wire "Shook Me All Night Long" with its tribute to this hard rock group

A statue of this "colorful" general in the U.S. Capitol represents the State of Rhode Island

Derived from French, it's the small type of souffle baking dish seen here

--

who wants dessert?

Dateline "On the Road":
Sal & Dean beat-ing it to this West Coast town

This British company bills itself as "the world's leading insurance market"
Scores at the end of the Double Jeopardy! Round:
| | | |
| --- | --- | --- |
| Jay | Marc | Elaine |
| $21,400 | $9,900 | $10,000 |
| (lock game) | | |
Final Jeopardy! Round
Built about 50 years ago, it's the only world capital to start with the letter "I"
Final scores:
| | | |
| --- | --- | --- |
| Jay | Marc | Elaine |
| $21,400 | $16,900 | $14,500 |
| 5-day champion: $107,203 | 2nd place: $2,000 | 3rd place: $1,000 |
Game dynamics: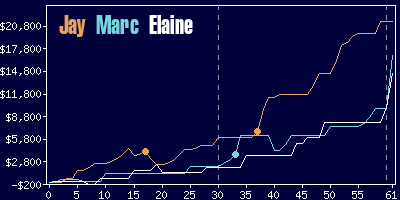 Jay
Marc
Elaine
$20,600
$8,600
$10,000
29 R
(including 1 DD),
3 W
(including 1 DD)
13 R
(including 1 DD),
2 W
10 R,
2 W
Game tape date: 2011-03-01