Show #6161 - Monday, May 30, 2011
Jeopardy! Round
Published posthumously, "Sleeping Murder" was her last novel to feature miss Jane Marple

The 4 Seasons, or Fergie: "B.G.D.C."

The Citation & Corsair were models of this Ford failure of the 1950s

Born: Feb. 22, 1932, Boston, Massachusetts. Died: Aug. 25, 2009, Hyannis Port, Massachusetts

Gingerbread playing tokens pass through the peppermint forest in this game for preschoolers

They're the first 5 words of the little ditty that ends, "life is but a dream"

Erich Maria Remarque's "All Quiet on the Western Front" was originally published in this language

Time said this 1980s Slavic import "had the distinct feeling of something assembled at gunpoint"

Born: 570, Mecca. Died: June 8, 632, Medina

Shown here is the creation of the powerful piece called this

It's the groove made in the ground by a plow

This weepy 1970 bestseller begins with the line "What can you say about a twenty-five-year-old girl who died?"

Cheap Trick:
"I.W.Y.T.W.M."

The Sierra Club derisively dubbed this gargantuan SUV "the Ford Valdez"

Born: Oct. 2, 1869, Porbandar, India. Died: Jan. 30, 1948, New Delhi, India

The "hock" is the last card drawn in this once-popular game, a homophone of an ancient ruler

As it allows you to take books on loan, a library card is also known as this type of card

Oddly, Eric van Lustbader has written more of the Jason Bourne novels than this original author did

Carrie Underwood & her Louisville Slugger: "B.H.C."

Powered(?) by a 90-hp engine, the 1982 model of this iconic Chevy sports car took 20 seconds to go from zero to 60

Born: Nov. 2, 1755, Vienna, Austria. Died: Oct. 16. 1793, Paris, France

Shogi is a Japanese variant of this board game but captured pieces can be used by the opponent

When you're wrong & you admit it, you "eat" this bird; now wipe your mouth!

"The Ghost Writer" & "Exit Ghost" are 2 of the novels featuring this author's alter ego Nathan Zuckerman

This model was the infamous focus of Ralph Nader's 1965 expose "Unsafe At Any Speed"

Born: June 14, 1928, Rosario, Argentina. Died: Oct. 9, 1967, Bolivia

This Mattel game has 2 decks of cards for "things" & "descriptions" & your "thing" must try to match the "description"

TV's Baretta may have had a pet cockatoo, but his theme song was "Keep Your Eye On" this
Scores at the first commercial break (after clue 15):
| | | |
| --- | --- | --- |
| Monica | Roberta | Matt |
| $1,800 | $400 | $4,400 |
Scores at the end of the Jeopardy! Round:
| | | |
| --- | --- | --- |
| Monica | Roberta | Matt |
| $4,200 | $2,900 | $6,800 |
Double Jeopardy! Round
BEST SUPPORTING ACTRESS OSCAR WINNERS

In European languages, this, such as masculine or feminine, is often unpredictable

She had us at "Cold Mountain"

This favorite of Popeye makes an excellent "wilted" side dish

6-letter word: go to the left, now right, back left, then right again

The Pennsylvania state Capitol dome rises 272 feet above this city

On Jan. 15, 1827 a man exited an oven (holding an overdone steak!) in a suit of this in a test of its heat resistance

It's not just a Louisiana French dialect, but any language that evolves from pidgin speech

No driving over a cliff for her in "The Accidental Tourist"

Please pass the small, round pearl type of these around; the cream sauce is delicious!

This rock musician brought his wild, macabre style to his first feature directorial effort, "House of 1000 Corpses"

The western tip of this city's Golden Triangle

--

where the Ohio River begins

--

is called the point

On Dec. 27, 1900 she staged her 1st big "raid" when she marched on a Wichita saloon & smashed all liquor bottles in reach

She won for "My Cousin Vinny" & has been nominated 2 other times, as well

For carb cutters, "Joy of Cooking" has a recipe for this vegetable, mashed as a substitute for potatoes

Atomic number 30, it's often used in sunscreen

Well, we're living here in this "town" that lies on the Lehigh River across from Bethlehem

He & Alfred Vail demonstrated their telegraph publicly for the first time on Jan. 6, 1838 in Morristown

Study of the Indo-European family began in 1786 with a scholar noting this ancient tongue's affinity with Greek & Latin

She won for "Tootsie", a few years after not even being nominated for "King Kong"

Argenteuil, France is famous for its white type of this, which is grown underground

This term meaning "just don't" is applied to policies like those in California schools for students carrying guns

In 1850 this city that loves Feb. 2 became a borough; in 1850 this city that loves Feb. 2 became a borough; in 1850...

On Jan. 14, 2011 President Ben Ali fled this African country as his people protested his 23-year rule

Forming statements not about here & now is called this, like the amount of water moved by a floating body

She took home an Oscar for "From Here to Eternity" & later starred in one of TV's most wholesome sitcoms

Pablo Neruda said this thistlelike plant had a "tender heart" & a "small helmet under its scales"

The Matura diamond is a colorless variety of this 6-letter mineral

This city with a hyphenated name was named for 2 British politicians who defended the American colonies in parliament

In his Feb. 18, 1861 inaugural address, he spoke of "the absence of wrong on our part"
Scores at the end of the Double Jeopardy! Round:
| | | |
| --- | --- | --- |
| Monica | Roberta | Matt |
| $10,800 | $13,200 | $16,000 |
| | | |
Final Jeopardy! Round
This term for the lowest level of the ocean that the Sun's rays can reach shares its name with a classic 1960s TV show
Final scores:
| | | |
| --- | --- | --- |
| Monica | Roberta | Matt |
| $5,598 | $200 | $5,599 |
| 2nd place: $2,000 | 3rd place: $1,000 | New champion: $5,599 |
Game dynamics: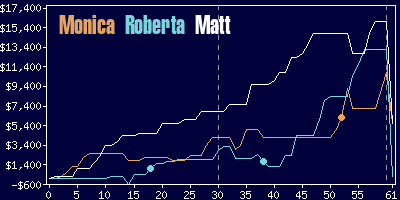 Monica
Roberta
Matt
$9,400
$14,000
$16,000
16 R
(including 1 DD),
5 W
17 R
(including 1 DD),
4 W
(including 1 DD)
21 R,
1 W
Game tape date: 2011-02-09