Show #6148 - Wednesday, May 11, 2011
2011 Teachers Tournament semifinal game 3.
Jeopardy! Round
CELEBRITIES IN HIGH SCHOOL

(Alex: We'll deal with commercials...)
JINGLES ALL THE WAY

From July 1845 to September 1847, he communed with nature at Walden Pond

No big shock

--

he's the radio personality seen here in his senior year

"I don't wanna grow up, I'm a" this "kid, they got the best for so much less, you'll really flip your lid"

Acting under Chapter VII of their charter, the U.N. voted to institute one of these over Libya, grounding Qaddafi's aircraft

This Canadian federal police force moved its headquarters to Ottawa in 1920

"There's an exception to every" one

In 1849 this Cabinet department was created, assuming control of the General Land Office & the Indian Affairs Office

She's the future Oscar winner seen here in her senior year

"My bologna has a first name, it's" this; "my bologna has a second name, it's" this; just say 'em, don't spell 'em

This homeless man from Ohio stepped into the batter's box of fame thanks to his golden voice

In 1857 she picked out Ottawa to be the capital of Canada

Stubborn offspring of a female horse & a male donkey

In May 1846 the Senate voted 40-2 to declare war on this country

Had he bragged to fellow students that he was going to be an American rock idol, they might have said "Dream On"

"I am stuck on" this brand, 'cause this brand's "stuck on me"

Democratic state senators fled this state to stall Gov. Walker's union-busting budget bill

You'll find Ottawa in the southeastern part of this province, on the Quebec border

If you're superstitious, I guess I'm supposed to do this

On July 12, 1843 he announced that a divine revelation legitimized polygamy

This actor, whose earliest ambition was to become President, still entertains thoughts of a political run

"Call" this service company, "that's the name, and away go troubles, down the drain"

This orbiter that got the Shuttle program back aloft after 2 disasters made its 39th & final flight

A gift from Dutch royalty led to the world's largest festival of this flower, held each May in Ottawa

At his death in March 1848, he left a fortune estimated at $20 million, acquired in the fur trade & real estate

We're happy to "report" that this young pundit, seen here, was voted wittiest student

"I want my baby back baby back baby back... baby back ribs" from this place

This European country with 2 distinct ethnic groups broke a record by marking 249 days without a government

It's Ottawa's team in the National Hockey League

He wrote "A Confederacy of Dunces"
Scores at the first commercial break (after clue 15):
| | | |
| --- | --- | --- |
| Kathy | Charles | Matt |
| $3,000 | $1,200 | $1,600 |
Scores at the end of the Jeopardy! Round:
| | | |
| --- | --- | --- |
| Kathy | Charles | Matt |
| $5,400 | $5,800 | $4,200 |
Double Jeopardy! Round
(Alex: We want you to identify the student being discussed in...)
LOST PARENT-TEACHER CONFERENCES?

THE NON-WASHINGTON CAPITALS

FRENCH SCRAMBLE
(Alex: You have to unscramble the anagram to come up with the French response.)

"O, thereby hangs a tail", says the clown shortly before this villain's entrance in Act 3 of "Othello"

This supernatural TV series was full of mean girls: Cordelia, the insane vampire Drusilla & Glory (a sort of evil god)

Images received by each eye are transposed to a hypothetical single eye named for this mythical character

At Dr. Clark's school we applaud the young man's almost military discipline, but he can't go slapping other boys

A clock tower built in 1530 is a landmark in this Swiss capital city

"Henry VI, Part II" describes an animal that "clapp'd his tail between" these

Nobody could do mean like this actress as Alexis Carrington on "Dynasty"

If you have heterochromia, one of these may be blue & the other brown

Mr. Clay, your son won't raise his own hand; he gets a classmate here at Louisville Central High to raise it for him

One night in this Asian city makes a hard man humble, & with 38,850 people per sq. mile in its Sam Peng district, that's a lot of men

I'm asking nicely:
VIOLA'S TULIPS

"Who knows not where a wasp does wear his sting? In his tail", says Petruchio in this play

Alison Arngrim was delightfully nasty as Nellie Oleson, who plagued Laura Ingalls on this '70s series

His schoolmaster Mr. Chauvet called him incorrigible & he replied, "Irredeemable, incurable, inveterate..."

An 1855 earthquake in this Kiwi city raised the harbor bed by over a yard, allowing land to be drained & reclaimed

I'm complimenting you:
BERET SIN

In "Henry VI, Part I" , Joan of Arc says, "Let frantic Talbot triumph for a while and like" this bird "sweep along his tail"

Marcia Cross did many mean things

--

like stealing babies

--

as Dr. Kimberly Shaw on this '90s drama

The eyes have these 2 types of receptor cells; one gives color vision, the other black & white vision in dim light

Your Francois is the worst bully in the Port-au-Prince schools, though his ambition to be a doctor is commendable

It lies on the shore of its same-named bay, at the mouth of the Pasig River in Luzon

"My father compounded with my mother under the dragon's tail", laments Gloucester's son in this play

Leighton Meester tells tales out of school as Blair Waldorf on this soapy series

It's no laughing matter: your eyes are filled with a clear gel called the vitreous this

Madame & Monsieur, young Antoine sits all day playing with toy planes & drawing little princes

The name of this Romanian capital first appears in a document of Vlad the Impaler

How many are there?:
NICE MOB
Scores at the end of the Double Jeopardy! Round:
| | | |
| --- | --- | --- |
| Kathy | Charles | Matt |
| $12,000 | $21,800 | $400 |
| | | |
Final Jeopardy! Round
"A Girl from a Different World" & "Train to the Urals" are chapters in this 1957 work
Final scores:
| | | |
| --- | --- | --- |
| Kathy | Charles | Matt |
| $23,000 | $24,001 | $312 |
| 2nd place: $10,000 | Finalist | 3rd place: $10,000 |
Game dynamics: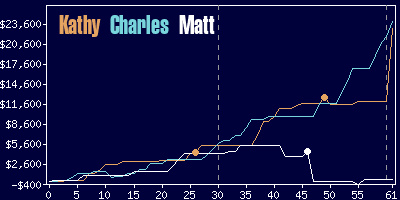 Kathy
Charles
Matt
$12,400
$21,800
$5,000
17 R
(including 1 DD),
1 W
(including 1 DD)
24 R,
1 W
10 R,
3 W
(including 1 DD)
Game tape date: 2011-03-29