Show #5967 - Tuesday, July 20, 2010
John Krizel game 3.
Jeopardy! Round
CLASSIC MOVIE ORIGINAL DIALOGUE?
(Alex: You have to identify the film for us.)

Oh, thank heaven for this largest chain of convenience stores where you can get a Big Gulp day or night

"No thanks, Mrs. Robinson. I don't know what a 'cougar' is & I don't think I want to find out. Is Elaine home?"

This type of doll represents a particular person; sticking pins in it is said to reinforce spells cast on that person

Taking the 'go" out of escargot, this mollusk is said to be able to lie dormant for months at a time

January 1:
This Southeast Asian sultanate gains its full independence from Great Britain

Ante up the money & you can have one of these hardware stores; it's "the helpful place"

"Oh, geez... George, it turns out Bedford Falls would be better off if you'd never been born. Now... this is awkward"

In the 1880s this inventor reduced the size of a phonograph so that it could fit inside a doll & make it "talk"

The peregrine type of this bird can reach speeds of 200 mph in a dive

January 24:
Apple introduces this influential computer model

A sibling by marriage, not genetics

"Grill & chill" with this franchise that's been serving up its soft-serve ice cream since 1940

"No, no, no, I'm Antoninus! I'm not that guy! You want him! He's right there! The one that looks like Kirk Douglas"

Mattel has announced 2 new "I Can Be..." dolls of her: news anchor & computer engineer

See this alliterative sea creature? It can pack a 300- to 650-volt wallop

May 19:
Led by a Great One, this Canadian team takes its first Stanley Cup

5-word nickname of Philadelphia

This women-only circuit-training fitness center began franchising in 1995

"No. Wilson woulda killed you, Terry. You wouldn't have been a contender, just a bum, which is what you are. Sorry."

Chrissa Maxwell, who moved to Minnesota to live with her grandmother, is the 2009 girl of the year in this line

Now known as an insurance mascot, this type of lizard gets a grip using its roughly 14,000 setae on each footpad

August 21:
Half a million people march through the streets of Manila protesting this president's rule

Sanguine term for a steadfast friend

Begun in Japan, this chain of math & reading centers ranks as the top tutoring services franchise

"Oh, Rosebud! I thought you said something else. That was his sled. That all you need? I'm kinda busy"

This doll with the red-&-white striped legs & red yarn hair was created by cartoonist Johnny Gruelle in 1915

The Hercules type of this insect can lift things 850 times its own weight

Jan. 3:
Syria frees a U.S. Navy flier following a visit from this U.S. politician; June 27: Cuba frees 48 prisoners ditto

The title of this WWII-set miniseries is also a phrase from Shakespeare's "Henry V"
Scores at the first commercial break (after clue 15):
| | | |
| --- | --- | --- |
| John | Gene | Donna |
| $3,600 | $3,600 | $2,000 |
Scores at the end of the Jeopardy! Round:
| | | |
| --- | --- | --- |
| John | Gene | Donna |
| $7,000 | $6,800 | $4,400 |
Double Jeopardy! Round
STATE LAKES
(Alex: We'll give you the lake, you identify the state for us.)

A cube has this many sides

Pro golfers know this term for an assistant comes from Latin for "head"

In various versions of "Othello", she's smothered, strangled or stabbed to death

In 2008, this leader went from president to prime minister, but he's still very powerful

Greek gives us this word for a poetic foot of 2 syllables, an unstressed followed by a stressed

Baseball pros are familiar with this geometric name for the area where the next hitter waits his turn

Yum-Yum, who is due to marry Ko-Ko, falls in love with the minstrel Nanki-Poo in this operetta

He's the multiple gold medal-winning Olympian seen here

Grand Lake O' the Cherokees

This bowl-shaped depression at the mouth of a volcano is from the Greek for "mixing vessel"

No matter how many sides a convex polygon has, the sum of its exterior angles will always equal this many degrees

A tennis pro can teach you not to step over the baseline while you serve

--

that would be one of these

A one-act opera based on an episode in "Great Expectations" is called this woman's "Wedding night"

The tattoo seen here was made with this reddish-orange dye

The name of this learning disability is partly from the Greek for 'word"

An ellipse's center of symmetry is midway between these 2 points, abbreviated f.

In pro basketball it's a violation to stay in this part of the court for more than 3 seconds

This widower & hunchback is the court jester to the Duke of Mantua

Seen here, the largest high relief sculpture in the world is located in this state

(Alex reports from a Ford Motor Company plant in Dearborn, MI.) To make jobs easier & safer, trucks on the assembly line are raised or lowered on these accordion lifts, which are called skillets; it's an example of this science of practical human engineering; it comes from the Greek word which means "work"

In pro hockey, it's 64 feet from the goal line to this line

Characters in this John Adams opera include Chou En-lai, Chairman Mao & Henry Kissinger

It's the cave where the work seen here was found; obviously, it was home to some of the first muralists

It can be an introductory scene of a play or an introductory verse of a poem
Scores at the end of the Double Jeopardy! Round:
| | | |
| --- | --- | --- |
| John | Gene | Donna |
| $17,400 | $16,000 | $12,600 |
| | | |
Final Jeopardy! Round
LEGENDARY PUBLIC SERVANTS
In 1929 he became a special agent with the Treasury Department's Prohibition Bureau, Chicago Division
Final scores:
| | | |
| --- | --- | --- |
| John | Gene | Donna |
| $32,001 | $25,201 | $4,600 |
| 3-day champion: $78,803 | 2nd place: $2,000 | 3rd place: $1,000 |
Game dynamics: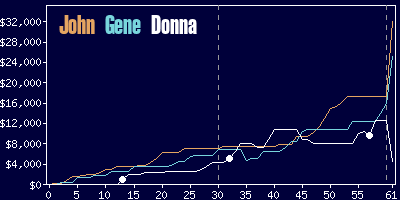 John
Gene
Donna
$17,400
$16,000
$10,600
23 R,
0 W
19 R,
1 W
15 R
(including 3 DDs),
4 W
Game tape date: 2010-03-13