Show #5939 - Thursday, June 10, 2010
Jeopardy! Round
CLASSIC GAME COMING ATTRACTIONS

LOUD RHYMES
(Alex: Each correct response will rhyme with "loud".)

It cost $1 million to build by 1889 but now can be yours! We'll throw in its 79-foot antenna! Say oui to this while you can!

It asked the question: "Can 2 divorced men share an apartment without driving each other crazy?"

A 1981 autopsy verified that a body buried in a Texas grave was that of this assassin, not a Soviet spy

151 feet tall, Manhattan adjacent, it comes with 29-foot reading lamp attached!

Fish, Yemana & Wojo were among the detectives who hung around the precinct on this series

Her body was stolen & sent to Italy after her husband was deposed; it was returned to Argentina in 1974

4,500 years old, its royal headdress of limestone makes it the finest in noseless architecture!

After appearing as Edith's cousin on "All in the Family", this character spun off to her own show

Teddy Roosevelt gave the eulogy when this man was interred at the Naval Academy in 1906, 114 years after his death

Bent the body, as in salutation

This Roman fixer is a contractor's dream! The games may have stopped here in 523 A.D. but the fun for you is just beginning!

Despite the death of its star Freddie Prinze, this sitcom continued for an additional season

In 1995 a forensic scientist said that remains exhumed from a grave in Missouri were probably those of this slain outlaw

Having a high opinion of one's own importance

Sure, it's 1,815 feet tall, but its elevators can rise at 20 feet per second! You'll be home in Toronto in no time!

Les Nessman was the news director on this sitcom

In 1985 it was confirmed that a body exhumed in Brazil was that of this notorious Nazi doctor

Maiden name of First Lady Mamie Eisenhower
Scores at the first commercial break (after clue 15):
| | | |
| --- | --- | --- |
| Kyle | Marty | Ilana |
| $1,000 | $5,600 | $1,000 |
Scores at the end of the Jeopardy! Round:
| | | |
| --- | --- | --- |
| Kyle | Marty | Ilana |
| $3,400 | $8,200 | $2,200 |
Double Jeopardy! Round
KIBBUTZ LIFE
(Jimmy: From Kibbutz Amiad, just north of the Sea of Galilee.) (Alex: We are in Israel.)

Barbara Boxer is a U.S. senator from California; the Boxster is a sporty model from this car maker

This Jason who played Brandon on "Beverly Hills 90210" was born with the middle name Bradford

Here at Jeopa-Conglomarex, we try to avoid being fined $600 million by the E.U., like this tech company in Wash. was in '04

Raindrops aren't teardrop shaped; small ones are round, while the largest are shaped like this vital skydiving gear

This retriever was developed from the St. John's water dog in Newfoundland

Fannie Flagg is a writer; Fannie Mae stands for the Federal National this Association

Born in Hollywood, she turned up on "Weeds" in 2009 as Nancy's estranged sister Jill

As CEO of J-CX, I'm thinking of doing my hair like this owner of 610 Park Avenue. How do I look? Huh?

Petrichor is this distinctive sensation, a pleasant accompaniment to the first rain after dry weather

The rumpy type of this breed is the only cat born without a tail

The kibbutzim were agricultural leaders in the project of "making" this arid type of land "bloom"

Medea was an enchantress who helped Jason; this is a strong wine, similar to sherry, named for Portuguese islands

In 2009 Jason Mesnick was the title figure on this reality series

--

the first single dad to do so

At the end of fiscal 2007, J-CX decided not to brew up a competition with this beverage co. which then had 15,756 stores

Virga is the meteorological term for rain that does this before it reaches the ground

An English greyhound in miniature, this speedy dog has been called the "poor man's racehorse"

H1N1 is the more proper name for swine flu; H2O2 is the chemical formula for this bleaching agent

This Jason born in London has played transporter Frank Martin in 3 films

The company car? A 2009 612 Scaglietti F1 coupe from this company

--

only $313,088, before options

To produce rain in drought-stricken areas, clouds are often "seeded" with AgI, an iodide of this element

This Turkish cat was nearly extinct by the early 1960s; a Turkish zoo began a breeding program that saved them

Owen Wilson is an actor; this company makes glass fiber & has the Pink Panther as its symbol

"I'm Yours" is the biggest hit by this Jason born in Virginia

J-CX would like a suite at Cowboys Stadium built by this NFL owner; that 60-yard-long hi-def scoreboard... wow

In 1911 in what's now this country, more than 45 inches of rain fell on the city of Baguio on Luzon in a single day

This "great" mountain dog was once used to smuggle contraband between France & Spain
Scores at the end of the Double Jeopardy! Round:
| | | |
| --- | --- | --- |
| Kyle | Marty | Ilana |
| $9,300 | $13,400 | $9,400 |
| | | |
Final Jeopardy! Round
In an 1842 tale he wrote, "Down

--

still unceasingly

--

still inevitably down!... I shrunk convulsively at its every sweep"
Final scores:
| | | |
| --- | --- | --- |
| Kyle | Marty | Ilana |
| $10,550 | $18,801 | $18,601 |
| 3rd place: $1,000 | New champion: $18,801 | 2nd place: $2,000 |
Game dynamics: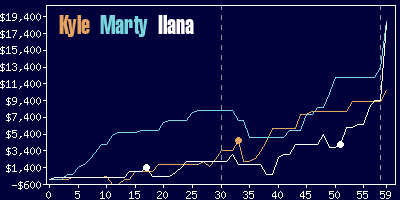 Kyle
Marty
Ilana
$11,800
$13,400
$9,200
16 R,
3 W
(including 1 DD)
19 R,
2 W
16 R
(including 1 DD),
4 W
(including 1 DD)
Game tape date: 2010-02-16