Show #5908 - Wednesday, April 28, 2010
Buddy Wright game 1.
Jeopardy! Round
WHERE THERE'S A WILL SHAKESPEARE

Shakespeare survived this deadly scourge that killed more than 30,000 in London alone in 1603

When rollerblading, wear safety gear, including knee & elbow pads & one of these, required for motorcyclists

It's the "nighttime, sniffling, sneezing, coughing, aching, fever, sleep better to feel better medicine"

In 2008 police shot a 125-lb. cougar running loose on this toddlin' town's north side

A barcarole is a traditional song of a gondolier of this city

Long pointed rod used as a weapon

Shakespeare was spelled more than 14 different ways & there are only 6 or 7 known specimens of this

No need to be embarrassed by this condition

--

try Selsun Blue or Sebulex on aisle 5

The primary habitat of the subspecies Felis concolor azteca includes parts of the U.S. & this country

Squeezebox is another name for this instrument

The Martian one lasts 687 days

Term for a resident of a certain English town, or a person who thinks Shakespeare really did write "Hamlet", etc.

It can be a type of shoe or a type of golf club for lofting the ball, especially out of sand traps

Big bright smiles for this brand of Whitestrips that first hit shelves nationally in 2001

The cougar's range overlaps with that of this slightly larger central & South American cousin

"What Do We Do With The Drunken Sailor?" is a popular one of these maritime work songs

To char the surface of meat on a grill

Right on, Willy! The phrase "right on" appears in Act III of this Shakespeare play that takes place in 44 B.C.

Also called a birdie, it's the object that's struck back & forth in a game of badminton

Like Dramamine, Bonine is designed to prevent nausea & dizziness caused by this

The cougar is also called the mountain lion, the panther, the catamount & this, like a track shoe

To sing in this "chapel" style is to sing without instrumental backing

8-letter word for what you do when you eavesdrop

In 1957 this giant of theater started staging Shakespeare in Central Park

This brand makes bats & racquets too, but since the movie "Cast Away" came out, it may be best known for volleyballs

According to its logo, this brand of medicated powders has been "healing since 1908"

The only large population of cougars in the southeastern U.S. is in this state, where they're called panthers

This paired musical instrument heard here is popular throughout Asia & the Middle East

Behind in payments or late fulfilling a duty
Scores at the first commercial break (after clue 15):
| | | |
| --- | --- | --- |
| Randall | Buddy | Alexandra |
| $3,400 | $3,400 | $800 |
Scores at the end of the Jeopardy! Round:
| | | |
| --- | --- | --- |
| Randall | Buddy | Alexandra |
| $5,200 | $7,400 | $3,000 |
Double Jeopardy! Round
MOVIE TITLE OBJECTS
(Alex: You have to identify the type of object for us.)

This country is part of the U.K., but not part of Great Britain

1890s paintings by him include "Melancholy", "Jealousy" & "The Scream"; maybe it's just me, but I'm sensing a theme

As its name implies, Bockwurst is traditionally served in Germany with this beverage

She married John in 1952, 29 years before Reagan appointed her to the Supreme Court

It's the main stimulant in coffee & tea

Surprisingly, this mountainous Western European country didn't fully grant women the right to vote until 1971

This caricaturist added a number to his signature to show how many times he wove his daughter Nina's name into a piece

Genoa salami is traditionally studded with white these 3-syllable spices, while cotto gets the black type

He married Virginia Lamp in 1987; in 1991, he was hit by Hurricane Anita... Hill

To move along making loud noises, or to drink a glass of liquid quickly

Of the 5 largest countries in area, the one in South America

In 1921 this "Nude Descending a Staircase" artist put out 1 issue of New York Dada magazine with Man Ray

Boudin is a type of Cajun sausage stuffed with pork & this grain

He wed Marion Stearns in 1946, 8 years after he led he NFL in rushing

The illegal taking of someone else's land that he has already staked out

Until 2001 this tiny country used the French franc & the Spanish peseta, but today uses the euro

His delft touch with a brush makes subjects like 1663's "Woman in Blue Reading a Letter" compelling

This large Italian sausage gets its name because it was seasoned with myrtle berries

He married Mary Ambler in 1783, 20 years before deciding Marbury v. Madison

This 17th century form of Italian popular theater was marked by stock characters & familiar plots

This West Coast African country with a Portuguese name was, like Liberia, founded as a nation for freed slaves

The work by this Dutch artist is seen here; maybe it's for the best he didn't become an architect, as he first intended

This sausage sounds like a big deal, & in France it's known as fromage de tete

This chief justice & diplomat married the daughter of William Livingston, the first post-Revolutionary gov. of New Jersey

A snake & an experimental art movement founded in 1948 share this name
Scores at the end of the Double Jeopardy! Round:
| | | |
| --- | --- | --- |
| Randall | Buddy | Alexandra |
| $13,600 | $14,400 | $13,400 |
| | | |
Final Jeopardy! Round
In August 1971 on the Moon's surface, an astronaut repeated a famous experiment & declared that this man "was correct"
Final scores:
| | | |
| --- | --- | --- |
| Randall | Buddy | Alexandra |
| $3,600 | $27,201 | $26,400 |
| 3rd place: $1,000 | New champion: $27,201 | 2nd place: $2,000 |
Game dynamics: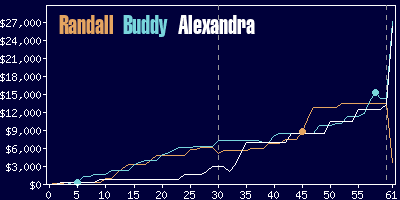 Randall
Buddy
Alexandra
$13,200
$15,200
$13,400
18 R
(including 1 DD),
1 W
21 R
(including 1 DD),
2 W
(including 1 DD)
12 R,
1 W
Game tape date: 2010-02-03