Show #5890 - Friday, April 2, 2010
Jeopardy! Round
| | | | | | |
| --- | --- | --- | --- | --- | --- |
| | | | | | |
| "Let there be a firmament in the midst of the waters" | | Of the first 4 classic films (all from 1939) honored with U.S. stamps in 1990, the only one that was a musical | Detonated by contact, it can be an explosive buried underground or floated at sea | | Figuratively, one of these "of cards" is shaky & could collapse at any moment |
| "Intreat the Lord, that he may take away the frogs from me" | | A 2009 stamp honoring the 50th anniversary of its statehood featured a dogsledder | 2-word name for an explosive charge detonated underwater against submarines | | Standard command to Fido to go get that stick |
| "Take me up. and cast me forth into the sea", for I know that for my sake this great tempest is upon you" | | A stamp commemorating this poet includes a scene from his poem "Paul Revere's Ride" | It's a homemade bomb consisting of a gasoline-filled bottle ignited by a rag stuck in the bottle's neck | | Zodiacal sign for late March & early April |
| "Except I shall see in his hands the print of the nails... and thrust my hand into his side, I will not believe" | | 18th-century French playing cards inspired the look of the "Love" stamp seen here with these card names | 4-letter name for a medium-range Soviet-era missile originally designed to carry a nuclear warhead | | To mount a picture, or to contrive evidence to make an innocent person look guilty |
| "But ye have a custom, that I should release unto you one at the Passover" | | A 76-cent stamp recognized Edward Trudeau, a phthisiologist, one who studies this wasting lung disease | SAM stands for this type of missile | | This 5-letter term comes from a Red Sea port in Yemen where coffee was exported |
Scores at the first commercial break (after clue 15):
| | | |
| --- | --- | --- |
| Jessica | Laura | Gary |
| $1,200 | $2,200 | $4,400 |
Scores at the end of the Jeopardy! Round:
| | | |
| --- | --- | --- |
| Jessica | Laura | Gary |
| $3,800 | $2,600 | $10,000 |
Double Jeopardy! Round
"C"ULINARY CROSSWORD CLUES
(Alex: Each correct response will begin with the letter "C".)

(Alex: You have to tell us to whom the prince is speaking in...)
REWRITING HAMLET

Prime Minister Berisha called the 2008 membership invitation to Albania by this alliance "a miracle"

Naples-born stuffed pizza
(7)

A living fossil of the deep, the goblin variety of this fish is seen here

This is the indentation on the bottom of a wine bottle, or a kick on fourth down in football

Fair one, thy dad had thee repel my letters & deny me access to thee... but a restraining order? What is uppeth with that?

At the 1936 Summer Olympics, he ran a record 20.7 seconds in the 200 Meters

Starting in 1981 this Socialist served 2 7-year terms as president of France

Beluga's the most expensive type of it
(6)

Found in Argentina, the pink fairy species of this armored animal reaches only a length of about 5 inches

This word for underwear also refers to parts of a dresser; the word denotes something moved by pulling

Zounds! I saw thee not behind that arras! Denmark needeth a new minister to the king! My bad!

This horse took the 1973 Preakness by 2 1/2 lengths; he ran away with the Belmont by an unreal 31

Yulia Tymoshenko was a leader of the Orange Revolution in this former SSR & became one of its leaders

Oblong, twisty doughnut
(7)

The long beak variety of this egg layer is found in New Guinea

As well as a summary of account, it can be an explosive noise, as from a rifle

Though I did say of thee "Frailty, thy name is woman", Mother, I hope thou acceptest my wedding gift from Pottery Barn

This man said, "Lou Brock was the symbol of great base stealing, but today I am the greatest of all time"

The Rolling Stones' "Angie" was played at rallies for this current female leader

"Darling" Mandarin orange relative
(10)

This word applied to many types of itty-bitty critters is the species of marmoset seen here

'Tis okay ye killed Dad & wed Mom

--

thou said thy "offence is rank, it smells to heaven", but I'm a live & let live kind of guy

The NFL's career rushing TD leader with 164, this ex-Cowboy also was the "Dancing With The Stars" champ in '06

The letter should give you a clue to the name of this Spanish prime minister reelected in 2008

Raisin-like fruit named for a Greek port
(7)

Related to seahorses, this critter bears the name of a mythological beast

The first use of this term in print was by Raymond Chandler; the second word plays on the word investigator

You "two-school-fellows, whom I will trust as I will adders fanged" ...Aw, I ain't mad atcha! Giveth me hugs!

At his death, this Oregon runner & movie bio subject held every U.S. record from 2,000 to 10,000 meters & 2 to 6 miles
Scores at the end of the Double Jeopardy! Round:
| | | |
| --- | --- | --- |
| Jessica | Laura | Gary |
| $10,600 | $13,800 | $18,400 |
| | | |
Final Jeopardy! Round
Some say the Dark Ages began when Byzantine Emperor Justinian closed this city's school of philosophy in 529 A.D.
Final scores:
| | | |
| --- | --- | --- |
| Jessica | Laura | Gary |
| $10,600 | $27,500 | $9,199 |
| 2nd place: $2,000 | New champion: $27,500 | 3rd place: $1,000 |
Game dynamics: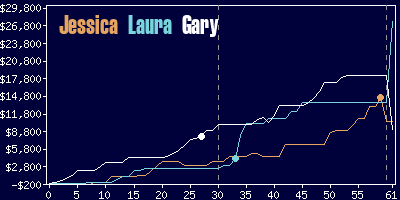 Jessica
Laura
Gary
$14,600
$11,400
$18,000
16 R,
4 W
(including 1 DD)
12 R
(including 1 DD),
0 W
27 R
(including 1 DD),
1 W
Game tape date: 2010-01-19