Show #5887 - Tuesday, March 30, 2010
Jeopardy! Round
| | | | | | |
| --- | --- | --- | --- | --- | --- |
| | | | ALSO A CAR RENTAL COMPANY | | |
| This 4-chambered double pump is gonna have to come out... What? Is that a problem? | In 1910 this inventor's company produced the first film depicting the fabled monster | "Joy of Cooking" calls it "classic Mexican avocado relish" | | Asked how she survived the Titanic disaster, she reportedly replied, "I'm unsinkable" | Using electric clippers to trim your hair down to the scalp results in one of these |
| In your body, the small this is about 22 feet long & the long 5, but after the procedure, about 3; oops | Once voiced by Bob McFadden, he's breakfast cereal's animated equivalent of Frankenstein | Similar to a cruller, this long, thin stick of sweet dough is fried & coated with sugar & cinnamon | Owned, preserved or maintained by the federal government | 2-word reply by Calvin Coolidge to a woman who said she'd made a bet she could get more that 2 words out of him | It's actually a type of broad-winged hawk |
| Each bronchus in the body leads to 1 of these organs, filled with millions of alveoli; how did I nick one during an eye exam? | This name for Dr. Frankenstein's assistant didn't appear until the 1939 sequel "Son of Frankenstein" | Ignacio Anaya is credited with creating this appetizer of tortilla chips topped with cheese and jalapenos | An itemized allotment of funds for a given period | It was John Paul Jones' response when asked to surrender his ship during a 1779 naval battle | A rapidly spinning steel disk with cutting teeth |
| The human this has 26 bones, including 7 tarsals; as your doctor, should I admit I just learned that today? | Mick Jagger wanted to play Dr. Frank-N-Furter in this 1975 film; Tim Curry got the role instead | This specialty of Sonora is actually a burrito that's been fried | The first nuclear-powered U.S. aircraft carrier | Asked what he did during this period in France of 1793 & '94, Father Emmanuel Sieyes simply replied, "I survived" | He teamed with Collins & Armstrong on a famous first |
| Hmm...this pear-shaped sac that stores as much as 2 ounces of bile at a time...you weren't overly fond of it, right? | This popmeister made the monster 3-D in 1973's "Flesh for Frankenstein" | Touted as a hangover cure, this hearty soup made with tripe is popular on New Year's morning | | When Oedipus answered its riddle, it killed itself | An unguided jet-propelled missile used by the Germans against England in WWII |
Scores at the first commercial break (after clue 15):
| | | |
| --- | --- | --- |
| Manny | Stacy | Emily |
| $4,200 | $2,400 | $600 |
Scores at the end of the Jeopardy! Round:
| | | |
| --- | --- | --- |
| Manny | Stacy | Emily |
| $3,800 | $6,600 | $1,200 |
Double Jeopardy! Round
THEY LEFT THEIR MARK AT GRAUMAN'S CHINESE

THE SECOND LARGEST CITY
(Alex: We will give you [*]; you identify the country it's in.)

ECUADOR OF YORE
(Kelly: Days of prosperity and pyromania from the Parque Histórico in Guayaquil.)

This member of the Bloomsbury Group was born Adeline Virginia Stephen

This little robot left its wheelmarks instead of footprints

This 19th century dress support is a synonym for excited activity; don't be alarmed if there's one in your hedgerow

This "What are you doing?" website's name also refers to a type of nervous laugh

This Holocaust survivor followed "Night" with "Dawn" & "Day"

This singing cowboy left his footprints, his horse Trigger's hoofprints & an impression of his six-gun too

This term for old-fashioned trousers ending just below the knee derives from a Washington Irving character

A joke that elicits boisterous laughter is sometimes called this kind of "slapper"

This satirical novelist took a more serious turn with "Brideshead Revisited"

This WWII pin-up girl also left an imprint of one of her million-dollar legs

These broad neckties got their name from the British racetrack where they were once de rigueur

A sly laugh; pluralize & it's a candy bar

Guayaquilenos with sensitive noses were pleased when in 1910 vehicles powered by this replaced quaint horse-drawn trams

His "The Day of the Locust" is considered one of the best novels about Hollywood

The 2 famous comedians' noses that made impressions

Popular in the mid-1800s, this tall type of silk hat is especially associated with Abraham Lincoln

Switch out a vowel in a group of geese & you get this short spasmodic laugh

He adapted "Le Morte D"Arthur" into a quartet of novels called "The Once and Future King"

An imprint of the horn-rimmed glasses of this silent film star is next to his footprints

The high-waisted dresses of the early 19th century were known as this style after the First French one, ruled by Napoleon

This laugh, a combination of 2 words, was coined by Lewis Carroll in "Through the Looking Glass"
Scores at the end of the Double Jeopardy! Round:
| | | |
| --- | --- | --- |
| Manny | Stacy | Emily |
| $1,000 | $15,000 | $400 |
| | (lock game) | |
Final Jeopardy! Round
When he was killed in battle in 1805, he was wearing a uniform coat with sewn-on replicas of his 4 orders of chivalry
Final scores:
| | | |
| --- | --- | --- |
| Manny | Stacy | Emily |
| $801 | $14,984 | $50 |
| 2nd place: $2,000 | New champion: $14,984 | 3rd place: $1,000 |
Game dynamics: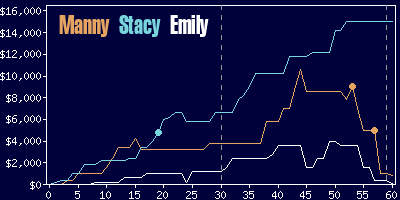 Manny
Stacy
Emily
$7,000
$14,800
$400
12 R,
6 W
(including 2 DDs)
21 R
(including 1 DD),
1 W
10 R,
5 W
Game tape date: 2010-01-13