Show #5828 - Wednesday, January 6, 2010
Jeopardy! Round
A PRAYER TO BE NAMED LATER

Christmas 1977 wasn't very merry for this silent film star who died that day

Sal Paradise found, we got the beat writer, '50s 'Frisco fun

On Dec. 26, 1919 the Red Sox traded this man to the Yankees for cash; the cash would not equal his 714 home runs

It's the common word for a prayer of thanks before meals

(Alex reports from the National Archives.) In 1940 in a letter to the President, this then 14-year-old future world leader asked FDR for a $10 bill, yet he doesn't cash the checks we send him for Guantanamo

Notorious pirate Charles Gibbs made an 1831 exit by hanging at this New York island later famous as an entrance

A sentimental or romantic song

The big chief looms large, sanity is a relative term, a small-time crook is treated ratched-ly

In 1996 the Hornets traded the rights to this then H.S. scoring phenom to the Lakers for Vlade Divac; ouch

Its Catholic version forgives trespasses & trespassers; in some Protestant versions, debts & debtors

(Alex reports from the National Archives.) American history might have been very different if this future country had agreed to the offer of statehood contained in Article 11 of the Articles of Confederation

Charles Arthur Floyd, better known as this, was shot dead by G-men in 1934

Proverbially, it doesn't stand a chance in hell

Lara, but not Flynn Boyle, remembrance of things Pasternak, title physician, heal thyself

In 1988 the Oilers sent this "Great One" (& 2 others) to the L.A. Kings, getting 2 players, 3 picks & $15 mil. in return

The Vidui prayer is recited on this holiest Jewish day & also on one's deathbed

(Alex reports from the National Archives.) Well, we're not going for mood lighting on this one, but there has to be dim lighting in order to protect & preserve the important documents. Here's the clue.) No one knows how it got there, but there is a handprint in the lower left-hand corner of this important national document, just beneath the concluding words, "and our sacred honor"

As a consequence of his drug & alcohol problems, this jazz pioneer was confined to a mental hospital in 1946

Heavy material placed in a ship's hold

Lockwood tells the tale, Yorkshire putting, Heathcliff is one wild cat

In '04 the Rangers traded this 3B to the Yanks for Alfonso Soriano & a minor leaguer; he's since had a controversy or 2

In 2000 Venka-Tachalapathi Samuldrala became the first of this faith to open the U.S. House with an invocation

(Alex reports from the National Archives.) One of the Archives' treasures is a 1912 wax cylinder recording, like this one, of this American president talking about his Progressive Party's movement for social & industrial justice

"Are the American people fit to govern themselves, to rule themselves, to control themselves?"

He was executed in London January 30, 1649

"Giselle" or "Les Sylphides"

The Trask at hand, California dreamin', raising Cain (& Abel, metaphorically)

In 1993 the 49ers sent this QB (along with a safety & a 3rd round pick) to the Chiefs for a 1st rounder

A prayer of this saint included the line "Who am I, worm of the Earth..."; always with the animals

(Alex reports from the National Archives.) The Constitution was signed by representatives of each of the 13 colonies, except for this one which opposed increasing federal power; because it was the last to ratify, it is now our 13th state
Scores at the first commercial break (after clue 15):
| | | |
| --- | --- | --- |
| Jennifer | Carter | Lysette |
| $2,800 | $2,200 | $2,800 |
Scores at the end of the Jeopardy! Round:
| | | |
| --- | --- | --- |
| Jennifer | Carter | Lysette |
| $2,800 | $4,800 | $5,400 |
Double Jeopardy! Round
STATELY BOTANICAL GARDENS

Radically opposed to slavery, William Lloyd Garrison was a prominent figure in this 12-letter movement

This 2002 movie starred Eminem as Rabbit

Hilo Tropical Gardens, Koko Crater Botanical Garden

Red & savoy are types of heads of this

In May Stanley McChrystal replaced David McKiernan as top U.S. commander in this country

Wear your maghio (bathing suit) to the paralia (this) to swim in the okeanos

Although nominally a pacifist, Garrison supported this man's raid on Harper's Ferry in 1859

He played Gator McKlusky in "White Lightning" as well as in "Gator"

Chesapeake Arboretum, Williamsburg Botanical Garden

Eggs sardou is poached eggs served with the hearts of these

The G8 summit was moved from Sardinia to the town of L'aquila, which had been devastated by this 3 months earlier

Protos means "first"; this holiday is proti ianouariou or protohronia

After the Civil War Garrison kept defending rights, of blacks, women & also of Asian immigrants, mainly from this country

In this film Denzel Washington is a '40s detective whose muscle is named Mouse

Navajo Nation Zoological & Botanical Park, Desert Botanical Garden

This veggie that looks like a giant scallion is a national symbol of Wales

In November 2009 President Obama hosted a town hall meeting with students live from this Chinese city

This part of a car is porto gaz

A ferocious enemy of slavery, in 1831 Garrison started this newspaper, also a nickname of Simon Bolivar

Jon Cryer's aquatic name in "Pretty in Pink"

The Sarah P. Duke Gardens,
Cape Fear Botanical Gardens

The most common type of this in the U.S. is the calabrese, whose green stalks are topped by green florets

On Sept. 3 Michael Jackson was finally laid to rest at the Glendale branch of this cemetery

Knowing Greek is helpful in studying anatomy; for instance pnevmonas is this organ

Tim Matheson's aquatic name in "Animal House"

Edison & Ford Winter Estates, Flamingo Gardens

You can pronounce these leaves a la European to rhyme with long sleeve or the regular American way

Army troops seized a pajama-ed Manuel Zelaya, president of this central American nation, & sent him into exile

To drink, you may want metaliko nero, this non-potent potable
Scores at the end of the Double Jeopardy! Round:
| | | |
| --- | --- | --- |
| Jennifer | Carter | Lysette |
| $7,600 | $11,800 | $12,200 |
| | | |
Final Jeopardy! Round
Before he was found dead January 1, 1953, the last single he released was "I'll Never Get Out Of This World Alive"
Final scores:
| | | |
| --- | --- | --- |
| Jennifer | Carter | Lysette |
| $7,600 | $15,800 | $24,001 |
| 3rd place: $1,000 | 2nd place: $2,000 | New champion: $24,001 |
Game dynamics: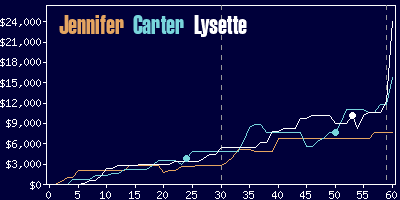 Jennifer
Carter
Lysette
$7,600
$12,000
$14,200
12 R,
2 W
17 R
(including 2 DDs),
4 W
19 R,
2 W
(including 1 DD)
Game tape date: 2009-11-16