Show #5824 - Thursday, December 31, 2009
Last show of the 2000s decade.
Jeopardy! Round
THAT AIN'T IN YOUR TYPICAL COUNTRY SONG

HISTORICAL WHAT WERE THEY THINKING?

GOOD HOUSEKEEPING
(Kelly: The product testing expected by readers of the over 120-year-old magazine.)

In 1984 the rhythmic type of this became an Olympic medal sport

This 1984 candidate saying, "Mr. Reagan will raise taxes, and so will I" was a bit too much honesty

This Marshall seen here was a groundbreaking attorney & judge

I never grew up poor / I have no old blue jeans / My suits are all from these siblings' store / In business since 1818

Many believe that the dinosaurs died out after a giant one of these hit the earth

On Oct. 12, 1492 this captain thought he was on an island near Japan

--

not exactly

In 1831 Marshall Hall showed that these tiny blood vessels bring the blood into contact with the tissue

"___, Charing Cross Road"

I'm completely shocked & horrified, I'm this 6-letter word

Note to this Aztec ruler who thought Cortes might be Quetzalcoatl

--

if he can't spell Quetzalcoatl, he's probably not

VP under Wilson, Thomas Marshall said, "What this country needs is a really good five-cent" one of these

"___ Days that Shook the World"

When it's more than 90% covered by clouds, the sky is said to be this

This Siberian's surname means "debauched one"; might have been a little warning for empress Alexandra

This 6-letter Tony Stewart sport / Don't thrill me at all / July is too short / That's when Wimbledon calls

Building material for a column, or a term describing smooth skin

This Roman emperor whose name means "little boot" may have had some family issues in making his sister a goddess

Marshall McLuhan summarized the influence of TV & computers with his aphorism "The medium is" this
Scores at the first commercial break (after clue 13):
| | | |
| --- | --- | --- |
| Jessica | Hayes | Patty |
| $6,200 | $600 | $2,000 |
Scores at the end of the Jeopardy! Round:
| | | |
| --- | --- | --- |
| Jessica | Hayes | Patty |
| $7,800 | $3,000 | $800 |
Double Jeopardy! Round
SPORTS STARS' FIRST NAME IN COMMON

His first teaching job came "relatively" early

--

in 1909, as an Assistant Prof. of Physics at the Univ. of Zurich

NHL winger Ovechkin & Yankee infielder Rodriguez

It's the event that traditionally puts an end to a woman's career as a geisha

It means lost in thought, forgetful, like a certain movie professor

The brother of this artist is torn between art & business in the Robert Altman film "Vincent & Theo"

Paul Reiser could tell you that this 3-letter word doesn't mean "angry" when used for how I feel about you

In the 1670s this British genius wrote, "If I have seen further it is by standing on the shoulders of giants"

Cowboy Romo & Padre Gwynn

Unlike most other alcoholic drinks, this Japanese one can be enjoyed when it's at 40 degrees & when it's at 122 degrees

A New England pudding is made with this Post product that was once promoted as the "Back-to-Nature Cereal"

Charles Laughton as this painter has to deal with men upset at being shown in shadow in the "Night Watch"

Meaning "conjugal faithfulness", this word also describes the quality of electronic sound reproduction

Born in Germany in 1912, he co-developed the V-2 rocket against the Allies but became a U.S. citizen in 1955

Mr. Lincecum of the San Francisco Giants & Mr. Duncan of the San Antonio Spurs

In "Letters from Iwo Jima", you can hear Japanese soldiers let out this cry, literally "10,000 Years"

As opposed to freestyle, in Europe the more popular form of wrestling is this

Real-lfe spouse Amy Madigan didn't play Ed Harris' wife Lee Krasner in this movie; she played Peggy Guggenheim

Like Otis Redding, I like to "Try a Little" of this, also a quality I like in my steaks

Around 1800 this scientist from Como, Italy developed a forerunner of the electric battery

Welterweight champ Mosley & Philadelphia Phillie Victorino

This island invaded by U.S. troops in April 1945 has a long martial arts tradition & may be the birthplace of nunchaku

This secretive political party lasted from about 1849 to 1860, but don't say you heard it here

Scarlett Johansson flashes some jewelry in this film in which she plays muse to Vermeer

This alliterative term for emotional susceptibility can also describe a baby's fontanels

This 17th C. British physician said the pulse comes from the heart pumping blood, not from the arteries contracting

Tennis star Nadal & Dodger Furcal

In the 18th century the Daimyo were vassal lords who spent half their time attending the leader with this title

This comet that boogied across our skies in 1997 won't be seen for another 2,300 years

In a 1996 film Jeffrey Wright played this title graffiti artist who collaborated with Warhol

From the old French for "love" comes the word meaning captivated or charmed
Scores at the end of the Double Jeopardy! Round:
| | | |
| --- | --- | --- |
| Jessica | Hayes | Patty |
| $20,300 | $16,600 | $3,200 |
| | | |
Final Jeopardy! Round
ACADEMY AWARD NOMINATIONS
2nd only to Walt Disney's 59, this composer's 45 nominations include the "The Towering Inferno" & "Saving Private Ryan"
Final scores:
| | | |
| --- | --- | --- |
| Jessica | Hayes | Patty |
| $33,300 | $21,600 | $3,200 |
| 2-day champion: $49,700 | 2nd place: $2,000 | 3rd place: $1,000 |
Game dynamics: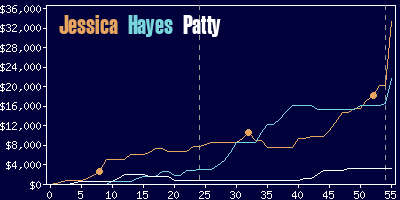 Jessica
Hayes
Patty
$20,200
$16,600
$3,200
24 R
(including 2 DDs),
3 W
(including 1 DD)
17 R,
2 W
8 R,
2 W
Game tape date: 2009-11-11