Show #4487 - Tuesday, February 24, 2004
Arthur Gandolfi game 3.
Jeopardy! Round
If you're getting engaged, consider a visit to Netanya, a world center for cutting & polishing these

A holiday standard:
KEY RUT

Washingtonians refer to the Francis Scott Key Bridge over this river as "The Car-Strangled Spanner"

In astrological notation, this sign is represented by 2 fish

In 1979 this chain introduced its Happy Meal

"Snakes. Why'd it have to be snakes?"

Sde Boker, one of these cooperative communities, was the retirement home of first prime minister David Ben-Gurion

Part of Key's solution to this problem was helping found the American Colonization Society

(Sarah of the Clue Crew at the chalkboard) It's the classic game being represented here

P.F. Chang's is an upscale bistro specializing in the cuisine of this country

This port city on & around Mount Carmel has been compared to San Francisco, its sister city

A head-banger:
COWPOKE RED

Sent to this city in September 1814 to secure a prisoner exchange, Key got stuck near there during an attack

In the 1800s this Frenchman also developed a musical notation system for blind musicians

Offering "Home Style Meals" & a line of frozen entrees, this chain is headquartered in Colorado, not Massachusetts

In 1961 this Israeli airline set a record for the longest nonstop commercial flight, New York to Tel Aviv

James Lick of observatory fame was responsible for the Key Memorial in this San Francisco park

In physics notation the speed of light is symbolized by this letter in lower case

"Dip Into Something Different" at the Melting Pot, found across the nation, & specializing in this Swiss dish

"Replicants are like any other machine

--

they're either a benefit or a hazard"

Home to spectacular ruins, Caesarea was founded around 20 B.C. & named for this Caesar

A front yard favorite:
I'M NO FLAG

Key's brother-in-law & law partner Roger B. Taney served as this from 1836 to 1864

Named for its inventor, Labanotation is a notation system for this so you know when to do a fouette

Featuring the Famous Bloomin' Onion, this restaurant also offers a Joey Menu for kids

"Something wrong with buttons?...got anything against zippers?"
Scores at the first commercial break (after clue 15):
| | | |
| --- | --- | --- |
| Arthur | Sean | Janice |
| $3,200 | $3,000 | $1,800 |
Scores at the end of the Jeopardy! Round:
| | | |
| --- | --- | --- |
| Arthur | Sean | Janice |
| $5,400 | $4,000 | $7,000 |
Double Jeopardy! Round
I'M "L__X"
(Alex: Each correct response will contain an "L", followed by another letter & then an "X".)

This central state produces more cheese than any other

This term for a knight's apprentice is also the name of a bobbed, usually jaw-length hairstyle

She's played Phoebe Buffay on one primetime series & Phoebe's twin sister Ursula on another

An area in Central Park dedicated to the memory of John Lennon is named for this Beatles song

Though he's lived for many years in the U.S., architect Frank Gehry was born in this Ontario city of 4.5 million

It's a shorter way of saying Los Angeles International Airport

This state produces more lobsters than any other

This female ice skater lent her name to a wedge haircut she made popular during the 1976 Winter Olympics

In 1983 Apple introduced the Lisa personal computer, the first PC with one of these controls

Michael Stipe formed this "Man on the Moon" band in Athens, Georgia

Frank Gehry's "Easy Edges" line built furniture out of this stuff in which your furniture usually arrives

From Middle High German, this Yiddish word means "salmon"

Orange you glad to know that this state leads the U.S. in citrus production

Dudes, it's the "fishy" hairstyle worn by David Spade in "Joe Dirt"

Lisa Guerrero is the sideline reporter for this popular weekly sports event

1984's "Jump" was the first No. 1 hit for this group that features brothers Alex & Eddie

The Gehry-designed Nationale Nederlanden Building is informally known as this film dancing pair

This "Tax" is found on a Monopoly board

It leads the states in apple production

The short hairstyles worn by the men who fought the Cavaliers in 17th C. England earned them this name

She's the popular sports celebrity seen here

The title of Falco's biggest hit mentions this fellow Austrian musician

The Guggenheim Museum in this city of Spain's Basque region is one of the best-known structures designed by Gehry

This city of east central Egypt is the southern half of the site of ancient Thebes

This West Coast state procuces the most wind-generated energy

From the Latin for "to clip", it's the shaved patch on the crowns of the heads of some monks

In 1997 Lisa Pollak won a Pulitzer Prize reporting for this Baltimore newspaper where H.L. Mencken once worked

His innovations include multitrack recording, overdubbing & the solid-body electric guitar

In 1989 Gehry was awarded this prize commonly referred to as "The Nobel of Architecture"

From the Greek for "of words", it's all the words belonging to a particular branch of knowledge
Scores at the end of the Double Jeopardy! Round:
| | | |
| --- | --- | --- |
| Arthur | Sean | Janice |
| $24,600 | $10,800 | $13,800 |
| | | |
Final Jeopardy! Round
A grandson of Man O' War, he defeated his uncle in a famous matchup November 1, 1938
Final scores:
| | | |
| --- | --- | --- |
| Arthur | Sean | Janice |
| $27,600 | $21,500 | $27,600 |
| 3-day co-champion: $101,300 | 2nd place: $2,000 | New co-champion: $27,600 |
Game dynamics: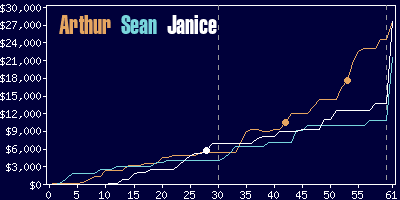 Arthur
Sean
Janice
$23,400
$10,800
$13,400
24 R
(including 2 DDs),
1 W
14 R,
0 W
18 R
(including 1 DD),
0 W
Game tape date: 2003-12-02