Show #5803 - Wednesday, December 2, 2009
Dave Belote game 1.
Jeopardy! Round
"Along Came Polly",
"Office Space",
"Love Happens"

In 1900 they made history with a glider that had a new feature: a horizontal front rudder for pitch control

The dad & brother of this House Speaker have both served as the mayor of Baltimore

In the 1950s Sinatra described the music of this rock legend as "deplorable, a rancid smelling aphrodisiac"

After Zelda broke their engagement, he went on a bender, then to St. Paul to rewrite a novel he'd begun at Princeton

A scatterbrained or eccentric person

"Laugh-In",
"Shampoo",
"Private Benjamin"

This duke of Bohemia spread Christianity, was martyred & is remembered in a Christmas carol as a "good king"

In her 2008 memoir "Audition", this journalist from "The View" says that Alan Greenspan is "a very nice dancer"

From Old French for "entertainer", they were the strolling musicians of the Middle Ages

This author of the 1950 novel "Burning Bright" felt the wrath of grapes

From the German for "to spray", it's a quick spray or squirt

"Sleeper",
"Annie Hall",
"The Godfather"

It's what the "W" stands for in WPA, a New Deal program FDR created for the unemployed in 1935

...And God created this French actress & animal rights activist in Paris Sept. 28, 1934

Though it wasn't particularly jazzy, the ukulele reached its peak of popularity in the U.S. in this decade

An overdose of alcohol helped kill this Welsh poet on Nov. 9, 1953

This cracker was introduced by Nabisco in 1934 & named to conjure up an image of wealth & glamour

"Boys on the Side",
"Never Been Kissed",
"Charlie's Angels"

This English cardinal died Nov. 29, 1530, on the way to face treason charges

This style maven launched her "Everyday" collection at Kmart in 1997

Timpani are multiple mounted ones of these instruments

In 1929 this Algonquin wit's "Big Blonde", about an alcoholic serial mistress, won the O. Henry Award

This 2-time Winter Olympics site has been known for its mineral springs since Roman times

"Henry & June",
"Pulp Fiction",
"The Truth About Cats & Dogs"

Signed in 1648, the peace of this historic German region ended the Thirty Years' War

In a letter to Abelard, she not-so-subtly hinted, "letters from absent friends are welcome"

Of classical music's "three B's", the one born in Hamburg in 1833

This alcoholic playwright created the bitter alcoholic Jamie Tyrone & a "long day" for his cursed family

Nickname of Friedrich Christian Lang, director of the classic 1927 film "Metropolis"
Scores at the first commercial break (after clue 15):
| | | |
| --- | --- | --- |
| Shawna | Dave | Kathleen |
| $200 | $3,000 | $3,800 |
Scores at the end of the Jeopardy! Round:
| | | |
| --- | --- | --- |
| Shawna | Dave | Kathleen |
| $1,400 | $6,200 | $6,800 |
Double Jeopardy! Round
SCIENCE CROSSWORD CLUES "E"

Citizen soldiers of the Revolutionary War couldn't have dreamed of this U.S. ICBM first deployed in 1962

It's the principal ingredient on the label of a Tootsie Roll (don't think too hard)

An outbreak of disease
(8)

The biography for this Cuban leader says he likes classical music, baseball & skin diving

Before taking a drink, you might say "down" this, also an opening in the deck

In 1985 this company said that it hadn't seen the "deep emotional" ties people had to its traditional product

Thrown straight from the shoulder with a sharp, snapping motion, it's the quick lead punch seen here

Simple substance, my dear Watson
(7)

The oldest of 6 kids in a Catholic family; her father, John F. Fitzgerald, was a mayor of Boston

This 4-letter entrance is also the total paid attendance at a concert or sporting event

1958's Cooper v. Aaron was one of several Supreme Court decisions aimed at ending this policy in schools

Tootsie Roll's Chicago plant also produces more than 4 billion of these gumdrops annually

--

that's a lot of connecting

His "canon comprises more than 900 published pieces" including "Sophisticated Lady"

This word precedes "of Perception" in an Aldous Huxley book title, & it gave Jim Morrison an idea

On April 21, 1976 FDA administrator Harry Meyer got the first vaccination in the campaign against this piggish strain

Canine name for the type of golf hole seen here

Tootsie Roll's recipe for this treat has graham cracker crumbs, 2 lbs. of cream cheese & 8 oz. of Tootsie Rolls

A catalyzing protein, like amylase
(6)

"One Generation After", his tenth book, marked the 25th anniversary of his liberation from Buchenwald

An opening to board a ship, or an exclamation meaning "Move, I'm coming through!"

In 1922 he & Ub Iwerks started a business to make animated cartoon "Laugh-O-Grams", but it went bankrupt

We "fell" for these candies introduced in 2008; they're Tootsie Pops without the stick

This publisher & philanthropist's bio mentions his 1969 swearing in as U.S. Ambassador to Great Britain

An Internet site that offers e-mail & a search engine is called one of these entryways to the web
Scores at the end of the Double Jeopardy! Round:
| | | |
| --- | --- | --- |
| Shawna | Dave | Kathleen |
| $5,400 | $20,000 | $16,600 |
| | | |
Final Jeopardy! Round
Used in 1947's "U.S. Strategic Bombing Survey", this 2-word term became widely used again in NYC on 9/11/01
Final scores:
| | | |
| --- | --- | --- |
| Shawna | Dave | Kathleen |
| $2,999 | $39,999 | $26,600 |
| 3rd place: $1,000 | New champion: $39,999 | 2nd place: $2,000 |
Game dynamics: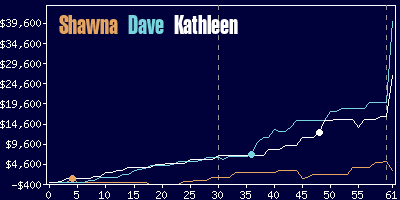 Shawna
Dave
Kathleen
$6,400
$17,800
$15,200
13 R,
3 W
(including 1 DD)
22 R
(including 1 DD),
2 W
18 R
(including 1 DD),
1 W
Game tape date: 2009-10-14