Show #4778 - Wednesday, May 18, 2005
2005 Ultimate Tournament of Champions Round 4, game 2.
Jeopardy! Round
John Queeny founded the chemical company Monsanto in St. Louis in 1901 to make this sweetener

"You've stuck your webs into my business for the last time!"

The famous American Indian Geronimo spent his childhood in this "dogged" Mexican region

AKA a dun, this 4-winged insect has multiple tails & does not eat

I always update the antivirus definitions for this Symantec Corp. program; it's not named for Kramden's pal

Popular term for a person born in the U.S. between 1946 & 1965

A dipole is a molecule in which this is opposite at the 2 poles

"One thing about trains, it doesn't matter where they're going. What matters is deciding to get on"

In English, this nation's national anthem begins, "Arise children of the fatherland, the day of glory has arrived"

She collaborated with Warren Beatty on "Heaven Can Wait" (hooray!) & on "Ishtar" (did we mention "Heaven Can Wait"?)

I've been using this product created in 1984 by the Intuit owner after he saw his wife tediously pay the bills

One of these is given by your doctor to maintain or renew your immunity to a disease

"Honey? Where's my super suit?"

Between 1961 & 1983, this nation sent numerous Venera probes to Venus to study its atmosphere & chemical makeup

Swedes set these up for their midsummer festivals in June

--

a few weeks late, we think

I'm now using the Firefox web browser that got its start from this Time Warner company's Netscape division

In this hobby that's all the rage, you create fun & memorable pages like the ones seen here

In 1947 Willard Libby perfected the archaeological dating method named for this isotope

"I'm going to steal the Declaration of Independence!"

Nawaz Sharif was the prime minister of this nation until deposed by its current military leader

Cape May is a resort town in this state, down the shore from Point Pleasant

Like the asbestos partitions on my house, I use ZoneAlarm as this type of software to keep my computer secure

A popular balloon-busting game of the 1960s, or a General Mills cereal from the same era

Adjective for a substance that evaporates readily; pronounced differently, it follows "sal"

"Is there no one else? Is there no one else?"

2 cities, both named Tripoli, are Libya's largest & this country's second-largest

Her first novel, "Moods", was published in 1864

I don't click on an email link to update any of my accounts, because it may be this type of "sporting" spam

Another word for pirate, it's derived from the same Dutch word as "filibuster"
Scores at the first commercial break (after clue 15):
| | | |
| --- | --- | --- |
| Jerome | Frank | Pam |
| $1,000 | $1,800 | $3,400 |
Scores at the end of the Jeopardy! Round:
| | | |
| --- | --- | --- |
| Jerome | Frank | Pam |
| $4,200 | $6,200 | $5,200 |
Double Jeopardy! Round
(Alex: We're dealing with 2005 inductees into the...)
ROCK & ROLL HALL OF FAMERS

PULITZER-PRIZE WINNING WOMEN

Inducting this group, Springsteen said, "Uno, dos, tres, catorce" (1, 2, 3, 14) "is the correct math for rock 'n' roll"

Rudolph is the commander of Gessler's archers in this opera

A reading room at the Lorain Public Library in Ohio is named for this "Beloved" prize-winner from 1988

6-letter word used to express sorrow or regret

At the induction ceremony, Percy Sledge sang this classic hit of his & dedicated it to his wife Rosa

He was the majority stockholder in MGM until it was sold to Sony in 2005

He's the local barber & general busybody in an 1816 Rossini opera

In 1923 she won a Pulitzer for her novel "One of Ours", set where else but in Nebraska

It was previously known as cante & baile gitano, "Gypsy" song & dance

The Dominican Republic
1930-1961

"Put Your Hands Together" for this "Love Train" group that joined the Rock & Roll Hall of Fame in 2005

Before writing his first novel, he worked as a night attendant in the mental ward of a V.A. hospital

The prince sings, "Si, ritrovarla, io guiro" ("Yes, I will find her, I swear it") in this fairy tale opera

Her Cross Creek farmhouse where she penned "The Yearling" is part of a state historic site in Florida

It flows into the Columbia River at Portland

Drummer Martin Chambers was inducted as part of this "Middle Of The Road" group

Poem that mentions "A sunny pleasure dome with caves of ice"

This 1819 Rossini opera is based on a poem by Sir Walter Scott

This member of a prominent Boston family won a 1926 Pulitzer for her poetry collection "What's O'Clock"

In botany, it's the stalklike portion of a stamen, supporting the anther

The Hall honored Seymour Stein, the co-founder of this record label, who's credited with discovering & signing Madonna

On radio, this bandleader had a "Kollege of Musical Knowledge"

The title character of this 1816 opera is in service with the Venetian army

Sadly, like her friend & fellow poet Sylvia Plath, this winner for "Live or Die" died by her own hand, in 1974

A thin membrane or layer, as of bone, tissue or cell walls
Scores at the end of the Double Jeopardy! Round:
| | | |
| --- | --- | --- |
| Jerome | Frank | Pam |
| $7,800 | $18,000 | $16,800 |
| | | |
Final Jeopardy! Round
Some of the periods of time called this occurred in 304 A.D. (4 years), 1314 (2 years), 1958 (19 days), 1963 & 2005
Final scores:
| | | |
| --- | --- | --- |
| Jerome | Frank | Pam |
| $7,800 | $5,800 | $4,899 |
Cumulative scores:
| | | |
| --- | --- | --- |
| Jerome | Frank | Pam |
| $30,900 | $19,300 | $14,899 |
| Winner: $50,000 + an advance to UToC Round 5 with Ken Jennings | 2nd place: $30,000 | 3rd place: $20,000 |
Game dynamics: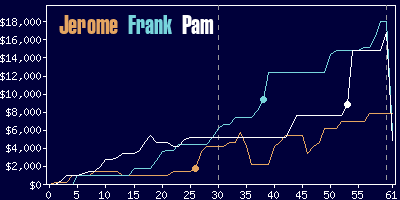 Jerome
Frank
Pam
$7,000
$16,600
$12,400
17 R
(including 1 DD),
4 W
18 R
(including 1 DD),
0 W
18 R
(including 1 DD),
2 W
Game tape date: 2005-04-14