Show #4306 - Monday, April 28, 2003
2003 Celebrity Jeopardy! game 1.
Jeopardy! Round
YOU SHOULD KNOW THIS STUFF

TRADING SPACES
(Paige: No way! I'm going to rock in that category!)

HAVE A CONTINENTAL BREAKFAST

Shooting down 22 planes in 1918, Eddie Rickenbacker was the USA's No. 1 flying ace in this war

The Lord's Prayer says, "And lead us not into temptation, but deliver us from" this

This "Pretty Woman" was born in Smyrna, Georgia on Oct. 28, 1967

These electromagnetic rays used to take pictures of your insides were originally known as Roentgen rays

4-letter synonym for "trade"; the Rose Bowl has a meet where it's done

G'Day Mate! Room service hopped in with kangaroo-tail soup, your breakfast from this continent

He hosted a phenomenally successful prime-time variety show for 24 years

In the '30s she starred in "The Little Princess", "The Little Colonel" & "Little Miss Marker"

Dinah Shore, Sally Field & Loni Anderson were longtime loves of this hunk from Waycross

This German-born American physicist won the 1921 Nobel Prize for Physics

This Illinois city's Board of Trade deals in futures, so less than 5% of what's traded there gets delivered

He earned an Oscar nomination for his supporting role in "The Hours"

Bird similes include "Spry as a spring chicken" & "Proud as" one of these

This fiery actress from Conyers starred in "Miss Firecracker", "Raising Arizona" & "Broadcast News"

When combined with oxygen, this lightest chemical element makes water

Dealers seal transactions with a handshake in the 47th Street "district" for these gems

In order to marry a twice-divorced American woman, King Edward VIII of this country abdicated the throne in 1936

If a Maori showed you a tiki, you'd be looking at one of these

Born in Athens, Georgia, she starred in "9 1/2 Weeks" & played Eminem's mom in "8 Mile"

Also a term for someone from Warsaw, it's one of the 2 strongest points in a magnetic field

Muriel Siebert was the first woman to hold a seat on this Wall Street body founded in 1792

In 1994 Johnny Depp played this wacky director of such classic films as "Plan 9 from Outer Space" & "Necromania"

Non-potent potable for which your first set of teeth is named

The symbol of this radioactive element is Pu & it sounds like it's named after Mickey Mouse's dog

You must take tea before bargaining for a rug at Istanbul's "Grand" one of these trading spaces
Scores at the first commercial break (after clue 11):
| | | |
| --- | --- | --- |
| Julie | Hal | Paige |
| $200 | $1,200 | $600 |
Scores at the end of the Jeopardy! Round:
| | | |
| --- | --- | --- |
| Julie | Hal | Paige |
| $3,600 | $3,400 | $2,200 |
Double Jeopardy! Round
OH MY GOD! YOU'VE GOT 3 "I"s

Margaret Mitchell began this book, "Scarlett O'Hara was not beautiful, but men seldom realized it..."

With 6 Academy Awards total, this adapted musical was the big winner on Oscar Night 2003

Upon completing the ceiling of the Sistine Chapel in 1512, he wrote to his father, "The pope is well satisfied"

Giuliani,
Valentino,
the Red-Nosed Reindeer

At last count, this state had about 2 1/2 times as many cars as Texas or New York

After the taping, what say we cool off with a frozen banana one of these

In 1990 he reissued "The Stand" with nearly 500 more pages than the original

This Best Actress Winner said that Russell Crowe told her not to cry... but she did anyway

This pop artist's studio was known as "The Factory"

Ashcroft,
Belushi,
Barleycorn

Florida's in the southeast corner of the 48 contiguous states; this state is in the northwest corner

Type of doctor who's most likely to give a patient a lollipop

President Reagan called this man's first novel "The Hunt for Red October" the "perfect yarn"

Seen here, the Chub Chubs won the Oscar in this category

In 1963 this "Christina's World" artist became the first painter to receive the Presidential Medal of Freedom

The Mississippi River begins at Lake Itasca in this "M" state (not Mississippi)

(Sofia of the Clue Crew in Oahu, Hawaii) I'm overlooking this Oahu beach that attracts about 65,000 visitors a day

This 1939 Steinbeck classic featured a lot of Joads including Ma, Pa & Tom

For "Talk to Her", he became the first man in over 30 years to win with a screenplay in a foreign language

He painted "Tahitian Women" shortly after arriving on that island in 1891

It's the state whose shape is seen here

Sports Illustrated's 1997 Swimsuit Issue (the Tyra Banks cover) featured "Nothing but" these

Chris Cooper won his Best Supporting Actor Oscar for his work in this film seen here

On September 29, 1910, this painter known for his seascapes died in his studio in Prouts Neck, Maine

This state's name includes the name of the country that was the top destination for U.S. tourists in 2001

Fran Lebowitz called this type of pasta with clam sauce "mankind's crowning achievement"
Scores at the end of the Double Jeopardy! Round:
| | | |
| --- | --- | --- |
| Julie | Hal | Paige |
| $17,600 | $16,000 | $1,600 |
| | | |
Final Jeopardy! Round
On December 11, 1967 it was removed from the British registry & turned over to the city of Long Beach, California
Final scores:
| | | |
| --- | --- | --- |
| Julie | Hal | Paige |
| $27,600 | $32,000 | $1,599 |
| 2nd place: $27,600 for Christopher and Dana Reeve Foundation | Winner: $50,000 for Doctors Without Borders | 3rd place: $20,000 for Broadway Cares/Equity Fights AIDS |
Game dynamics: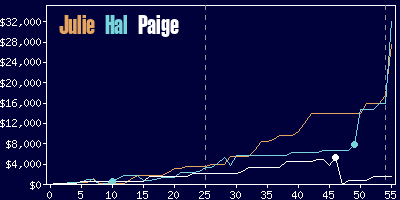 Julie
Hal
Paige
$17,600
$10,600
$7,000
19 R,
1 W
19 R
(including 2 DDs),
3 W
11 R,
2 W
(including 1 DD)
Game tape date: 2003-04-13