Show #4205 - Friday, December 6, 2002
Jeopardy! Round
| | | | | | |
| --- | --- | --- | --- | --- | --- |
| | | THE AFI'S 100 GREATEST LOVE STORIES | I FEEL LIKE SUCH AN IDIOM | OXFORD, CAMBRIDGE OR HARVARD | |
| He wrote 1948's "The Naked and the Dead" while studying at the Sorbonne | A killer bee is an investment banker helping thwart a hostile one of these | "Here's looking at you, kid" & at this 1942 classic which tops the list | You can "learn by heart" or as they used to say, "commit to" this | | Until 1939 Thailand was known by this name |
| His "The Last Tycoon" was published posthumously in 1941 | Appropriately, investing in housing can be one of these, letting you pay less to the IRS | "Beauty and the Beast" & this 1955 Disney film about puppy love both made the list | When you're fully prepared for action, you're like a hunter with a heavy charge of ammo who's "loaded for" this | One of its clubs gives out the Hasty Pudding Award | Known as the "Venice of the East", this Thai city was modernized by King Mongkut in the 1800s |
| To research this 1943 novel, Ayn Rand worked in an architect's office | This alphanumeric clause of the 1978 Tax Reform Act now enrolls over 40 million Americans | He starred in 6 of the films, including "Notorious", "An Affair to Remember" & "To Catch a Thief" | You can "beat" this 1987 Bond title "out of" someone | The current Prince of Wales earned his bachelor's degree there | Thailand is an important source of these blue September birthstones |
| This novel about a politician's rise & fall earned Robert Penn Warren a Pulitzer Prize in 1947 | Term for the interest rate on a bond, as well as a piece of paper that lowers your grocery bill | Warren Beatty made his screen debut opposite Natalie Wood in this film, No. 47 | You can do this "through the ranks", "to the bait" or "to the occasion" | Its main library is the Bodleian | About 95% of Thais practice the Theravada form of this religion |
| Carson McCullers was only 23 when she published this 1940 novel about a deaf-mute | This 6-letter word can mean frugality, or a savings & loan association | Burning up the list at No. 94 is this Kathleen Turner-William Hurt film | This tactic in basketball is used as an idiom for "an all-out effort to exert pressure" | Its department of physics is the Cavendish Laboratory | (Hi, I'm Jeff Probst [in Thailand]) Tarutao means "old, mysterious & primitive" in this language, also the name of a nearby peninsula |
Scores at the first commercial break (after clue 13):
| | | |
| --- | --- | --- |
| Todd | Ayesha | Andrew |
| -$800 | $5,200 | -$200 |
Scores at the end of the Jeopardy! Round:
| | | |
| --- | --- | --- |
| Todd | Ayesha | Andrew |
| $1,400 | $6,400 | $1,000 |
Double Jeopardy! Round
In 1543 Copernicus added that while it's the center of the universe, it's not the true center of all space

In 1663 James Gregory figured a reflecting telescope was possible; this Brit made it a reality in 1668

Whether "floor" or "mounted", these drums bear a man's name

In 2000, shoes she wore in a 1939 film were auctioned off for $666,000

To incorporate territory, Karvina did it to Frystat in 1949

D'ja ever notice this "60 Minutes" commentator quit CBS in 1971 when it refused to air his "Essay on War" about Vietnam

In 1397 the Union of Kalmar united Denmark, Sweden & this country

The Very Large Array in New Mexico is a group of 27 of these (not optical) telescopes

Scour the barnyards to find one of these percussion instruments that can be part of a drum set

At a 1990 Sotheby's auction in New York, a bronze version of this Rodin sculpture sold for $1.2 million

From the Latin for "to nothing", it's the mutual destruction of matter & antimatter after the Big Bang

His 1960-68 sitcom was about a small-town sheriff who played by his own rules while raising his oddly-named boy

England's James I denounced this product in 1604; the pope banned it in Seville churches in 1642

Varieties of cymbals include ride, splash & this "loud" one

Gary Busey paid over $240,000 for a guitar once owned by this man he played on film

(Sofia of the Clue Crew reports from the Field Museum in Chicago) This name for the phylum to which earthworms belong comes from the Latin for "little ring"

His first 3 forays into the Top 10 went to No. 1, including "Shadow Dancing" in 1978

In 1764 Catherine II of Russia ordered further exploration of this future U.S. state

This large drum shares its name with another instrument in a standard rock band

In 1949 a copy of this speech by Abraham Lincoln sold at auction for $54,000

No looking in your wallet

--

on the reverse of a $1 bill, this precedes "coeptis" on the Great Seal of the U.S.

This actor was born in Havana on April 12, 1956

In 1827 this Edinburgher came out & said, "That hugely popular 'Waverley' novel, I wrote it"

Florence's Museo Storia Della Scienza has 2 of his telescopes & the lens of the one that found 4 moons of Jupiter

This drum used for military marching shares its name with a device to catch animals

This American-born duchess' jewels were sold at auction in 1987 for $50 million

(Jimmy of the Clue Crew reports) In glassblowing, this word means "to heat the finished vessel", & then allow it to cool uniformly

Popular in '80s new wave, he's the guitarist seen here
Scores at the end of the Double Jeopardy! Round:
| | | |
| --- | --- | --- |
| Todd | Ayesha | Andrew |
| $10,500 | $17,200 | $3,800 |
| | | |
Final Jeopardy! Round
20th CENTURY CLASSICAL MUSIC
This work written in 1931 consists of 5 movements including "On the Trail" & "Painted Desert"
Final scores:
| | | |
| --- | --- | --- |
| Todd | Ayesha | Andrew |
| $100 | $12,200 | $6,800 |
| 3rd place: $1,000 | New champion: $12,200 | 2nd place: $2,000 |
Game dynamics: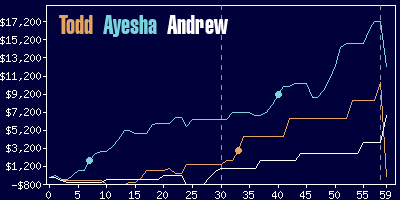 Todd
Ayesha
Andrew
$10,600
$17,800
$3,800
11 R
(including 1 DD),
3 W
26 R
(including 2 DDs),
5 W
8 R,
3 W
Game tape date: 2002-08-27