Show #4259 - Thursday, February 20, 2003
Travis Troyer game 3.
Jeopardy! Round
Before it was developed for tourism, this Oahu beach was a swampland full of duck farms

"The O List" naming some of her favorite products is a regular feature of her O Magazine

Puts you to sleep (by administering drugs during an operation)

"Never tell anybody outside the family what you're thinking again"

The word kitchen is derived from the Latin "coquinus", which means to do this

For conversations in Japan, learn the useful word wakarimasen, which means "I don't" this

This hyphenated North Carolina city was formerly 2 different towns that were a mile apart

Le Devoir & La Presse are leading newspapers in this Canadian city

Uses X-rays, ultrasound & MRI to check out your insides

"...Remember what Huey Long said

--

that every man's a king

--

and I'm the king around here and don't you forget it!"

"Adventures in the Kitchen" features 175 recipes from his restaurants, including Spago & Chinois on Main

In Danish, say "velbekomme" if someone else says "tak", which means this

Bob Dole is among the famous residents of this apartment complex

In 1955 Norman Mailer helped found this alternative NYC newsweekly

Treats bunions & hammer toes

"Joey, Joey Doyle!...hey I got one of your birds...he flew into my coop"

It precedes Harry Truman's comment "Get out of the kitchen"

(Sarah of the Clue Crew in Amsterdam) On the canal cruise, one Dutch word will be "zwemvest", which is this item

This capital city lies at the southern tip of the North Island

The name of this quarterly devoted to "Gone with the Wind" is reminiscent of a Hawthorne title

Is a specialist in otorhinolaryngology, a fancy way of saying these 3 body parts

In the 1830s this U.S. president began formulating policy with a group of advisors called the "Kitchen Cabinet"

(Sarah of the Clue Crew in Paris) Fromage, gateau; Paris isn't a great place to be "au regime", on this

The Indiana city that shares its name with this world capital is the seat of Kosciusko County

Published by the Massachusetts Medical Society, its roots go back to 1812

Is a pediatric specialist who takes care of newborn babies during the first 4 weeks of life

In this author's book "Le Morte d'Arthur", Sir Gareth of Orkney is called the "Kitchen Knight"

In Spanish, for food without cheese, say "sin queso"; for this type of gasoline, say "sin plomo"
Scores at the first commercial break (after clue 15):
| | | |
| --- | --- | --- |
| Travis | Katie | Robin |
| $2,200 | $3,200 | $1,000 |
Scores at the end of the Jeopardy! Round:
| | | |
| --- | --- | --- |
| Travis | Katie | Robin |
| $3,000 | $1,700 | $3,600 |
Double Jeopardy! Round
SONGS FROM DISNEY FILMS
(Alex: You have to name the film, of course!)

In 2002 she made movie history as the first African-American to win the Oscar for Best Actress

The Pompidou Center held a 1962-2002 retrospective on this designer often known just by his initials

We're certain it was Benjamin Franklin who said, "In this world nothing can be...certain except" these 2 things

When Anaximander drew this around 550 B.C. he represented it as a flat disk; 100 years later people were still doing it

Holding one of these gives you the exclusive right to market an invention

We now salute Henry O. Flipper, seen here, the first African-American graduate of this academy

Italian designer seen here; his name is on the Emporio's new clothes

In 2001 this opera singer quipped, "I have just made a colossal mistake...instead of losing 25 pounds, I gained them"

The main source of fat in the diet of an ancient Greek was this oil

Named for its 2 founders, this company supplied the Union during the Civil War & later introduced Ivory & Tide

In 1874 Patrick Francis Healy, a Jesuit theologian, became the first black president of this D.C. university

"When I See an Elephant Fly"

This classy Indiana-born designer who sold his company in 1999 for $50 million passed away in 2002

Abraham Lincoln said, "As I would not be a slave, so I would not be a" this

In Athenian coinage 6 obols made 1 of these

Radio waves are sent out in short, rapid bursts by these unusual stars that are similar to quasars

This man, seen here, went on the air as CNN's first African-American news anchor

"You've Got a Friend in Me"

A swimsuit by this designer in 1959 featured a large cutaway; topless came later

Aristotle described this type of person as "A single soul dwelling in two" buddies

--

er, "bodies"

In the 5th century B.C. this building in Athens replaced the Temple of Zeus at Olympia as the largest building in Greece

These "spiny" cacti of the genus Opuntia share part of their name with edible fruits of the genus Pyrus

Rita Dove was the first African-American writer to serve in this post from 1993 to 1995

It's the film that featured the following
Let's get together, yeah, yeah, yeah...

With a show at the Capitole Museum in 1991 Rome honored this "Sheik" designer's 30th year in fashion

Admiral Halsey's formula for waging war was "Hit hard, hit fast" & this

Even back in Ancient Greece the entertainment industry loved franchises; in 418 B.C. he wrote "Clouds II"

1 of the 2 men usually credited with the Bunker Hill quote "Don't fire until you see the whites of their eyes"
Scores at the end of the Double Jeopardy! Round:
| | | |
| --- | --- | --- |
| Travis | Katie | Robin |
| $14,600 | $5,700 | $3,600 |
| (lock game) | | |
Final Jeopardy! Round
On ESPN's list of the 50 top athletes of the 20th century, this woman is the highest-ranked female
Final scores:
| | | |
| --- | --- | --- |
| Travis | Katie | Robin |
| $12,000 | $3,700 | $1,200 |
| 3-day champion: $36,800 | 2nd place: $2,000 | 3rd place: $1,000 |
Game dynamics: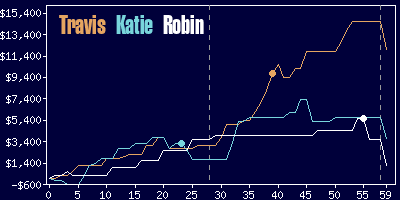 Travis
Katie
Robin
$15,800
$6,200
$5,600
22 R
(including 1 DD),
2 W
14 R,
6 W
(including 1 DD)
9 R,
2 W
(including 1 DD)
Game tape date: 2002-10-30