Show #4272 - Tuesday, March 11, 2003
Max Levaren game 5.

(Cheryl: Final Jeopardy! in T-minus 30 minutes and counting; stay tuned!)
Jeopardy! Round
(Alex We want you to name the subject in...)
CELEBRITY BIOGRAPHIES

FIND THE SPOONERISM
(Alex: And if you do well in this category, we'll give you a "bat on the pack", oh, sorry, a pat on the back; now you know what we're dealing with!)

During a fight, he shouts, "Lay on, Macduff, and damned be him that first cries 'Hold Enough'"

The Friars Club is known for these gatherings in which the honorees get lovingly insulted

These fish do not flap their pectoral fins; they leap into the air & glide

A person who's hemophobic can't stand the sight of this

George thinks he's a tough & rumble kind of guy

--

he hangs out with the East Side Gang

He agrees to loan Antonio 3,000 ducats but asks for "an equal pound of your fair flesh" if it's not repaid on time

1 out of every 4 players in one of these card clubs is a dummy

These deadly fish have been released into U.S. lakes when owners found that feeding them was expensive

If you have pyrophobia & go camping, don't sit here

When I tempted them with candy if they worked hard, my students bit the hooks & went to do this

After he & Cassius team up to kill Julius Caesar, he says, "Let us bathe our hands in Caesar's blood up to the elbows"

One of the few words in the dictionary with 3 "W"s, it's a Native American get-together

Including over 300 species, this fish has reserve rows of teeth & 5 types of fins which enhance its swimming

Whoa, don't look down! This is the fear of heights

Can you give me one of these for our date tonight? There's a chain wreck on the freeway & I can't make it

"The rest is silence" are this prince's dying words

Another name for a costume ball; it's also in the title of a George Benson hit

Seen here, these small fish have been widely introduced to control mosquito populations

If Drew Barrymore were amaxophobic, she'd avoid doing this, with or without boys

When your army is ready to take flight, wag this

In "Romeo and Juliet", this line precedes "Deny thy father, and refuse thy name"

This island in the Indian Ocean shares its name with a type of get-together

Feeding on other fish's entrails, it gets its name from a 3-letter word for an ugly old woman

It's the 17-letter term for fear of the number 13

"Boulevard of Broken Dreams" & "Rebel"
Scores at the first commercial break (after clue 15):
| | | |
| --- | --- | --- |
| Max | Heather | Randy |
| $1,000 | $1,600 | $4,200 |
Scores at the end of the Jeopardy! Round:
| | | |
| --- | --- | --- |
| Max | Heather | Randy |
| $600 | $6,600 | $4,600 |
Double Jeopardy! Round
THE INTERNATIONAL SPACE STATION

STATE CAPITAL BIRTHPLACES

(Cheryl of the Clue Crew reports from the Johnson Space Center in Houston.) An orbital facility is being built for the ISS that bears the name of this man born in Genoa in 1451

In 2002 country fans mourned the death of this singing "Outlaw"

In the familiar nursery rhyme, she went boom right after Jack

This was the last name of the woman seen here when the photo was taken

Patriot & silversmith Paul Revere

Disney musical about a pretty girl named Belle & her hideous camel

About one-third of U.S. studies aboard the ISS deal with the phenomenon known as zero this

In the '80s he hopped up the charts with songs like "Step by Step" & "I Love a Rainy Night"

If you think about it, you've really got to wonder what he saw in Fay Wray in 1933...I mean, think about it

Late, great actor seen here

Nobel Prize winner Martin Luther King, Jr.

Don't leave home without this credit card that was a 1989 Madonna hit

(Cheryl of the Clue Crew reports from the Johnson Space Center in Houston.) This Asian country's first manned space facility is Kibo, which means "hope"

One of the big concert tours of the '90s was the "Black & Wy" tour; he was the Black & she was the Wy

"Yeah, sure...I'm a 10-foot Philistine warrior & he's a little punk shepherd twerp named Dave

--

Ow!" (boom)

The book "O Holy Cow!" makes poetry of the words of this New York Yankees broadcaster called "Scooter"

Ex-governor L. Douglas Wilder

Margaret Hamilton on her broomstick terrorizes the Oval Office on this NBC drama

This pressurized chamber is where spacewalks from the station begin & end

In 2002 this movie soundtrack won ACM awards for Album of the Year & Vocal Event for "I Am a Man of Constant Sorrow"

If Rhett & Scarlett hadn't bought this girl that damn pony, Rhett might never have said that famous last line

This courtier & explorer's death sentence, commuted in 1603, was uncommuted & he was executed in 1618

Current senator Patrick Leahy

"1876" novelist who also styles hair

His recent hits include "Who's Your Daddy?" & "I Wanna Talk About Me"

Son of Daedalus, his first flying lesson is generally considered something of a failure

The story of the lovestruck Francesca da this appears in Dante's "Inferno"

Mass murderer Charles Starkweather

Tall blonde actress & playwright who wrote "Uncle Vanya"
Scores at the end of the Double Jeopardy! Round:
| | | |
| --- | --- | --- |
| Max | Heather | Randy |
| -$600 | $18,400 | $28,800 |
| | | |
Final Jeopardy! Round
She was born Emilie Charlotte Le Breton on the island of Jersey in 1853
Final scores:
| | | |
| --- | --- | --- |
| Max | Heather | Randy |
| -$600 | $7,999 | $20,800 |
| 3rd place: $1,000 | 2nd place: $2,000 | New champion: $20,800 |
Game dynamics: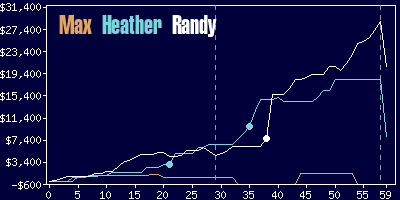 Max
Heather
Randy
-$600
$16,000
$23,000
4 R,
3 W
17 R
(including 2 DDs),
1 W
31 R
(including 1 DD),
4 W
Game tape date: 2002-11-17