Show #5552 - Tuesday, October 28, 2008
Carl Brandt game 1.
Jeopardy! Round
RHYME FEST
(Alex: Each correct response will rhyme with the word "fest".)

In his second week as president, Jimmy Carter evoked memories of an earlier president with this type of informal speech on energy

In a variation of a theme, the 1983-84 season of this series ended with J.R.'s brother Bobby getting shot

In 1949 this greeting card company's torch & shield emblem was replaced with a crown over its name in script

This city was just a regional capital before Kublai Khan made it, for the first time, the political center of the nation

Cube the bread & saute or bake it to make these to garnish soup or salad

One of these can be down or bulletproof

The 1986 Reagan-Gorbachev summit made progress on arms issues but snagged over this Reagan defense plan

Tanya Roberts looked "heavenly" when she joined the cast of this series in November 1980

This product's distinct circus wagon boxes have held 37 different caricatures since its 1902 founding

The military & administrative center of the Aztecs became this capital of the colony of New Spain

Make this breakfast dish

--

bread dipped in an egg-milk mixture & fried until golden brown on both sides

A boll weevil, or an annoying brat

The wedding of this younger daughter in 1966 was a break for LBJ amid the mounting problems in Vietnam

Chad Lowe was the star of the sitcom "Spencer"; this man starred as detective "Spenser: For Hire"

This symbol of Playboy Magazine was created by art director Art Paul in about a half hour

An oasis that was the residence of the Ibn Saud family, it became the capital when the country was formed in 1932

Stale bread is handy as an ingredient in this Thanksgiving side dish, named for its placement inside the bird

Type of playful prank that's the specialty of the court fool

When you take a deep breath, you can thank Bush Sr. for signing a strengthened version of this 1970 law

Jonathan Winters showed up in the cornfield as a regular on the 1983-84 season of this countrified laugh-fest

The logo of this brand of cleanser is seen here

This North African city was once a Roman fortress named Babylon; the Mamelukes made it an African capital

Use stale bread to make these to bind meatloaf or to coat chicken before baking; panko is a Japanese type

A lidded box for toys or jewelry

Through his pursuit of Alger Hiss & others, Richard Nixon gained national fame on this House committee

He was actually 12 when he began playing the 7-year-old "Webster" in 1983

This mode of transportation adorns boxes of Rice-a-Roni

Prospering under Tatar rule & expanding as it intersected trade routes, this city became a capital in the 15th century

Make this Italian bread topped with tomatoes; its name is from the Italian for "to roast over coals"

Conjunction meaning "for fear that"
Scores at the first commercial break (after clue 15):
| | | |
| --- | --- | --- |
| Mathew | Becka | Carl |
| $1,800 | $3,600 | $1,800 |
Scores at the end of the Jeopardy! Round:
| | | |
| --- | --- | --- |
| Mathew | Becka | Carl |
| $5,800 | $3,000 | $3,800 |
Double Jeopardy! Round
A BEN KINGSLEY FILM FESTIVAL
(Alex: You have to ID each film.)

I consider myself a unique, special person, so I'm appalled that I'm sniffling with the "common" one of these

2005:
Pickpocket patriarch Fagin

We learn of the loss of Belle Reve, ancestral home of the DuBois family, in this classic 1947 play

It's the last name of Harry Potter's pal Hermione

"Il Matrimonio Segreto" got the longest one of these ever: Leopold II ordered the whole opera repeated

I'm not a rooster, so I hope I'm not coming down with this disease also known as varicella

1993:
Bookkeeper Itzhak Stern

Of Dragonwyck, Gryphonwyck or Unicornwyck, the mysterious mansion in Anya Seton's 1944 bestseller

In mythology Hermione was the daughter of Menelaus & her, & must have hoped to look like mom

Tchekalinsky, Tomsky & Prince Yeletsky are roles in "The Queen of Spades" by this composeretsky

Kitty clawed me, so I may have this mild disease, also the title of a Ted Nugent album

1991:
Syndicate accountant Meyer Lansky

In a Jane Austen novel, this medieval abbey sparks Catherine Morland's Gothic fantasies

At age 19 in 1925, Hermione Bulwer-Lytton was acting vicereine of this country

Donna Elvira is one of the women seduced by the title character of this Mozart opera

Uh-oh... I feel itchy. Hope I wasn't bitten by this outdoor pest, the red larva of a harvest mite

2003:
Iranian immigrant & new home owner Colonel Behrani

Lady Grove is an estate purchased by Uncle Edward in this "timely" British author's 1909 novel "Tono-Bungay"

In "Gigi" Hermione Gingold is Maurice Chevalier's partner for this duet; ah, yes...

This title Wagner hero blows a mighty horn call & then kills Fafner, who's in the shape of a dragon

A blain is an inflammatory swelling; my exposure to icy weather may have given me this kind of "blain"

--

brrr!

2000:
Homicidal British gangster Don Logan

The hero of this Thackeray novel woos & wins the widow who inhabits Castle Lyndon

Hermione suffers from the jealousy of her husband Leontes in this late Shakespeare play

This Beethoven opera features the wonderful quartet "Mir ist so wunderbar"
Scores at the end of the Double Jeopardy! Round:
| | | |
| --- | --- | --- |
| Mathew | Becka | Carl |
| $9,000 | $9,600 | $11,800 |
| | | |
Final Jeopardy! Round
Of the world's 11 countries whose English names start with "A", the only 2 whose names don't end with "A"
Final scores:
| | | |
| --- | --- | --- |
| Mathew | Becka | Carl |
| $0 | $1,200 | $4,399 |
| 3rd place: $1,000 | 2nd place: $2,000 | New champion: $4,399 |
Game dynamics: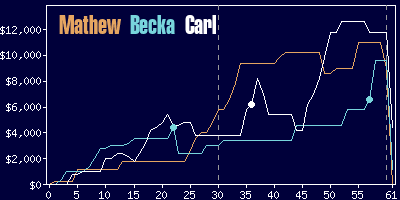 Mathew
Becka
Carl
$9,000
$9,800
$10,600
15 R,
2 W
15 R
(including 1 DD),
1 W
(including 1 DD)
20 R
(including 1 DD),
8 W
Game tape date: 2008-09-23