Show #5538 - Wednesday, October 8, 2008
Erik Nelson game 5.
Jeopardy! Round
THE 2008 SPORTS ILLUSTRATED FORTUNATE 50
(Alex: The top 50 earners in sports.)

The museum's got a "Starry Night" that he painted in Arles in 1888, not the more famous one done in Saint Remy in 1889

No. 1, $127.9 mil.:
He's made "close to $800 million in total earnings on and off the course over his 13-year career"

A McDonald's pork patty:
The McThis

The Nov. 10, 1960 front page noted this first about President-elect JFK's background

Funnel-shaped amplifying device that's an essential cheerleader accessory

This test used on pregnant women is also called a sonogram

You can see his mother (aka "Arrangement in Grey and Black No. 1")

No. 5, with nearly $35.5 million:
This Laker, fresh off his first MVP award

At Red Lobster:
Parrot Bay Jumbo Coconut this

The report on the 1992 returns included a "jubilant bear hug" between these 2 men

Where your name is if it's up in lights in front of a theater

Consumer Reports' braking test measures how fast a car goes from this to this

--

the reverse of its acceleration test

He painted dreamy landscapes like the one seen here

No. 7:
If this Yankee 3B plays out his contract, "he'll have earned $445 million in base salary alone"

At Taco Bell:
7-layer or chili cheese this

On Nov. 3, 2004 the Times headlined, "With echoes of 2000 vote," this state's "count is at issue"

From the French, it's a group of wild animals on exhibit

140 is scary high on the Stanford-Binet version of this test

The museum has several of this man's sculptures, including a dancer looking at the bottom of her foot

No. 32, $18 mil.:
This Patriots QB, dater of supermodels & winner of Super Bowls

An Outback appetizer:
Bloomin' this

"Forecasts upset", read the front page in this year; at least the Times knew who defeats whom

Emerson wrote that "art is a jealous" one of these

The Hardy-Rand-Rittler test checks for this optical defect mostly observed in men

We conclude our tour of the musee with one of the highlights

--

this Impressionist's "Jeunes filles au piano"

No. 11, $27.2 mil.:
Driving in circles is a wealthy pursuit for this NASCAR driver of the 88

At Le Grand Vefour:
Les ravioles de this liver preparation a l'emulsion de creme truffee

On Nov. 5, 1924 page one said this man "wins, 357 to Davis's 136"; what will it say on Nov. 5, 2008?

It's the African-derived percussion instrument heard here

Abbreviated NTBT, this 1963 treaty was signed by the U.S., the USSR & the U.K.
Scores at the first commercial break (after clue 15):
| | | |
| --- | --- | --- |
| Erik | Kate | Jim |
| $600 | $2,000 | $3,000 |
Scores at the end of the Jeopardy! Round:
| | | |
| --- | --- | --- |
| Erik | Kate | Jim |
| $3,600 | $5,800 | $5,600 |
Double Jeopardy! Round
This capital on the Kentucky River was named after Stephen Frank, an early pioneer

Riff,
Nibbles,
Officer Krupke

Washi, Japanese hand-molded paper, is made mainly from kozo, this tree that's also a favorite of silkworms

2 years after "The Case-Book of Sherlock Holmes", he published "The Maracot Deep", a tale of lost Atlanteans

In the 1630s, a craze developed in Holland for this flower, with many investors paying huge sums for individual bulbs

An EMT rides in one of these vehicles

It was laid out in 1858, & its growth was stimulated by the discovery the following year of the nearby Comstock Lode

The Fukui region is a washi center & made some of Japan's first paper this, issued in 1661

A Charles Berlitz book calls Atlantis "the eighth" this & wonders if a nuclear war was its demise

The scientific name of this orange flower with black-spotted petals is Lilium tigrinum

Biceps banner often worn as a memorial

This small capital lies about 10 miles east of the Continental Divide & about midway between Butte & Great Falls

The French Taunter,
Tim the Enchanter,
Concorde

In his book "The Return of Tarzan", the jungle man stumbles upon Opar, the city of gold left over from Atlantis

Monkshoods are pollinated only by these

Cajun sausage often found in gumbo

This city became a state capital in 1826, the same year the president for which it was named died

Professor Callahan,
Elle Woods

The best washi is traditionally made during this season when the water runs purer

She called Atlantis "the isles of the blessed", & a chapter in "Atlas Shrugged" is entitled "Atlantis"

In the names of flowers, this 4-letter word that means "plant" or "root" follows bladder, St. John's & slipper

From the Latin for "to make like", it's the process of an immigrant group adopting the ways of a new land

It's the seat of Kennebec County

Squeaky Fromme,
Lee Harvey Oswald,
Leon Czolgosz

This "Necronomicon" creator wrote of a submarine's discovery of Atlantis in "The Temple"

You might "remember" that this flower, also called a scorpion plant, is a symbol of friendship & true love

Home sweet home for the Norse deities
Scores at the end of the Double Jeopardy! Round:
| | | |
| --- | --- | --- |
| Erik | Kate | Jim |
| $15,200 | $8,500 | $15,400 |
| | | |
Final Jeopardy! Round
An actress named Martha Scott played Charlton Heston's mother in both of these epics
Final scores:
| | | |
| --- | --- | --- |
| Erik | Kate | Jim |
| $30,400 | $7,500 | $30,401 |
| 2nd place: $2,000 | 3rd place: $1,000 | New champion: $30,401 |
Game dynamics: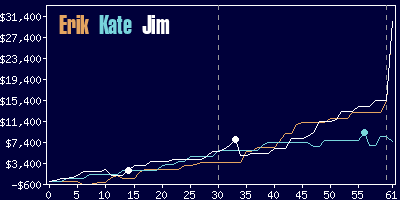 Erik
Kate
Jim
$15,200
$11,000
$18,200
18 R,
2 W
13 R,
2 W
(including 1 DD)
25 R
(including 1 DD),
2 W
(including 1 DD)
Game tape date: 2008-08-20