Show #4756 - Monday, April 18, 2005
2005 Ultimate Tournament of Champions Round 2, game 4.
Jeopardy! Round
BRITISH SPELLING BEE
(Alex: You have to spell your response... the way the British do.)

In "Notes on Hospitals", she wrote that the first requirement of a hospital is to "do the sick no harm"

The 2003 movie with James Brolin as him aired on Showtime after CBS dropped it

In the British version of Monopoly, you might draw a card saying "Go directly to" this lockup

This country is in the east of a subcontinent

In 1817 Scotland's David Brewster patented this pattern-making tube made with mirrors & ground glass

This 4-letter word precedes "Caesar, we who are about to die salute thee"

Charlton Heston is seen here as this prickly character before he became president

"What did you say?"
"I said, 'I wonder whose bed Rachael'll be putting her moccasins under next.'"
[Smack!]

The equivalent of our own Donald Rumsfeld, the UK's Geoffrey Hoon is the minister of this

This nation sticks out like a sore thumb

Samuel B. Fay patented the first bent-wire one of these in 1867; it was originally used to attach tags to fabric

When he landed on Leyte Island in October 1944, he said, "The hour of your redemption is here"

E.G. Marshall, Robert Duvall & Tom Selleck have all played this U.S. president

Lovely Rita of Liverpool knows this unit of measure is 39.37 inches

It extends about 3,200 miles from east to west

Robert Banks & John Hogan invented a type of this substance, giving grocery shoppers a checkout choice

In 1811 Joseph de Maistre wrote in "Letter to X", "Every nation has the" one of these "it deserves"

William Parry was James Garfield in the originial production of this Sondheim musical

With no pence on hand, you might ask the curry restaurant, "Will you take" a personal one of these?

You don't hear so much about the East Bank where this country is

Burglar alarm seller E.T. Holmes employed the 1st of these in 1877, "plugging in" 6 Boston telephone subscribers

At Manila Bay, Commodore Dewey said to this captain of his flagship, "You may fire when you are ready..."

Kelsey Grammer played this general in A&E's 2003 "Benedict Arnold"

In England Walt Disney would have had a "Wonderful World of" this

Formerly a British protectorate, it's the republic outlined here

In 1775 American inventor David Bushnell built a working one of these vehicles he called "The Turtle"
Scores at the first commercial break (after clue 14):
| | | |
| --- | --- | --- |
| Bruce | Bob | Michael |
| $1,400 | $3,400 | $600 |
Scores at the end of the Jeopardy! Round:
| | | |
| --- | --- | --- |
| Bruce | Bob | Michael |
| $3,200 | $3,600 | $5,400 |
Double Jeopardy! Round
I'M JUST A "BILL"
(Alex: And each correct response will begin with those letters.)

In this hit Barry Manilow sings that "Time in New England took me away, to long rocky beaches & you by the bay"

This word refers to an employer's refusal to let employees enter the workplace without accepting his terms

Number of face cards in a standard deck

Jack Kerouac:
"The _____ Bums"

P.T. Barnum used them to advertise his attractions in the 1840s

When drinking ahwa, leave these in the bottom of the cup, where they're read like tea leaves

This Fleetwood Mac album spent 31 weeks at No. 1, more than any other album of the 1970s

The Pittsburgh-based union of these workers was not happy with Pres. Bush's decision to lift tariffs

Number of stars on the U.S. flag for the longest period of time

Nathaniel Hawthorne:
"The Blithedale _____"

The top of this recreation item is called the bed & may be 800 pounds of slate

It was Mike Love who gave Daryl Dragon this nickname

His entry in the World Book lists birth & death as (1913-1975?)

Classic game show hosted by Jack Barry & Maury Povich

Joseph Conrad:
"The Secret _____"

City dwellers can get away to Ras Mohammed National Park on these 2 gulfs

In 1977 Stevie Wonder sang, "There's Basie, Miller, Satchmo and the king of all", him

Members of the Industrial Workers of the World were sometimes called by this "shaky" nickname

Record number of wins in one NBA season, by the Chicago Bulls in 1995-96

John Stuart Mill:
"The Subjection of _____"

The psalmist says, "Deep calleth unto deep... all thy waves and" these "are gone over me"

"And if one night you hear crying from above, it's 'cause" of this, the title of a 1976 hit

A 1970 act of Congress created this agency that develops standards to help workers survive the workplace

Number of different opening moves possible by one player in a game of chess

William Dean Howells:
"The Rise of _____"

The name of this London fish market became synonymous with abusive language
Scores at the end of the Double Jeopardy! Round:
| | | |
| --- | --- | --- |
| Bruce | Bob | Michael |
| $8,400 | $17,200 | $16,000 |
| | | |
Final Jeopardy! Round
In works by Lewis Carroll, this word means "four in the afternoon; the time when you begin broiling things for dinner"
Final scores:
| | | |
| --- | --- | --- |
| Bruce | Bob | Michael |
| $8,400 | $2,200 | $22,801 |
| 2nd place: $10,000 | 3rd place: $10,000 | Winner: $22,801 + an advance to UToC Round 3 |
Game dynamics: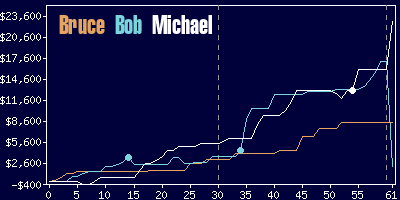 Bruce
Bob
Michael
$8,400
$15,000
$15,000
12 R,
0 W
20 R
(including 1 DD),
2 W
(including 1 DD)
18 R
(including 1 DD),
3 W
Game tape date: 2005-03-22