Show #4143 - Wednesday, September 11, 2002
Jeopardy! Round
MOST-LIVABLE COUNTRIES
(Alex: According to the U.N. Human Development Index.)

E.T. 20th ANNIVERSARY
(Alex: The movie.)

LETTER PERFECT
(Alex: Need a letter as the response.)

This animal, the chief sustenance of the Plains Indians, was nearly extinct by 1880

An underwater line that carried messages overseas, or a single message sent through it

With no death penalty, it's the No. 3 most-livable country (the U.S. sits below it)

He says he was lonely, shooting "Raiders of the Lost Ark" in Tunisia, when the concept for the movie first hit him

This letter represents the force that takes you from light to heavy as you loop upward in a roller coaster

In 1918 as many as 2 million Japanese participated in riots spurred by the high price of this

In 2000 this No. 7 most-livable country came out with what may be its first slacker film, "101 Reykjavik"

"I Can't Believe I Ate the Whole Thing"

To lure E.T. into his house, Elliott, played by Henry Thomas, leaves a trail of these candies

Cockneys are known for dropping this letter from the start of words

The Reformation caused shortages of this sweet stuff by closing monasteries that raised bees for votive candle wax

In Morse code a single dot represents this letter

Even with over 70% of this North Sea country's land uninhabitable, it topped the most-livable list

It's "Two

--

Two

--

Two Mints in One"

Of her role as little Gertie, she told Ent. Weekly, "I wouldn't be where I am now if it wasn't for 'E.T.'"

Our president, familiarly

In the 1840s a type of fungus wiped out these in Ireland, leading to widespread famine

Since telegrams were associated with WWI casualty news, these debuted in 1933 to show their fun side

Of the Top 25 most-livable countries, 1 of the only 2 south of the equator

"They Plump When You Cook 'Em"

Through computer magic, federal agents no longer brandish guns; instead they carry these rhyming devices, 10-4!

Before the euro, this letter was the Parisian equivalent of a dollar sign

The WWII "K" type of these Army portions, packed by Wrigley's, included meat, sugar &, of course, gum

The T in the name of this old Soviet news agency stood for telegrafnoye

A home to the European parliament, it sprouts at No. 5 on the list

"We'll Leave the Light on for You"

Nominated for 9 Oscars, the movie won 4 including one for Original Score by this composer
Scores at the first commercial break (after clue 14):
| | | |
| --- | --- | --- |
| George | Larry | Lorraine |
| $3,600 | $1,400 | $1,600 |
Scores at the end of the Jeopardy! Round:
| | | |
| --- | --- | --- |
| George | Larry | Lorraine |
| $3,600 | $3,000 | $9,000 |
Double Jeopardy! Round
ROCK & ROLL IS HERE TO STAY

In 1792 Beethoven went to this city, where he went into Haydn for lessons & stayed for the rest of his life

The cayenne variety of this juicy tropical fruit is grown in Hawaii

It's not certain whether the name of this racing breed came from its color

Photographer Robert Kincaid has a steamy but brief affair with an Iowa farmer's wife in this '90s love story

He's the beloved figure on the poster seen here
("I Want YOU!")

Completes the Springsteen title line, "Cause tramps like us, baby we were..."

Beethoven lifted a theme from his own "Prometheus" for his 3rd Symphony, called this

As its name implies, this green-flavored melon has a sweet taste

3-letter word for a wide type of window, or a hound's long, deep howl

"Bridget Jones's Diary" is a reworking of this Jane Austen classic

After Russia, it's Europe's largest country in area

This classic says, "Something touched me deep inside the day the music died"

A newly found Beethoven piece, played for the 1st time in 1999, ran this long, 9 sec. shorter than a Chopin waltz

It's also known as a "cooking banana"

Bluetick and black & tan are types of this dog that traps its prey in trees

The title of this Terry McMillan novel refers to Stella's trip to Jamaica, where she has an affair with a younger man

He's Chingachgook's son in "The Last of the Mohicans"

In 1963 you could have chowed down on this tasty Japanese import heard here

Variants of the 4 notes that begin this Beethoven work, Opus 67, drive all 4 of its movements

This popular English pear was named for the Massachusetts man who introduced it to the U.S.

"War and Peace", Book II, includes an account of a hunt using these dogs

Besides writing romances like "The Kiss", she wrote "His Bright Light", a memoir of her son Nick Traina, who died at 19

In Pakistan it's an official language along with English

This "Super Freak" singer was once in a band called the Mynah Birds with Neil Young

In a Beethoven opera, Leonore disguises herself as this title boy

Types of these include sultana, muscadine & catawba

This "Norwegian" dog hunted bear as well as the big deer it's named for

A later edition of this William Goldman novel included the first chapter of the long-lost sequel, "Buttercup's Baby"

Differing by only a letter, the 2 words meaning to make waves & any hoofed mammal

They helped shape the sound of punk rock with songs like "Blitzkrieg Bop" & "Beat on the Brat"
Scores at the end of the Double Jeopardy! Round:
| | | |
| --- | --- | --- |
| George | Larry | Lorraine |
| $8,400 | $9,800 | $21,200 |
| | | (lock game) |
Final Jeopardy! Round
BASEBALL
(Alex: Uh-oh... how do you think Lorraine's going to bet on this one?)
It's the only team to win World Series titles in 3 different cities for which it played
Final scores:
| | | |
| --- | --- | --- |
| George | Larry | Lorraine |
| $0 | $16,801 | $20,000 |
| 3rd place: $1,000 | 2nd place: $2,000 | New champion: $20,000 |
Game dynamics: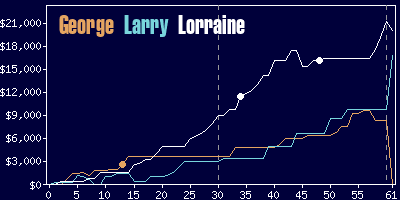 George
Larry
Lorraine
$8,200
$9,800
$24,200
15 R
(including 1 DD),
2 W
14 R,
4 W
27 R
(including 2 DDs),
1 W
Game tape date: 2002-06-11