Show #2348 - Wednesday, November 16, 1994
1994 Tournament of Champions quarterfinal game 3.
Jeopardy! Round
| | | | | | |
| --- | --- | --- | --- | --- | --- |
| | | | | | |
| This traitor took a cut in rank from major general in the U.S. Army to brigadier general in the British Army | "Bosom Buddies" star who went on to make a "Big" splash in "Forrest Gump" | It's Texas' state dish, & it's con carne | She helped found the Rancho Mirage, California drug treatment center named for her | Frank Galluccio gave him the scar that earned him the nickname "Scarface" | The Canadian, or back type, of this is leaner; it comes from the loin area of a hog's back |
| In 1765 Dr. James Baker opened his first factory in Massachusetts to make this - how sweet! | He looked "mahvelous" on "Soap" & "Saturday Night Live" before becoming a "City Slicker" | Oregon's state insect is the swallowtail, a type of this | Her 1984 assassination was in retaliation for an attack she ordered on the Sikhs' holiest shrine | Vincenzo Peruggia stole the Mona Lisa from this museum in 1911 & kept it for two years | The call of the males of these pond creatures sounds like "jug-a-rum" |
| Mormons say divine intervention sent these birds to stop a cricket infestation in 1848 | In 1978 "Grease" was the word for this Sweathog; in 1994 he was seen in "Pulp Fiction" | It's the state tree of West Virginia & Vermont | This song came about when Julia Ward Howe wrote new lyrics to "John Brown's Body" | A reversed photo of this young outlaw started the legend that he was left-handed | This interjection is an Irish euphemism for "By God!" |
| In 1949 the Senate ratified this treaty that joined the U.S. with 11 others in a mutual defense pact | A guest part on "Happy Days" led to his own series; later, he gave a genie a voice | This natural-born mimic is the state bird of Tennessee | After leaving the presidency of NOW in 1970, she wrote a column for McCall's | The real name of this assassin assassin was Jacob Rubenstein | This 1958 treaty created an economic union among the Netherlands, Luxembourg & Belgium |
| After losing his Senate seat to John F. Kennedy, he was made U.S. representative at the United Nations | In 1994 this former "Family Ties" star got "Greedy" with Olivia d'Abo & Kirk Douglas | This often-carved mineral is Alaska's state gem | This modern dance pioneer lost her two children when they drowned in a 1913 auto accident | A county courthouse in Dedham, Massachusetts was the site of this infamous 1921 trial | Bujumbura, on Lake Tanganyika, is the capital of this country |
Scores at the first commercial break (after clue 15):
| | | |
| --- | --- | --- |
| Amy | Kurt | Bart |
| $1,500 | $400 | $1,200 |
Scores at the end of the Jeopardy! Round:
| | | |
| --- | --- | --- |
| Amy | Kurt | Bart |
| $3,400 | $200 | $2,000 |
Double Jeopardy! Round
20th CENTURY MONARCHS
(Alex: Tough!)

PULITZER PRIZE NOVELS
(Alex: Tough!)

POLITICAL QUOTATIONS
(Alex: Don't mind me, I don't know if they're tough or fun!)

After his cousin, Empress Zauditu, died in 1930, he became emperor of Ethiopia

This novel that won the 1937 Pulitzer was originally entitled "Tomorrow is Another Day"

This gray hunting dog was formerly called a Weimar pointer

Several U.S. cities & counties are named for this builder of the first successful steamboat

This river is responsible for irrigating about 6 million acres of land in Egypt

Referring to her father, Margaret Truman said, "He loved politicians, even those from" this party

This king of Jordan was only 21 when he divorced his first wife, Queen Dina, in 1957

This 1932 winner begins with the marriage of Wang Lung & O-lan

The Bedlington breed of this dog looks like a little lamb

His son was the first president of the International Harvester Company

Katowice & Warszawa are this country's two most populous provinces

In a 1973 Newsweek article, this Ugandan dictator was quoted as saying, "I am the hero of Africa"

Queen Ena of Spain, the last surviving granddaughter of this queen of England, died in 1969

Larry McMurtry won the 1986 prize for this novel

Despite its name, this small dog is not totally without a coat; it has little tufts on its head & tail

In 1854 Isaac Singer's company was ordered to pay this inventor royalties for each sewing machine sold

A British colony until 1959, this island city-state is the smallest nation in southeast Asia

In 1984 this San Francisco mayor remarked that "toughness doesn't have to come in a pinstripe suit"

Olaf V, this country's king from 1957-1991, married his first cousin, Princess Martha, in 1929

Von Humboldt Fleischer is the title character of this 1976 Pulitzer Prize-winning novel

The breed of dog that the British call the Alsatian we call this

Man seen here via a process he invented:

This South Dakota peak near Rapid City was named for a New York attorney, who represented mining investors

In 1976 this vice president identified 3 periods in life: youth, middle age & how well you look

This country's current king was born Carl Gustaf Folke Hubertus, at the Haga Palace in 1946

She received a 1989 Pulitzer for her bestselling novel "Breathing Lessons"

This dog famous for the crest along its spine was developed in South Africa

He was knighted in 1866 not for his temperature scale, but for helping develop the transatlantic cable

131 feet below sea level, Argentina's lowest point is on this dry, windy region's Valdez Peninsula

In 1987 this German chancellor said, "I have been underestimated for decades. I've done very well that way"
Scores at the end of the Double Jeopardy! Round:
| | | |
| --- | --- | --- |
| Amy | Kurt | Bart |
| $5,200 | $2,700 | $3,400 |
| | | |
Final Jeopardy! Round
A midshipman at age 9, he served in the War of 1812 at age 11, & became a Civil War hero while in his 60s
Final scores:
| | | |
| --- | --- | --- |
| Amy | Kurt | Bart |
| $3,599 | $5,350 | $0 |
| 2nd place: $1,000 if eliminated | Automatic semifinalist | 3rd place: $1,000 if eliminated |
Game dynamics: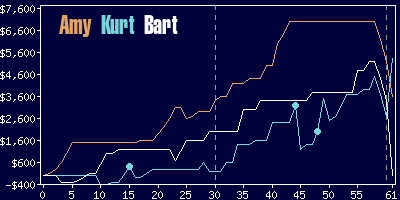 Amy
Kurt
Bart
$5,200
$4,500
$3,400
20 R,
3 W
19 R
(including 1 DD),
7 W
(including 2 DDs)
14 R,
4 W
Game tape date: 1994-10-11