Show #3406 - Monday, May 31, 1999
Jeopardy! Round
| | | | | | |
| --- | --- | --- | --- | --- | --- |
| | | | | | |
| Each morning Doris logs onto wsj.com, the interactive edition of this newspaper, to check her stocks | If Freddy, Wilbur or Babe indulged himself completely, he'd "go" this | Jane had some "dark times" as a camp follower of an expedition to these South Dakota hills | A 1996 Kiplinger's column found that $1 is a common amount left under pillows by this sprite | Halite is used as the "table" variety of this | A bridge named for this fictional snoozer crosses the Hudson at Catskill |
| Doris stays fit with her 3-times-a-week workout at one of this "Total Fitness" company's 320 centers | A completely fictitious tale is "made out of" this | Jane's job title of bullwhacker indicates she drove cattle with one of these implements | This mythic sculptor whose name became a Shaw play, made a feather pillow for his favorite creation | This organic rock is found in the Christmas stockings of people who've been bad | In 1802 a military academy was established at this site |
| Doris picked up a travel guide to the Kalahari; she plans to follow this Scotsman's 1849 route across it | In a joking W.C. Fields epitaph, these 3 words precede "I'd rather be in Philadelphia" | General George, whose troops Jane rode with, had this last name that Nixon said didn't apply to him | This molten stuff can harden into glassy "pillows" if it comes into contact with water | If shale has misbehaved, it can say, "My name is" this, 'cause that's what it was made from | In 1807 the first practical steamboat, commonly known by this name, was launched on the Hudson |
| For dinner, Doris tried her hand, or at least her fingers, with this staple dish of Hawaii made from taro | Shebeen, a word for an Irish tavern, may be the origin of this expression | A woman surfaced in 1941 claiming to be the daughter of Jane & this man who played one poker hand too many | As seen in Genesis 28 & in the name of a dance festival, he used stones for a pillow | While some people can "talk" one, chalcanthite & azurite can leave one on a hard surface | This interstate park on the Hudson features 300-500 foot high cliffs |
| Doris ends her day walking Binky & Albert, these 2 breeds of dog seen here: | Completes the famous Alka-Seltzer ad line, "I can't believe..." | Jane's gig at the 1901 Pan-American Expo in this city was overshadowed by ths McKinley assassination there | In the second Shakespeare play named for him, this king sleeps with the crown on his pillow | | It was on this ship that Henry Hudson was first sent up the river |
Scores at the first commercial break (after clue 14):
| | | |
| --- | --- | --- |
| Melissa | Frank | Jan |
| $600 | $500 | $200 |
Scores at the end of the Jeopardy! Round:
| | | |
| --- | --- | --- |
| Melissa | Frank | Jan |
| $1,400 | $2,300 | $700 |
Double Jeopardy! Round
It includes the foreshadowing line "Hedda darling

--

Don't touch those dangerous things!"

Irvin Feld founded a college in Venice, Florida in 1968 to train these performers for the circus

Jan Vermeer's "Young Woman with a Water Jug" is an example of genre painting from this country

This general gained his famous nickname at the First Battle of Bull Run

His "Poor Richard's Almanac" says that "Cheese and salt meat should be sparingly eat"

He's the king or "Rex" who saves Thebes in an ancient work by Sophocles

Mesa State is a college in Grand Junction in this state

Take a look: He once smashed a Fifth Avenue window to rearrange a display of his work

In 1971 this Baptist minister founded Operation PUSH (People United to Save Humanity)

"Many's the long night I've dreamed of cheese

--

toasted mostly", this author wrote in "Treasure Island"

Pierre Corneille wrote a 1637 play about this medieval Spanish hero

A college of podiatry in Chicago is named for this doctor

Former Premier Georges Clemenceau attended the 1926 funeral of this "Water Lilies" painter

"Treasure of the Sierra Madre"

He closed nearly 5 decades of sportscasting at the end of January 1999's Fiesta Bowl

This French President asked how one could be expected to govern a country that has "265 kinds of cheese?"

Shakespearean woman who asks "Where is the beauteous majesty of Denmark?"

The graduates of this Owatonna, Minnesota Baptist Bible college must be poppin' fresh (we couldn't resist the joke)

Although known for his Maine seascapes, he often traveled to the Adirondacks & Florida to paint

"You Can't Take It with You"

This British actress & Labour politician said, "Acting is not about dressing up" but "about stripping bare"

This Browning work says, "Rats! They fought the dogs and killed the cats...and ate the cheeses out of the vats"

Located in Charleston, it's "The Military College of South Carolina"

In this Renaissance master's "Madonna of the Goldfinch", the infants Jesus & John the Baptist are next to the Virgin Mary

In October 1973 he became the first black mayor of Atlanta, Georgia

In his introduction to "A Tale of a Tub", this Irish-born satirist says that wisdom "is a cheese"
Scores at the end of the Double Jeopardy! Round:
| | | |
| --- | --- | --- |
| Melissa | Frank | Jan |
| $3,400 | $8,600 | $4,900 |
| | | |
Final Jeopardy! Round
The fact that he didn't play September 20, 1998 made headlines
Final scores:
| | | |
| --- | --- | --- |
| Melissa | Frank | Jan |
| $3,300 | $9,801 | $1 |
| 2nd place: trip on Taca Airlines to Guatemala & stay at Guatemala City Marriott | New champion: $9,801 | 3rd place: Vivitar Z360ix camera & binoculars with accessories |
Game dynamics: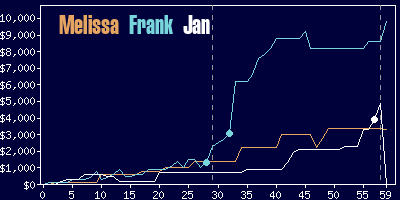 Melissa
Frank
Jan
$3,400
$5,500
$4,700
9 R,
1 W
25 R
(including 2 DDs),
5 W
12 R
(including 1 DD),
2 W
Game tape date: Unknown