Show #5336 - Monday, November 19, 2007
Jeopardy! Round
THANKS FOR THE MEMORABILIA

NOW APPEARING IN A BIBLICAL BOOK NEAR YOU

In July, you can sun yourself on this island & attend its Reggae Sumfest

The most ever paid for a sports document was the $996,000 spent for the 1919 contract that sent this man to the Yankees

Middle,
boarding,
finishing

No hillbilly, Jethro appears in this book of the Bible as the companion & father-in-law of Moses

Traditional Mexican dance band, or the music it plays

Dating back to the 6th century, Eglise St-Germain-des-Pres may be the oldest one of these buildings in Paris

At close to $1.3 million, the most expensive dress ever sold was the one she wore to serenade JFK in 1962

Lancashire,
Liederkranz,
Limburger

Ancestor of one of the 12 Tribes, Benjamin appears in this biblical book as his mom Rachel dies giving birth to him

Paula is famous for her butt massage (for pork butt, that is): it contains paprika, mild chilies & this pungent bulb

He was the QB for the Miami Dolphins from 1983 all the way to 1999

It's a famous mountain in the Pennine Alps (& a really cool ride at Disneyland)

Babylonian king Nebuchadnezzar appears in this book of the Bible where he has some dreams interpreted

Yellow-orange flowers of the genus Tagetes

Yapese & Ulithian are spoken there, too, but shoppers should know this official language of commerce in Micronesia

A script of "The Godfather" with notes by this man pulled in more than $300,000 at a 2005 auction

People,
relay races,
chairs

Scary 7-headed beasts are a vision to behold in this book

Paula's recipe for this pineapple, orange & coconut treat is so good that it really is "the food of the gods"

Don't miss Russia's Winter Palace if you go for this opulent style that preceded Rococo

A pair of these weapons used by Mark Hamill & David Prowse each sold for over $100,000 at an auction in 2005

Other than the 4 Gospels, one of the 2 books in which Pontius Pilate appears

(Paula Deen tries to stir & talk at the same time.) I'm makin' my special black-eyed pea dip, y'all

--

it's a real Southern tradition to eat black-eyed peas on this holiday, because with each pea you eat, it's gonna be bringin' you a dollar earned

This 8-letter term meaning "related to the sea" is also a type of law
Scores at the first commercial break (after clue 15):
| | | |
| --- | --- | --- |
| Kyle | Julián | Rachel |
| $800 | $4,000 | $400 |
Scores at the end of the Jeopardy! Round:
| | | |
| --- | --- | --- |
| Kyle | Julián | Rachel |
| $1,600 | $6,800 | $1,000 |
Double Jeopardy! Round
In 1565 Portuguese knight Estacio de Sa founded this Brazilian city on Guanabara Bay

In "My Fair Lady", she sings, "The rain in Spain stays mainly in the plain"; Henry Higgings replies, "I think she's got it"

In a 12th century beast epic, Isengrim is a wolf who battles against the sneaky Reynard, one of these animals

To sit on a twig like a bird

A poem by this American begins, "When lilacs last in the dooryard bloom'd"

A dishonest or unprincipled man, or one of the X-Men

By the 7th century this civilzation's city of Tikal in the Yucatan had a population of tens of thousands

Lerner & Loewe wrote "How To Handle A Woman" & "If Ever I Would Leave You" for this 1960 musical

In a Medieval legend, the town of Gubbio is terrorized by a wolf until this saint greets it & tames it

Long pointy stick used as a war weapon

This Lake Poet, perhaps lonely as a cloud, wandered over to visit Sir Walter Scott in 1803

What the Brits call a Mackintosh isn't an apple but one of these

In 1541 Pedro de Valdivia, a soldier of this Inca conqueror, founded the city of Santiago in Chile

This song from "Gigi" begins,
"We met at nine."
"We met at eight."
"I was on time."
"No, you were late"

Raksha is the mother wolf who raises this human boy in Kipling's "The Jungle Book"

To struggle clumsily or helplessly

His "Love Song of J. Alfred Prufrock" says, "In the room the women come and go/ talking of Michelangelo"

In the movies, it was Charles Foster Kane's cryptic final word

In 1957 this physician & patron of voodoo was elected president of Haiti, which he ruled with an iron fist for 14 years

Alan Jay Lerner began writing this musical's book by studying the history & customs of 18th c. Highland Scots

This Jack London character survives years of dog fighting & finally finds a compassionate human owner

To have inhaled the aroma of something

Richard Cory, "a gentleman from sole to crown" in a poem by this 3-named man, "put a bullet through his head"

Its functions include insight, imagination & control of the left hand

In December 1980 a junta appointed Jose Napoleon Duarte president of this small Central American country

Lerner & Loewe's last collaboration was a 1974 film of this Antoine de Saint-Exupery story

In the Jean M. Auel novel "The Plains of Passage", a wolf named "Wolf" is the hunting partner of this cavewoman

"Funeral Blues" by this British poet begins, "Stop all the clocks, cut off the telephone"
Scores at the end of the Double Jeopardy! Round:
| | | |
| --- | --- | --- |
| Kyle | Julián | Rachel |
| $9,200 | $19,600 | $5,400 |
| | (lock game) | |
Final Jeopardy! Round
This 2-word phrase may be traced to a line in a Sherlock Holmes story, "The chaplain stood with a... pistol in his hand"
Final scores:
| | | |
| --- | --- | --- |
| Kyle | Julián | Rachel |
| $1 | $19,200 | $1,400 |
| 3rd place: $1,000 | New champion: $19,200 | 2nd place: $2,000 |
Game dynamics: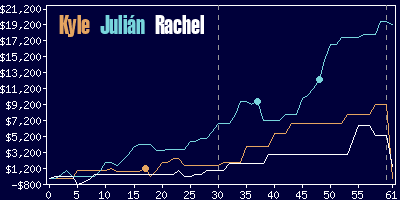 Kyle
Julián
Rachel
$10,200
$21,200
$5,400
12 R,
3 W
(including 1 DD)
26 R
(including 1 DD),
5 W
(including 1 DD)
11 R,
3 W
Game tape date: 2007-08-14