Show #3506 - Monday, November 29, 1999
Jeopardy! Round
JOHNNY GILBERT ROCKS!
(Alex: Last season, we had JOHNNY GILBERT DOES SHAKESPEARE; it proved to be so popular that our viewers wanted us to feature him again, and that's what we're doing today!)

Jesus "cried out with a loud voice" & commanded this dead man to "come forth"

You're this if you're from the Pampas

Unlike in the U.S., if one of these crosses your path in England, it means good luck

The buck stops with this president who wrote "Breakfast at Tiffany's"

The G in MGM, he was born in Warsaw, Poland

More than 2,000 versions of this 1965 song have been recorded:

"Suddenly /
I'm not half the man I used to be /
There's a shadow hanging over me"

This apostle "lifted up his voice" & addressed the crowd at Pentecost

You're this if you're from Adelaide

Cloves of this are sometimes placed in a bridal bouquet for good luck

George Washington's Virginia estate that co-chaired Clinton's transition team

This member of Clinton's cabinet was born in Prague

This song topped the pop, R&B & country charts in 1957:

"The warden said, 'Hey, buddy, don't you be no square /
If you can't find a partner, use a wooden chair'"

This blind father recognized Jacob's voice but thought his goatskin-covered hands were those of Esau

You're this if you're from Innsbruck

This card deck's Minor Arcana has 14 cards in each suit; a page is between the 10 & jack

A college football head coach from 1918 to 1931, he hailed from Voss, Norway

This song was written for a 1967 film:

"Where have you gone, Joe DiMaggio /
A nation turns its lonely eyes to you (Woo, woo, woo)"

His was the "voice of one crying in the wilderness"

You're this if you're from Kabul

Not feeling well? You may want to cleanse this field surrounding your body, from the Greek for "breath" or "breeze"

He hosts a late-night network news show, but not from Lancashire, England, where he was born

People were crazy about this 1999 song:

"Her lips are devil-red and her skin's the color of mocha..."

In the first book of Samuel, he asked, "Is this thy voice, my son David?"

You're this if you're from Luanda

This plant yields a hair dye as well as as tint used in magical hand & foot tattoos

Born in Petrovichi, Russia, this prolific writer's works include "Foundation's Edge" & "The Gods Themselves"

The title track of a 1976 album, this song topped the charts in 1977:

"You can check out any time you like, but you can never leave"
Scores at the first commercial break (after clue 15):
| | | |
| --- | --- | --- |
| Sharon | Debbie | Chris |
| $700 | $1,200 | $1,800 |
Scores at the end of the Jeopardy! Round:
| | | |
| --- | --- | --- |
| Sharon | Debbie | Chris |
| $800 | $2,900 | $2,700 |
Double Jeopardy! Round
By the 15th C., this city was capital of the Russian state & the seat of the Russian Orthodox Church

Astaire was nominated for a Supporting Actor Oscar for this fiery 1974 disaster epic

Type of moustache named for its resemblance to a bicycle part

4 out of the 5 traditional human senses

With over $3 billion in annual sales, this soft drink has 6% of the U.S. market

Important Russian cities on this longest Russian river include Nizhniy Novgorod, Kazan & Samara

Fred came out of retirement to replace an injured Gene Kelly as Judy Garland's co-star in this holiday musical

This word for a shopping center comes from a London site where a ball & mallet game was played in narrow alleys

4 out of 5 people living at 742 Evergreen Terrace on TV's "The Simpsons"

A high school friend who was "The Professor" helped give this Philadelphia 76ers star his nickname, Dr. J.

This city of 180,000 shares its name with Marx' co-writer of "The Communist Manifesto"

Appropriate title question of this 1937 Fred Astaire-Ginger Rogers film

Sanskrit for "great queen", she's the wife of a maharajah

4 out of the 5 Biblical books of Moses known as the Pentateuch

His work includes "Hunches in Bunches", "Fox in Socks" & "Gerald McBoing-Boing"

Heavenly beings Gabriel, Michael & Raphael might enjoy this city on the Dvina River near the White Sea

This white gypsum cement that hardens quickly is named for the French city where it was originally made

"The Long Island Lolita" of the tabloids

4 out of the first 5 letters of the Greek alphabet

In 1988 he said, "I was proud of the youths who opposed the war in Vietnam

--

they were my babies"

Like a ballet company, this city was named for revolutionary hero Sergei

Dervied from Old French for "crane's foot", it's a genealogical chart or family tree

New York's former "Senator Pothole"

Published in 1957, this epic novel tells the story of a physician's love for the wife of a Russian revolutionary
Scores at the end of the Double Jeopardy! Round:
| | | |
| --- | --- | --- |
| Sharon | Debbie | Chris |
| $4,200 | $7,400 | $4,200 |
| | | |
Final Jeopardy! Round
It's the only state whose name & capital city both consist of 2 words
Final scores:
| | | |
| --- | --- | --- |
| Sharon | Debbie | Chris |
| $2,000 | $4,400 | $8,399 |
| 3rd place: Yahoo! Shopping Gift Certificate/Shopping Spree | 2nd place: Gateway 466C Desktop Computer & Broyhill Functional Computer Home Office Cabinet | New champion: $8,399 |
Game dynamics: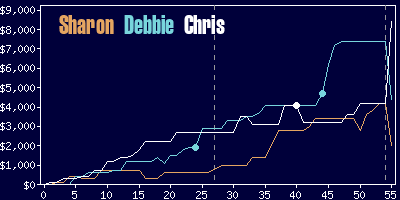 Sharon
Debbie
Chris
$4,200
$6,100
$5,100
14 R,
3 W
17 R
(including 2 DDs),
1 W
14 R,
2 W
(including 1 DD)
Game tape date: 1999-08-25