Show #3557 - Tuesday, February 8, 2000
2000-A College Championship quarterfinal game 2.
Jeopardy! Round
MONEY MEN
(Alex: Which is all about men on our money, American currency.)

TEEN PEOPLE
(Alex: The magazine.)

Disguised as a lawyer, Portia foils Shylock's plan to collect a pound of flesh in this play

He played New York cop James Edwards who became MIB Agent J

Seen here, it's a helpful "feminine" predator of other bugs:

There's a pyramid on the back of his greenback

Having jumped in a lake during their Orlando photo shoot, these "Boys" sported the wet look on a 1998 cover

If I can never die, I'm this

This character who loved Cressida was a prince of Troy

According to the title of a 1984 movie musical, they "Take Manhattan"

In the U.S. these insects are divided into 3 main groups: damp-wood, dry-wood & subterranean

On the back of his bill is the front of his memorial

In 1998 Brandy & this teen country diva were among the "Hottest Stars Under 21"

On the football field, this line separates the Lions from the Bears

In Act I of this play, Cordelia says, "What shall Cordelia speak? Love, and be silent"

"Lost in New York" is the subtitle of the 1992 sequel to this film

This common pest is quite the leaper:

The only dueling fatality on the front of a current bill

This Yankees shortstop reveals he's "a big movie person"; "Seven" is his favorite

IDG books "For" these people include ones on "Bird Watching", "Opera" & "Windows 98"

Shakespeare laid the scene of this tragedy in "Fair Verona"

She played a New York photographer who's a stepmom-to-be in 1998's "Stepmom"

Unlike the grasshopper, the 17-year "locust" is really one of these winged insects noted for their loud buzzing

This president seen on a bill lost all his money to swindler Ferdinand Ward in 1884

For this Wallflower, when it comes to style & fashion, "Black...rocks like no other color"

"Tell me more" about this song from "Grease"

"'Tis incredible to believe how much she loves me. O the kindest Kate!" Petruchio says in this play

Tea Leoni & the Big Apple are destroyed by a tidal wave when a meteor hits the Earth in this 1998 disaster film

Imitations of this "monthly" flier are used as fishing lures:

Of people on the front of current U.S. bills, he was born the earliest

Talk about most embarrassing moments, she said hers was on "Jeopardy!":
Scores at the first commercial break (after clue 14):
| | | |
| --- | --- | --- |
| Adam | Natalie | Michael |
| $2,200 | $200 | $1,300 |
Scores at the end of the Jeopardy! Round:
| | | |
| --- | --- | --- |
| Adam | Natalie | Michael |
| $3,900 | $600 | $2,100 |
Double Jeopardy! Round
WATCH YOUR TONGUE
(Alex: Boy, violence here!)

Just 17 when he set sail for Kublai Khan's court, this Italian didn't return home for 24 years

The Union of Concerned Scientists says thermal expansion has raised this level 4-10 inches in the last century

Doggy Dogg's chicken houses

In 1921 former president William Howard Taft achieved his life's goal

--

an appointment to this body

To keep a secret one might seal or button these body parts

The Mycenean form of this language was spoken in Knossos on Crete & in Pylos & Mycenae on the mainland

This Icelandic explorer whose statue is seen here visited America almost 500 years before Columbus

If the temperature is 90 degrees & this figure is 80 percent, the heat index rises to 113 degrees

Seen here, Taft began this presidential tradition at the 1910 season opener:

In the phrase "on the Q.T.", Q.T. is short for this word

Before Latin spread, Oscan was the most widely spoken group of dialects on this country's Apennine Peninsula

He served in the Confederate army & the Union navy before hooking up with Livingstone

This innovation that makes summer bearable was named by engineer Stuart Cramer in 1906

Bono's band's ballet wear

Taft was the first civil governor of these islands, acquired from Spain in 1898 after the Spanish-American War

In a familiar phrase for becoming silent, "up" follows the name of this bivalve mollusk

It's Libya's official language

For his circumnavigation of the world, he was knighted aboard his Golden Hind in 1581

For this cliche to be true, the sidewalk must reach at least 130 degrees to permit coagulation

These 2 states were admitted to the Union during Taft's presidency

You won't get enough coconut cream or key lime if you keep this slang term for your mouth shut

This South African language has been called Cape Dutch

This Portuguese explorer commanded the first fleet to reach India from Europe

Sweating doesn't cool the body

--

the perspiration has to leave the skin by this process

After the presidency, Taft was a law professor at this Connecticut university, his alma mater

You might be told to put one on; the real thing keeps a dog from biting

In 1967 newly identified dialects of the language spoken by these people were found in Guatemala & Chiapas, Mexico
Scores at the end of the Double Jeopardy! Round:
| | | |
| --- | --- | --- |
| Adam | Natalie | Michael |
| $4,900 | $4,600 | $7,800 |
| | | |
Final Jeopardy! Round
Title hero who "silently rowed to the Charlestown shore, just as the moon rose over the bay"
Final scores:
| | | |
| --- | --- | --- |
| Adam | Natalie | Michael |
| $9,201 | $7,600 | $8,812 |
| Automatic semifinalist | 3rd place: $2,500 if eliminated | 2nd place: $2,500 if eliminated |
Game dynamics: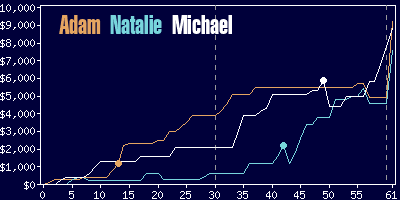 Adam
Natalie
Michael
$4,400
$5,600
$9,300
17 R
(including 1 DD),
1 W
15 R,
4 W
(including 1 DD)
18 R,
1 W
(including 1 DD)
Game tape date: 2000-01-15