Show #3555 - Friday, February 4, 2000
Jeremy Bate game 1.
Jeopardy! Round
NAME THAT STOOGE
(Alex: Yes, The Three Stooges.)

In 1969 she graduated from Wellesley College where she was president of the student government

In bridge, if east is the dummy that means the declarer is this position

Washington Square Park is the hub of this area of New York City

No one made malice funnier than this second-oldest Stooge:

"Eight Cousins" is a later work by this author who wrote about four "Little Women"

In the late 1930s, she taught typing & shorthand at Whittier High School in California

It's the lowest total that makes you go bust in blackjack

A famous hard cheese is named for this Somerset, England village in which it was first developed

Many appreciate the subtle hilarity of this Philly-born Stooge seen here:

As this novel begins, Jonathan Harker writes of visiting the British Museum in search of books on Transylvania

She's buried in Abilene, Kansas beside her husband

In the "Black Lady" version of this game, the queen of spades is to be dreaded also

The name of this California village near Monterey goes back to a group of monks, not a candy

Born Samuel Horowitz, this Stooge's gruff & mindless persona earned him his own core of fans:

She's the title character of an 1822 novel by Thomas Love Peacock (Robin Hood's in it, too)

This slang term for a jail shares its name with Gumby's buddy

In November 1800 she wrote to her daughter that "The principal stairs are not up" in the White House

In the poker variation Spit in the Ocean, each player is initially dealt this many cards

Jacques Cartier gave this name to the hill behind the village of Hochelaga

This Stooge seen here was often "A victim of soicumstance":

Helen Hunt Jackson's novel "Mercy Philbrick's Choice" may be a fictional portrait of this reclusive poet, her friend

From the Latin for "boxer", it's a synonym for boxing

In 1992 she became the 1st first lady to deliver a major address at a national political convention

Back in the 1850s this card was added to the deck to be the highest trump in the game of Euchre

At the start of the play, Macbeth is the thane of this Scottish village & lives in its castle

This final new Stooge had made his own series of comedy shorts for Columbia in the 1940s:

This Kafka novel was published posthumously under the German title "Das Schloss"
Scores at the first commercial break (after clue 13):
| | | |
| --- | --- | --- |
| Kathy | Brian | Jeremy |
| $400 | $800 | $1,100 |
Scores at the end of the Jeopardy! Round:
| | | |
| --- | --- | --- |
| Kathy | Brian | Jeremy |
| $1,800 | $700 | $1,600 |
Double Jeopardy! Round
THE END OF THE WORD
(Alex: Not "world".)

Denis Papin's 1679 steam digester developed into this quick "cooker" that prepares custards & vegetables

After this British quintet's October 1964 appearance, Ed Sullivan announced they'd never be back on his show

In 1953 the CIA helped expel Mohammad Mossadegh & restore this Iranian leader

As a lord, you'll exercise jus primae noctis & spend this night with the brides of your serfs

On the Nevada-Arizona border:
233 square miles

William Safire writes that this suffix for a female poet or priest "has come to be thought of as an insult"

Joseph Bramah invented one of these in 1784 that no one was able to pick until 1851

(I'm James McDaniel) Before "NYPD Blue", I appeared in this Steven Bochco series in which policemen burst into song

In 1976 soccer's Diego Maradona joined this country's national team when he was only 16 years old

Like a king, you'll get to put your own picture on these wax impressions

On the Israel-Jordan border:
394 square miles

It's the usual suffix that forms the present participle of verbs

John Fleming invented this in 1904 & fought in court with Lee de Forest, who invented the triode in 1906

Bryan Adams & the Wallflowers have recently gone acoustic for this MTV concert series

In June Bulgaria holds an annual harvest festival of these blossoms, the month's traditional flower

You'll hear a lecture at Germany's oldest of these institutions, founded in 1386 in Heidelberg

Southern Florida:
663 square miles

This suffix denoting direction, found after back- & up-, could end with or without an "S"

Charles Wheatstone invented the stereoscope & this accordion-like musical instrument

One of the 7 Vondas of the world is this singer featured on "Ally McBeal"

Many Indian foods are accompanied by these popular relishes of spices & fruits often made from mangoes

You'll hand out gold to mendicant friars, mendicant referring to this activity

Southern Egypt:
1,550 square miles

You add this suffix to denote multiplying by the stem word, like two-, ten- or mani-

In 1851 Frederick Scott Archer developed a wet-plate process, the first practical way to produce copies of these

In a '70s series, PBS was "In Performance At" this Virginia site

The "Mabinogion" is a collection of Celtic lore from this United Kingdom division

It's the spiced ale you'll raise at an English Christmas feast, or the toast that accompanies it

Southern Siberia:
about 12,200 square miles

This 5-letter suffix follows "Roman" or "Arab" to indicate style or resemblance
Scores at the end of the Double Jeopardy! Round:
| | | |
| --- | --- | --- |
| Kathy | Brian | Jeremy |
| $5,200 | $2,900 | $6,400 |
| | | |
Final Jeopardy! Round
The one-word title of this 1985 film refers to Samuel Lapp, a Penn. farm boy who makes his first visit to a city
Final scores:
| | | |
| --- | --- | --- |
| Kathy | Brian | Jeremy |
| $6,401 | $3,900 | $10,500 |
| 2nd place: Trip to Merv Griffin's Resort Hotel & Givenchy Spa, Palm Springs, California | 3rd place: Edge Corporation Catalog Gift Certificate | New champion: $10,500 |
Game dynamics: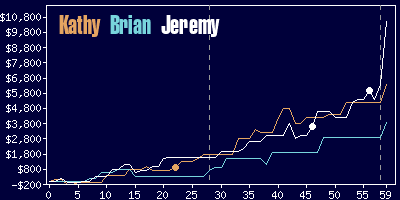 Kathy
Brian
Jeremy
$5,100
$2,900
$6,800
16 R
(including 1 DD),
4 W
8 R,
2 W
21 R
(including 1 DD),
5 W
(including 1 DD)
Game tape date: 1999-11-17